I was keen to get thoroughly amongst this whisky by post service developed and launched by whisky connoisseurs.  Although the idea isn't new, The Dram Team hopes to offer up extraordinary tastings which aren't provided by other subscription services.  It's up to you how often you get a tasting box of six whiskies, and it could be as frequently as every month.
Letterbox Slim
The boxes are letterbox slim and contain five 25ml samples, each from bottles which cost around the £50 mark, along with a bonus 10ml taster, drawn, almost always from an expensive bottle.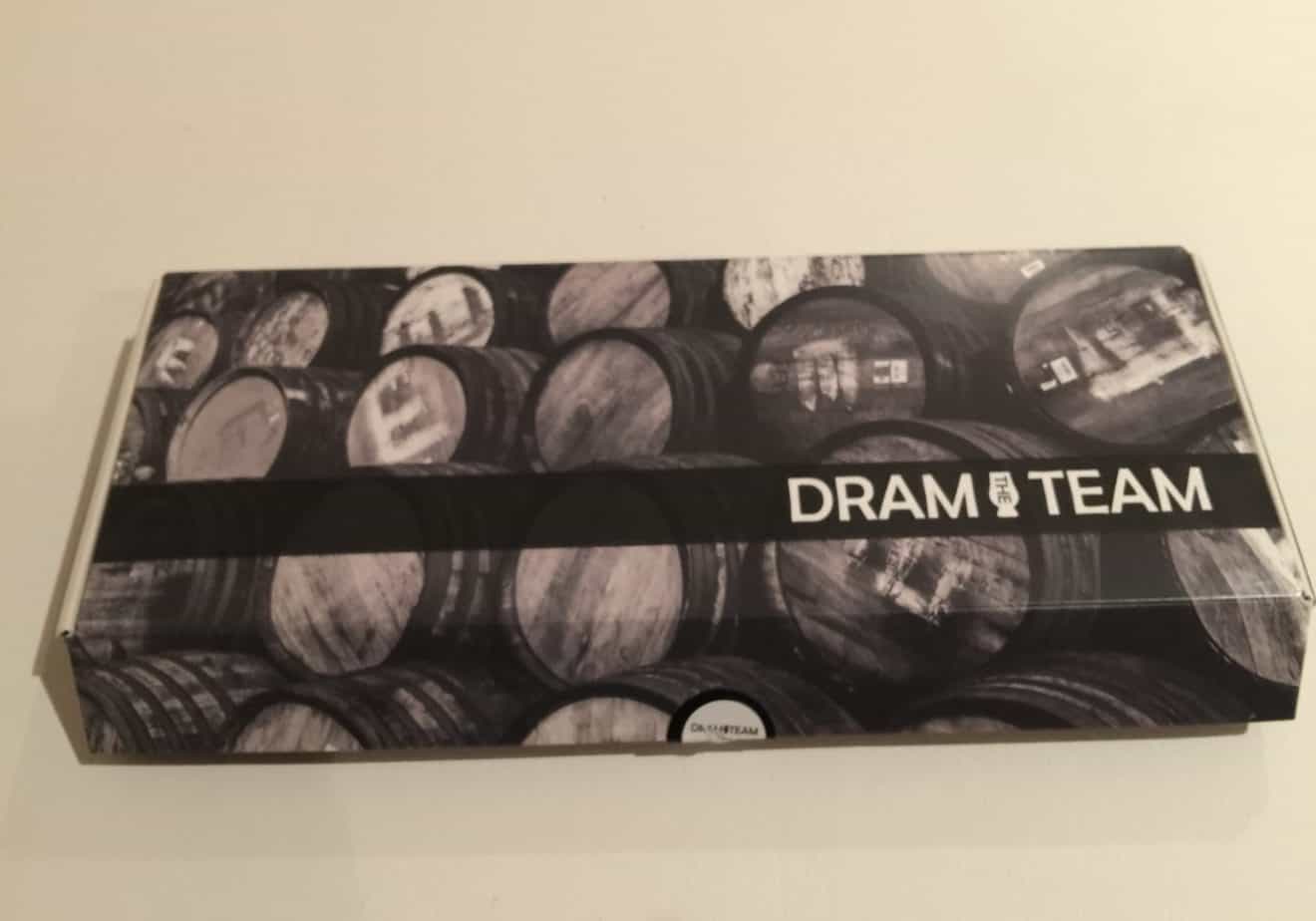 Each box contains tasting cards and a guided tour of each flight in letter form.
If you want a one-off gift box that will set you back £30, but if you want to send or receive something more regularly, there are subscriptions which run on a one month (£25) 3, (£85) 6 (£165) and six months (£300).
Monthly Twitter Tasting
You don't have to sup alone; they have a monthly Twitter Tasting which is great fun, where like-minded whisky-lovers have the chance to make their thoughts known in 140 characters.
The Tweet Tasting I took part in was relaxed, made no judgements and was an enjoyable experience.
The Drams in my box were:
Inchmurrin 18 (Highland) (retails around £83.00)
A two-time award-winning Highlander (San Francisco World Spirits Competition) from Loch Lomond Whiskies.  A sweeter whisky with malt biscuit notes.
Auchentoshan 3 Wood (Lowland) (retails around £45)
Aged in three different types of wood (American Oak barrels, Oloroso and Pedro Ximenez sherry casks) starting in the bourbon and working their way up.  Think Christmas cake, spiced and fruity.
Glen Scotia Double Cask (Campbeltown) (retails £37.00)
Another award winner from Loch Lomond (World Whisky Awards).  Grass, pears, vanilla and smoke.
Bowmore "Darkest" 15 (Islay) (retails £55.00)
Burnt toffee and a moderate peatiness with a green apple finish.  Lovely warming finish with typical sherry cask characteristics.
Glenfarclas 105 Cask Strength (Speyside) (retails £38.00)
Creamy, nutty with a hint of smoked coffee.  It's toasted nuts and a touch of Armagnac in the mouth.
Bonus dram
Highland Park, 21 (Island)  (retails £143.00)
This is terrific.  Smooth and sophisticated, this had me wanting more.  Chocolate profiterole or Terry's chocolate orange this had a wonderful nutty aftertaste, along with a just opened box of cigars.
The Dram Team: Box Subscription
The Dram Team box subscription gives you a perfect balance of whisky available, and I'd say it's a kind of cool gift to get.   Ideal for the whisky-lover or for those who like spirits and haven't wandered through the door marked 'Whisky' just yet and want to explore the room alone.
I was sent a box to take part in the Twitter Tasting.