An easy Vegetarian Jamaican Patty recipe to celebrate a very special week in the UK's Caribbean calendar. When the supermarket Aldi asked if I would conjure up a recipe, using their fruit and vegetables, to celebrate the growing popularity of Caribbean food here in the UK, I couldn't resist.  It coincides neatly with the start of Caribbean Food Week too.  I've rustled up a couple of recipes to make some tasty vegetarian patties, showcasing just a few of the quality vegetables they offer. The recipe for the spice mix can be adapted but will spice the entire mix.  The pastry quantity will make about 8 patties. I make my own Jamaican Jerk Spice Mix, but there's one already made out there.  If you like what you taste, you can make more and keep in an airtight jar.
Jamaican Jerk Spice Mix Recipe
You can find Aldi's spice range under the Stonemill banner and it offers a good saving on alternative brands. Jerk seasoning has two main ingredients; allspice, known as Pimento in Jamaica and Scotch Bonnet peppers. Other ingredients may include cloves, cinnamon, scallions, nutmeg, thyme, garlic, brown sugar, ginger, and salt. I like a bit of spice so you may want to adjust your cayenne pepper accordingly. 2 tbsp paprika 2 tbsp garlic powder 1/2 tbsp all spice 1 1/2 tsps ground nutmeg 3/4 tsp cayenne pepper (depending on the level of spice you're after) 1 tbsp salt Fresh black pepper For an extra kick add your own Scotch Bonnet, but you won't want both the cayenne pepper and the fresh bonnet.  It's the little red pepper in this photo – don't be deceived it packs a lot of punch!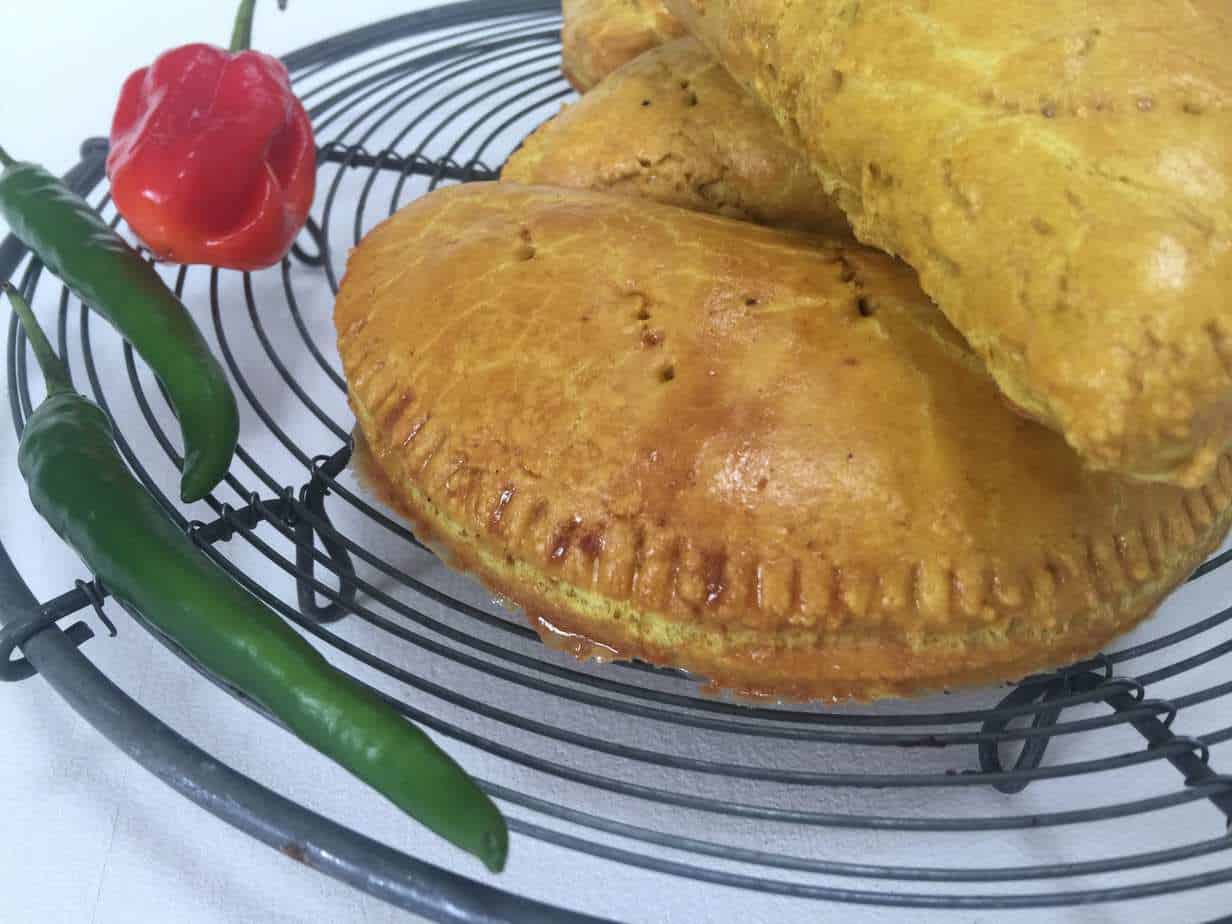 I've split up the ingredients and method for the patty for ease.
Patty Ingredients
I used a variety of seasonal vegetables from Aldi's Nature's Pick range.  Carrots, peppers, sweet potato and an onion.   I chopped all the ingredients in the picture, finely, and froze the leftovers in a zipped freezer bag for my next batch.
Method
I used the wok with a little olive oil to fry off the ingredients.  They all cooked at around the same time, between 10-15 minutes.  I threw in some Four Seasons Frozen Peas too, about 5 minutes before the cooking time was up.
Pastry Ingredients
125g Greenvale cold butter, diced 125g Greenvale lard 500g the Pantry plain flour, plus extra for dusting 1 Merevale Golden Egg, beaten 2 tbsp Turmeric
Method
Rub the butter and lard into the flour with a pinch of salt and the Turmeric.  You may want to put a pair of disposable rubber gloves on for this bit as the Turmeric will stain your hands – not permanently I might add.  Blend in 6 tbsp of cold water to make a firm dough. Cut equally into 4, then chill for 20 mins. Heat oven to 220C/fan 200C/gas 7. Mix together the pre-cooked filling ingredients with the Jerk seasoning mix. Roll out each piece of dough on a lightly floured surface until large enough to make a round.  I used a side plate to trim.  I like my pastry thick, so I tend to roll it  a little on the thick side.  Firmly pack a quarter of the filling along the centre of each round, leaving a seam at each end. Brush the pastry all the way round the edge with beaten egg, carefully draw up both sides so that they meet at the top, then pinch them together to seal.  Prick with a fork to allow steam to escape.  Lift onto a non-stick baking tray and brush with the remaining egg to glaze.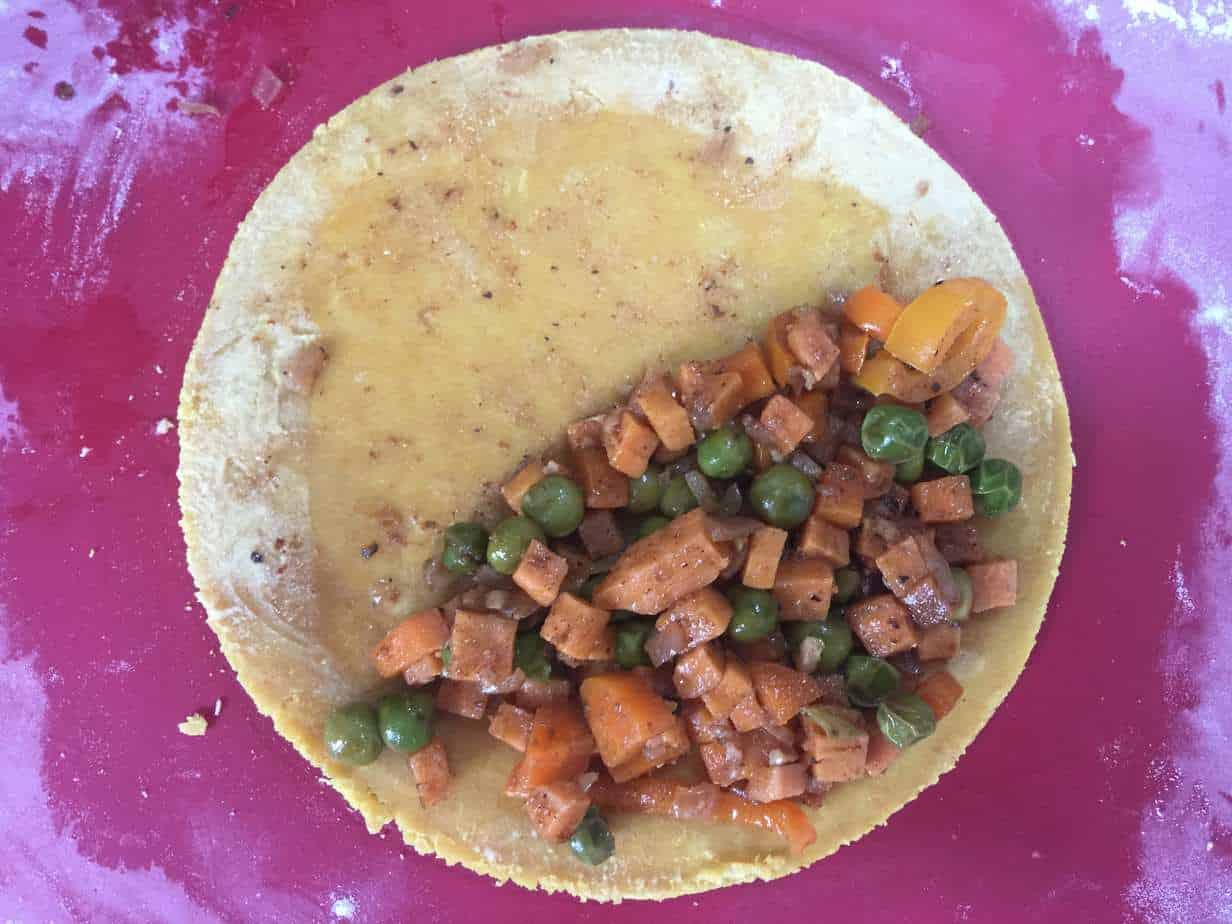 Bake for 15/20 mins, to cook your pastry.
Once cooled these will freeze really well.  Defrost fully before reheating.
Caribbean Food Week is on from the 20
th
to 27
th
August 2018.
Aldi
kindly supported this post by paying for the ingredients. Did you see my
post
on their delicious Wagyu Steak offering?