Bangers and mash, or to give it its proper title sausages and mash, is a traditional British dish made up of grilled or fried sausages and mashed potatoes. Bangers would relate to fried sausages banging or bursting if cooked at high heat, too quickly. The skins would burst or 'bang' splitting open the sausage, revealing the meat.
It's British Food Fortnight and there's no better opportunity to scream about what we do well in this country. The lovely people at Aldi asked if I'd help celebrate with them by coming up with a few classic British food recipes and this is the first of three posts. Each will highlight traditional British dishes with a little holdtheanchoviesplease twist.
Let's do some meal maths here. I'll assume you have stock cupboard essentials (olive oil/salt & pepper/stock cubes/flour)
2 x packs of Aldi British Lincolnshire pork sausages £1.89 x 2
2 x packs of Aldi ready-made mash 89p x 2 or a bag of 1.5kg potatoes
1 jar Bramwells Wholegrain mustard/English mustard 35p
250g Cowbelle British unsalted butter £1.49
300ml Cowbelle British Double cream 95p
Bag British brown onions 45p
Four Seasons garden frozen peas 79p
Grand total: £8.45 which makes it just £2.11 per meal.
For me, it's the ultimate comfort food, and I don't know about you, but the mash has to be as creamy as you can get it. There are plenty of additions to jazz up mash, from Parmesan cheese to chopped fresh herbs, but for these Aldi Lincolnshire sausages, stuffed with British pork and seasoned with sage and black pepper, I decided to opt for a tablespoon of Bramwells wholegrain mustard. The whole dish will take as long as your sausages fry or your potatoes boil, so it's a meal on the table within thirty minutes. If you don't have the time or energy to make mash from scratch, grab a pack of Aldi's Inspired Cuisine mashed potato and add a little double cream (Crème Fraiche) or a splash of milk to soften it up before heating and adding the mustard.
Ingredients
Serves 4 (based on 2 sausages per person)
2 packets of 6 Aldi Lincolnshire sausages
For the mash
1 tablespoon of Bramwells Wholegrain Mustard
1 bag of Aldi organic potatoes (1.5kg) you'll need 500g for this lookout for floury potatoes like Maris Piper. Peel and chop into even pieces.
50g Cowbelle British unsalted butter
1-2 tbsp double cream
Salt and freshly ground black pepper, to taste
For the onion gravy
1 tbsp Solesta olive oil
2 British brown onions
½ tsp Bramwells English Mustard
500mls stock (from a beef stock cube)
2 tsp The Pantry plain flour
1 small knob Cowbelle unsalted butter
To serve
300g Four Seasons garden frozen peas
1 knob Cowbelle unsalted butter
Method
I have abandoned grilling sausages. Frying them is the only real way I get them crisp and golden on the outside and evenly cooked throughout. The key is low heat. The higher the heat, the less the fat renders, and the faster the skin burns, which means your centre will cook last before the outer edges start to toughen up. I always add a knob of butter which has more flavour than oil, but it's best to use unsalted. It should take roughly thirty minutes.
Mash
Bring a large saucepan of water to the boil. Add the potatoes and boil for about 15 minutes or until tender. Transfer to a colander and drain. Return to the pan and set over low heat to dry completely. Mash the potatoes with a hand masher then if you have one use a hand blender, adding your butter and double cream if you choose to use it. Then add the English mustard and seasoning, to taste.
Onion Gravy
For the onion gravy, heat a frying pan over low heat. Add the oil, onions and a pinch of salt. Cook gently for 15–20 minutes, or until completely collapsed and dark golden-brown. If the onions are cooking too quickly, then cover with a lid while they cook. I always add a dash of Balsamic Vinegar for a little sweetness. Once the onions are completely softened and dark golden-brown, add the butter, then using a wooden spoon, stir in the flour until it's all absorbed, add the mustard and gradually add the stock to the pan a little at a time, stirring all the time, adding the stock to the right pouring thickness. Add seasoning to taste and then let it simmer gently for 10 minutes. Pour into a warmed serving jug.
I don't cook frozen peas in boiling water. It's OK if you do, there's not a problem with that. I like to heat a frying pan over medium heat and add peas and butter. It takes between 5 and 10 minutes.Add the sausages, mash and peas to a warmed plate and drizzle generously with the gravy.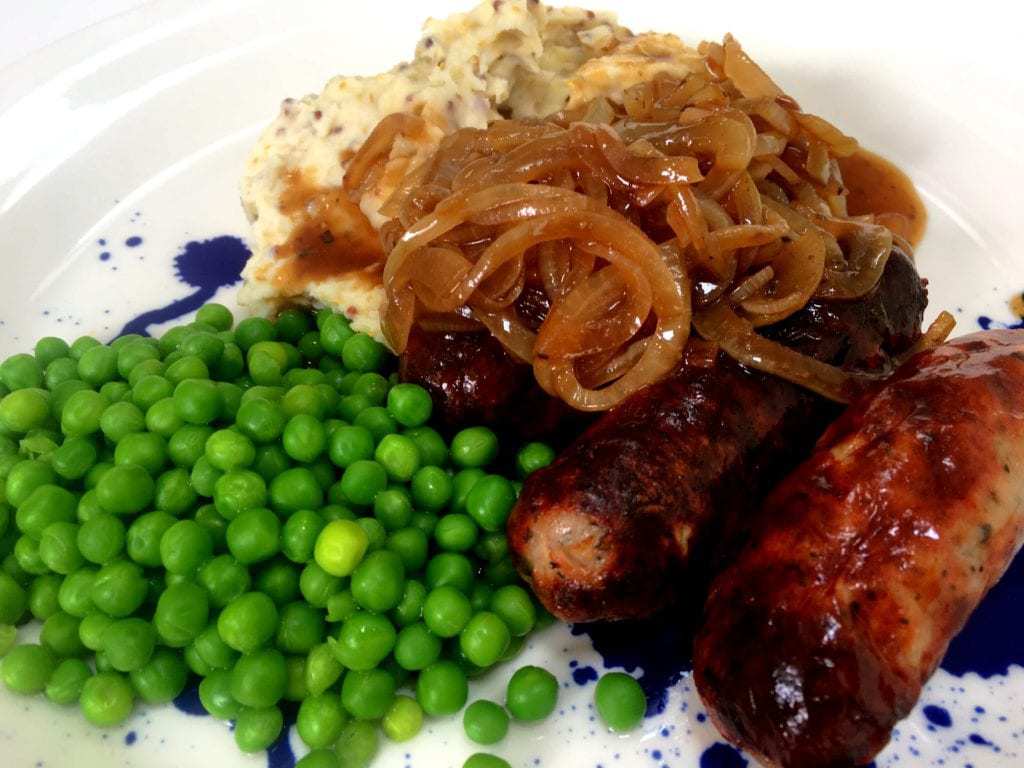 This was a collaboration with Aldi UK. Did you see my post on Chicken Katsu Curry?