It wouldn't be Valentine's Day without a helping hand from the wonderful bakers at Crosstown.   It wouldn't be Valentine's Day without me writing a blog about Valentine's Day gifts.
Crosstown Dough
For those of you unfamiliar with the brand, it's a scratch bakery in London.  Crosstown specialises in sourdough doughnuts, small batch ice cream, homemade cookies, extraordinary chocolate and speciality coffee.
This year they've perfected a series of dough bites sure to make you go weak at the knees.  Ingredients used in this year's Valentine's bites include chocolate, strawberries, glitter and fresh petals.
Valentine's Dough bite flavours
Chocolate & Passion Fruit (Vegan) – Crafted with vegan cocoa sourdough, filled with a passion fruit custard, then glazed with passion fruit and caramel glaze, all finished with a dusting of gold lustre.
Rose & Lychee (Vegan) – Filled with a lychee compote, topped with delicate rose glaze, hand-finished with crystallised rose petals, all on our award-winning vegan sourdough.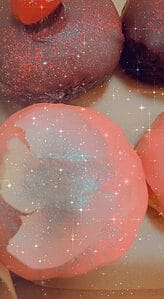 Chocolate & Cherry Kirsch – signature cocoa dough, bursting with indulgent dark chocolate kirsch custard, dipped in a cherry kirsch ganache, with a glacé cherry a top and a dusting of glitter.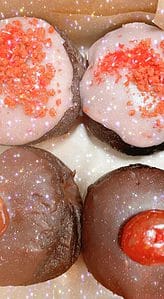 Strawberry Liqueur – Milk Chocolate and strawberry Baileys custard encased in Crosstown's dark cocoa dough, with a strawberry Baileys glaze, topped with freeze dried strawberries.
The box of 15 features a selection of vegan and alcohol-free bites.
Place Your Order
As you can see they're adorable and let's be honest who wouldn't want a box of these?  They're available in store and for next-day delivery across England, Wales and lowland Scotland from 10th February.