I haven't been to a restaurant's soft opening for some considerable time.  It's always a joy to have something to do after work on a school night and when our good friends Damian and Sarah invite us to Kew for dinner we jump at the chance.  Damian's been invited to the soft opening of Hawthorn.  For those of you who aren't aware it's the opening of a business for a limited number of people to test its services and make improvements.  A soft opening allows the hosts to make changes, and test the kitchen and service, in the early days of a restaurant opening.  Importantly restaurant-goers can enjoy food at a reduced price.
At the beginning of 2023, The Glasshouse restaurant closed after twenty-three years in business.  Hawthorn, a modern European restaurant has planted its roots in its space headed up by The Glasshouse's former Restaurant Manager, Patra Panas.  The name is a nod to the plant that can be found within the Royal Botanical Gardens a close neighbour.
Behind the magnificent menu and heading up the kitchen is Joshua Hunter.  His CV reads well, he's been at Kitchen W8, Murano and La Trompette among others.  The food has joyful Italian notes throughout which cheered me as I glanced down at it.  Patra Panas takes hold as the restaurant's Manager, formerly of La Trompette as well as The Glasshouse.
The menu reads well.  A succinct list of seasonal food with lots of palates in mind.
A canape of pomme souffle, cheese espuma, leek powder, crispy pig skin and smoked cod's roe arrived and was demolished with as much speed.
Starters
Starters were interesting, heirloom beets with smoked hay cream; Grilled Tiger Prawn (a winner on our table) cooked with Nduja butter, pickled cucumber, buttermilk and dill dressing, pulled together and finished with agretti (think Mediterranean Samphire).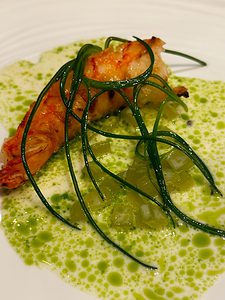 The list continued with crispy boneless chicken wings, served with celeriac emulsion, oyster leaf and Exmoor caviar.  Oxtail raviolo (a rich and unctuous dish) was a ragout of winter vegetables, and red wine sauce topped with a bone marrow crumb.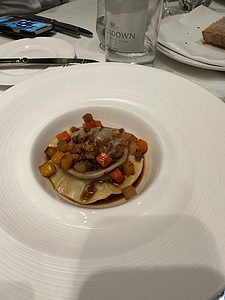 Cured Orkney scallop and gilt head bream served with blood orange and oyster dressing with herb tempura.
Wines
Champagne kicked off proceedings.  NV Philipponnat, Royale Réserve Non-Dosé, Vallée de la Marne came with some decent information from the Sommelier about its provenance.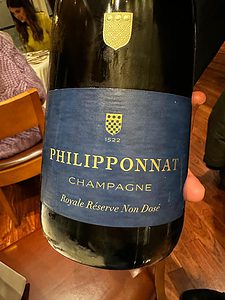 The wine list is well stocked, both by the bottle and by the glass.  The 2021 Albarino, Lagar de Costa was light lemon in colour with a strong peach and white flower bouquet (£11/glass).  It worked fabulously with the tiger prawn dish.
Main Courses
Mains included a fondue of Wigmore cheese, Cornish monkfish, Cornish cod, Ryeland Hogget and Roast Veal Rump.  I can talk about the Roast veal which was cooked pink.  Truffle creamed potato, grilled onion, chanterelles and leeks crowned the plate with a rich jus.
Mr had the Ryeland hogget, cooked two ways – sliced and braised.  Roasted Jerusalem artichokes and white onions were finished with a Madeira sauce.  Our friends opted for Cornish monkfish which was cooked without chicken skin for a vegetarian palate.  A thick cut of monkfish sat nicely on a variety of roots, cime di rapa, and hazelnut with the jus gras held (chicken stock and rendered duck fat).
We ducked desserts as we'd run out of time.  Cultured yoghurt with cured pineapple and small vanilla beignets; Warm prune and Armagnac frangipane tart; Chocolate delice with Jerusalem artichoke ice cream and dandelion root butterscotch; Forced rhubarb souffle with stem ginger ice cream and a selection of cheese.
We were given both passionfruit chocolate and Douglas fir marshmallows petit fours.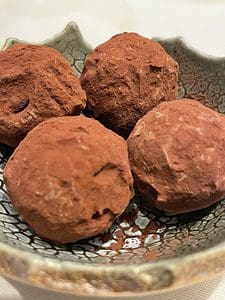 The soft opening three-course menu was £32.50.
Hawthorn, 14 Station Parade, Kew, TW9 3PZ.  The nearest tube is Kew Gardens.
Looking for Mocktail inspiration?  Read my blog on Belvoir's range.