After a year of lockdowns, it's hardly surprising we're looking to spruce up our outdoor living and entertaining areas.
Your Garden: A Fifth Room
Gardens have grown into an extension of our homes, with spaces set up for cooking, relaxing, and socialising. These include rugs, floor cushions, and 2021's hottest garden accessory, the hanging chair.
Comfortable garden sofas, layered cushions, and heaters are also helping create spaces to enjoy throughout summer, and even into the cooler months.
But it's the egg chair (hanging chair) that's the garden seat du jour.  I found this selection on Daals but a quick Google search reveals hundreds of suppliers.  I just liked the shapes on these – including the cocoon chair – for those without a huge space.
You've only got to see how popular these chairs are – John Lewis has sold out twice, Aldi's went in a split second, and on almost every website they're selling out fast.
I'm also a big fan of the fire pit – this doesn't have to be fixed into the ground.  We got ours from Blumfeldt – it has legs, a protective mesh, and can be moved around your garden space.  It's even got a grill which allows you to cook on it. Perfect.
Garden Pergolas
If you want to create an inviting outdoor living space, you'll likely need shade to do it, certainly in this country.   A pergola is a quick and affordable solution.  Need a bit of room for this one.  Hot tub owners use pergola's to shade their year-round obsession.  Also super fragrant in the spring and summer if you use the right plants to up the structure.
Garden Lighting
With a focus on outdoor meetings, households are looking for ways to extend the use of their gardens into the evening too.  I spent hardly anything on our 'solar' option.  No wiring.  Just Habitat's finest, £4.50 each, which spike into the ground so are moveable if you don't like their positioning.  There are plenty of solar options, wired too – I just love festooned bare bulbs.
Multifunctional garden
Gardens now have many jobs, from places to work or exercise and spots to eat or relax with friends. With so many activities now taking place.  Use it all year round with solutions like bubble tents.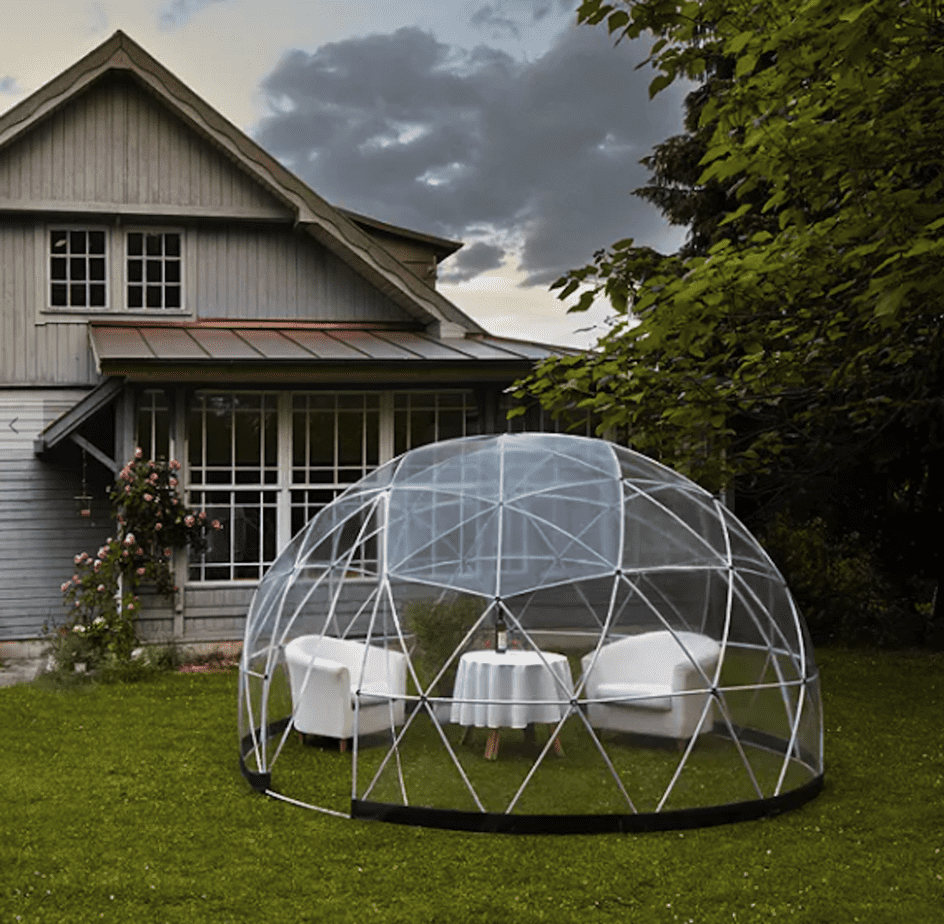 Worried about summer socials becoming a washout if it rains? Bubble tents range from cheap to eye-watering but check for good ventilation on whatever you buy – you don't want it to turn into a sauna.
Screens are another popular tool to add privacy, creating more secluded spots.
Purpose-built garden rooms are also becoming more popular.  Workspaces at the end of the gardens are becoming hugely popular if you have space.  But, make sure you know where you are with planning permission.  Most are possible without a full planning application.  Check with your local Council before spending the cash to double-check.
Making an area dedicated to cooking is fabulous, again if you have space.  Our friend has a sectioned-off area where he cooks, using his Big Green Egg.  As you can see the rest of the garden is sectioned off into relaxation spaces.
Greenery
There's a huge trend for more green planting schemes, think big leafy plants, ferns, palms, and grasses — all offering screening and ultimately privacy in a lot of areas.   Leaves usually last longer, meaning planting will look good for months or with the right choice of plants, all year.  Look for banana trees, hardy palms, and grasses, which all work well in our climate.
I'm a pot and planter gardener.  Love pots of all heights to add interest to our flagstone area.  At the moment we've got carrots, rhubarb, and a few salad leaves.
Talking of gardens, did you read my blog on the Edible Garden afternoon tea?