When I needed a day-to-evening dress for this year's low-key office party, I hit the web in search of one.  I didn't anticipate that I would hire rather than buy.

Dress Hire
My fascination with this ethical alternative to fast fashion came when our then Prime Minister, Boris Johnson, married his girlfriend Carrie.  Her wedding dress was a rental which she hired for £45 (an absolute snip) and she rocked a rented wardrobe at the G7 Summit.  She did go upmarket, hard-core designer and got her outfits from My Wardrobe HQ.  With her photo beamed all over the world I'd be surprised if the PR didn't just gift her the whole wardrobe.

Hirestreet
Decent designers, a rigorous dry clean and some insurance for those unexpected hazards are now standard for many hire websites and I found myself hovering at Hirestreet.
It's as simple as choosing your size, the hire date and filter by event.
The Spanish brand Panambi and the very British brand Ghost are two of the many designer dresses on offer I plumped for.  
I rented the dress for four days and got a bargain in that they arrived five days earlier than the date I hired them – bonus – and they were a total bargain to boot.
Royal Mail delivery
They came in a brown paper bag, the same one you should return them in (with a pre-paid returns label), hand delivered by Royal Mail.  I steamed them both today after trying both of them on.  
The first is a little on the large side – I ordered a 12 and should have gone 10 – but nothing that a belt won't help out.  
Here's the Panambi Purple Bali Midi Dress
The second fits like a glove but I didn't get from the website that it's a handkerchief hem – I guess it does suggest it here – but I'm not a huge fan.
Either way I will wear both dresses.

Special offer
What made it even better to deal with was that they're running an offer right now where you can rent any 2 items for 4 days for £30 or rent any 2 items for 10 days for £40.  The voucher codes for both deals are valid now (November 2022) 2FOR30/2FOR40 respectively.
Dress Hire Insurance
You can choose to pay a little extra for dress hire accidental insurance (I did) and the postage and packing, including the return is £5.
So to hire the two dresses, the online price was £48.50, I paid extra for accidental damage cover £6.50 and got an £18.50 discount and a £5 delivery cost.  The total rental for these two dresses was £41.50 for four days, that's £5.12 per dress per day, that's my daily quota and more of Caffe Nero's.
Here's how they looked on me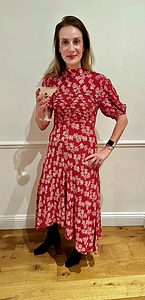 I got tons of compliments on the purple dress which I wore for an office do and the Ghost dress was lovely to wear for date-night cocktails.
This dress hire malarkey could become fairly addictive.  I'm already on the website looking at a couple of outfits for Paris.  

Own Less.  Live More.  That's Hirestreet's slogan – not a bad one to live by.
It's not far off Mince Pie season, fancy making some using this unbelievably easy recipe?