My review of Selfridges Beauty Calendar 2017.
I've never bought an Advent Calendar not stuffed with chocolate, but in late December, I treated myself. I didn't pay the £70 price tag either, Selfridges hosted their 10% off Beauty sale in the run-up to Christmas so I bought their Beauty Calendar.  Apparently there was £300 worth of products inside the large gold box which had 24 windows with 24 luxury products behind each one.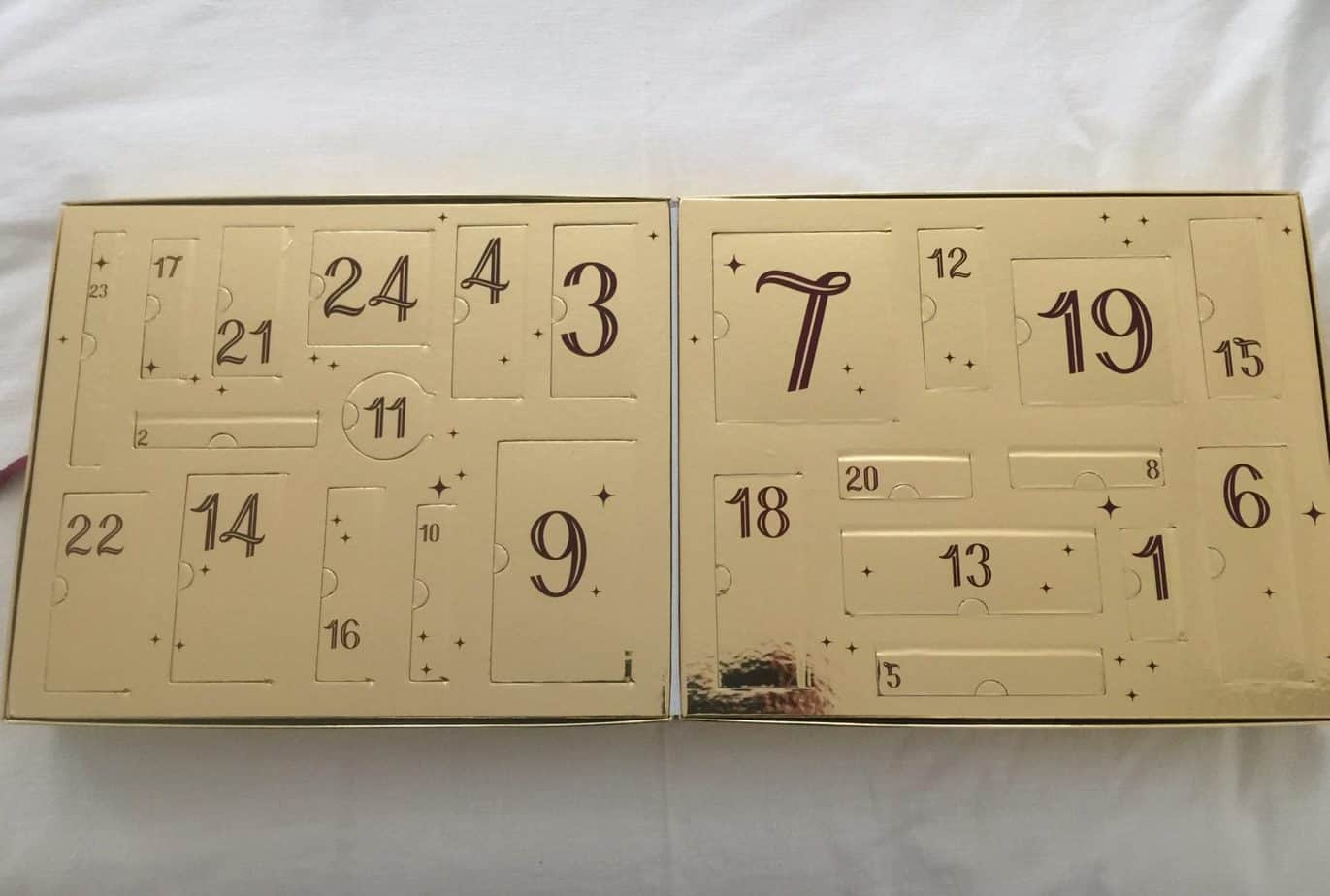 There were quite a few sample sizes and a few full-size products. On the reverse of the box, each item was listed so buyers knew exactly what to expect which kind of defeated the 'surprise' element. I glanced at it and made a point of not reading it in any great detail.
Selfridges Beauty Calendar 2017 – what's inside?
Door 1
Deborah Lippmann Cuticle Oil. Full-size 15ml.  A lovely bottle of oil which smells heavenly. It's worth £18.00
Door 2
The first of the samples and a Lord and Berry peach coloured blush in pencil form.
Door 3
Rodial Super Acids X-treme Acid Rush Peel, 20ml sample.  A powerful skin brightening and resurfacing peel with probiotic technology to protect. A potent combination of azelaic, glycolic and lactic acids effectively exfoliate and retexture, revealing a new layer of skin with the appearance of imperfections and fine lines and wrinkles reduced.
Door 4
Quai Hair Finishing Cream 15ml sample.  You only need a 1op size amount of this product on your ends and you've got at least three treatments in this small tube.
Door 5
BBROW Bar Brow Exfoliator.  Full-size.  An exfoliator for your eyebrows.  Would never buy this product in a million years for my brows but for my lips … this product can be used to get rid of chapped, flaky skin.   Nifty.  £16.00
Door 6
St Tropez Gradual Tan 50ml. Sample.  Enough to do your face a few times or your legs twice.  Not bad and no smells of burnt toast either.  Worth trying to see if it's worth investing in a full size 200ml tube.
Full size and sample products
Door 7
Eyelure 101 Lashes.  Full-size.  A nice lash that really opens up the eye.  Worth a fiver.
Door 8
This Works – Deep Sleep Pillow Spray.  5ml sample.  Enough to spray for a night to discover whether the aromatherapeutic Superblend of Lavender, Vetivert and Camomile blend actually works in place of counting sheep.
Door 9
Beauty Blender Liner Designer.  A good tool for people who are useless with a liquid eyeliner.  Say goodbye to wonky wings and perfect symmetry.  I'm sure there's something kicking around the house that'll do the job but this is super-quick when it comes to applying liner.
Door 10
Nyx Soft Matte Lip Cream, colour: Copenhagen.  8ml.   A good colour for me but on the fairer complexion, you could be left looking more vampire than vamp.
Quality Products
Door 11
Eve Lom Cleansing Balm 20ml sample.
Door 12
Dr Roebuck's Face 20ml sample.  Australian face cream to be used twice-daily.  No nasties but sadly not enough for more than a couple of days.
Door 13
It Cosmetics Brow Power Universal Pencil full-size £19.  Not a bad pencil at all.  Covers well and doesn't smudge.  Impressed.
Door 14
Cowshed 50ml hand cream Cow Slip sample.  Smells wonderful and absorbs quickly.  Perfect for my bedside cabinet.
Door 15
Peter Thomas Roth Cucumber Gel Mask 30ml sample.  One of these is sold every minute throughout the world (apparently).  Enough for two masks.  Apply a generous coat on clean skin. Allow mask to remain on for 10 minutes. Rinse with cool water.  You can put it in the fridge for a super cold treat.
Door 16
Eyeko Black Magic Mascara 2ml sample.  Enough for a week's daily use.  I liked the tube to help squeeze out the last of the mascara.   I really liked the way it looked quite natural.  Didn't quite experience the curl it promises but happy enough with the result.
Korean Beauty
Door 17
Erborian CC Creme 5ml sample.  Korean make up with SPF 25.  This CC creme adjusts to your skin tone so it's a perfect match every time.  Natural and even coverage.
Door 18
OMOROVICZA Refining Facial Polisher 30ml sample.  Exfoliator, mask and peel in a tube.  A 100ml tube is £65.  Good to try.
Door 19
Cover FX Mattifying Primer with Anti-Acne Treatment – 5ml sample.  A lightweight, water-resistant gel-primer that helps keep skin matte while minimising the appearance of fine lines and pores. Good to try this out if you're prone to acne.
Door 20
Tweezerman Nail clippers.  Love this brand.  Handy little travel clippers.
Door 21
Caudalie Vinosource Moisturising Sorbet 15ml sample.  This is a gel-cream perfect for parched skin
Door 22
Molton Brown Rhubarb and Rose Shower Gel 100ml travel size.  Tart rhubarb with a citrus twist.  What's not to love?
Door 23
3INA Liner pen 1.1ml full size.  A marker pen which works perfectly with the eyeliner guide.  No smudging, quick-dry, satin ink and waterproof.
Door 24
Dr Dennis Gross Skincare Alpha Beta Universal Daily Peel 3 sample treatments.  This daily peel in pre-soaked pads is formulated to resurrect radiance and diminish the appearance of the three most common signs of ageing.  Thirty of these peels cost over £100 so well worth trying out before any major investment.
Not entirely sure where the £300 worth of products line came from but clearly that's not the case.   Will be good to see what's in store next year.  Did you buy a beauty advent calendar?  What did you think of its contents?
If you love Rhubarb, you can't beat the products from Noble Isle.  Read my review of their products here.