It might not be what you expect.  A restaurant selling barbeque food, set up by a British man, living in America.  Rock N Roll Ribs is far from the expected.  It's co-owned by the drummer of one of the most successful metal bands in the world.  Alongside touring the world and playing golf, this is Nicko McBrain's passion and very serious hobby.
Now, I grant you Rock n Roll Ribs doesn't look much on the outside.   Inside it's a cross between an Iron Maiden concert and the Third Circle of Hell.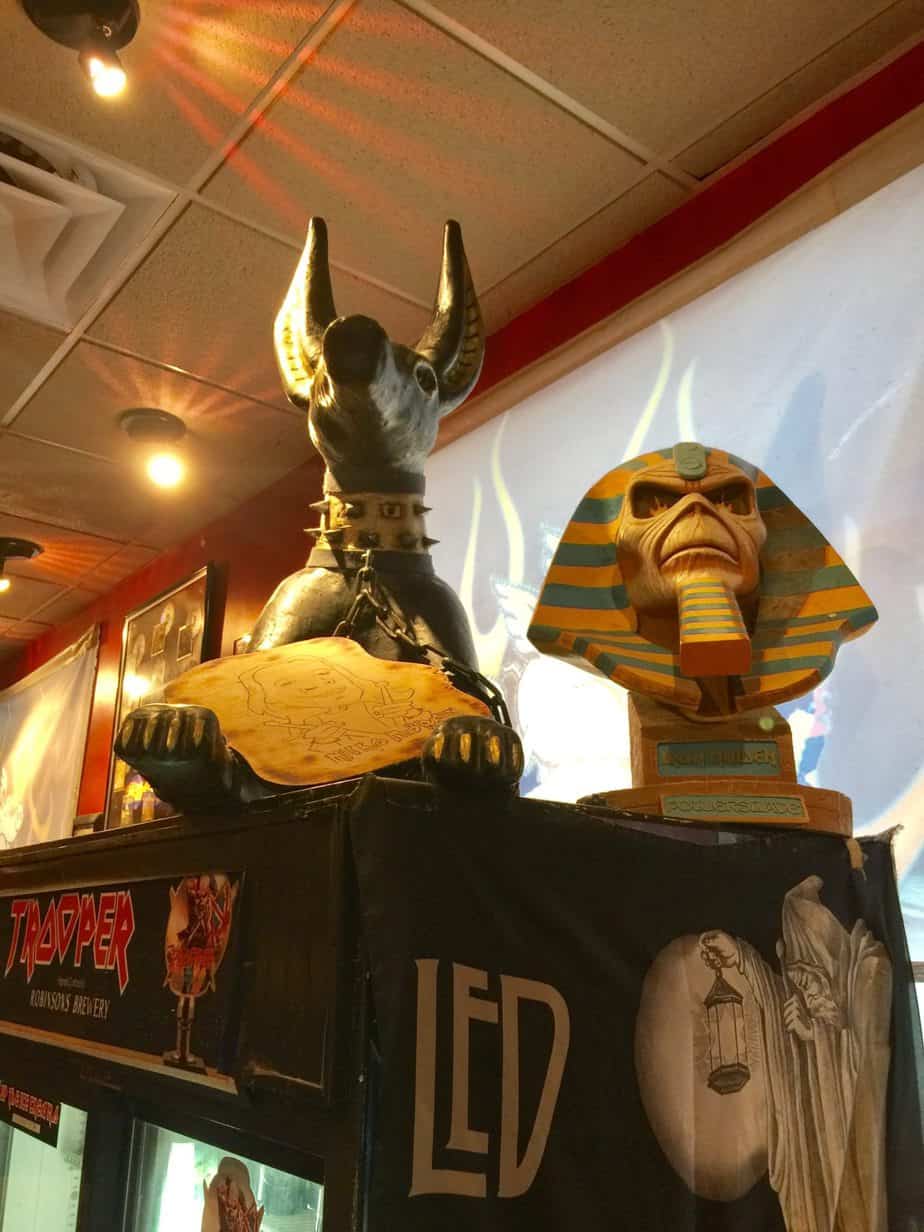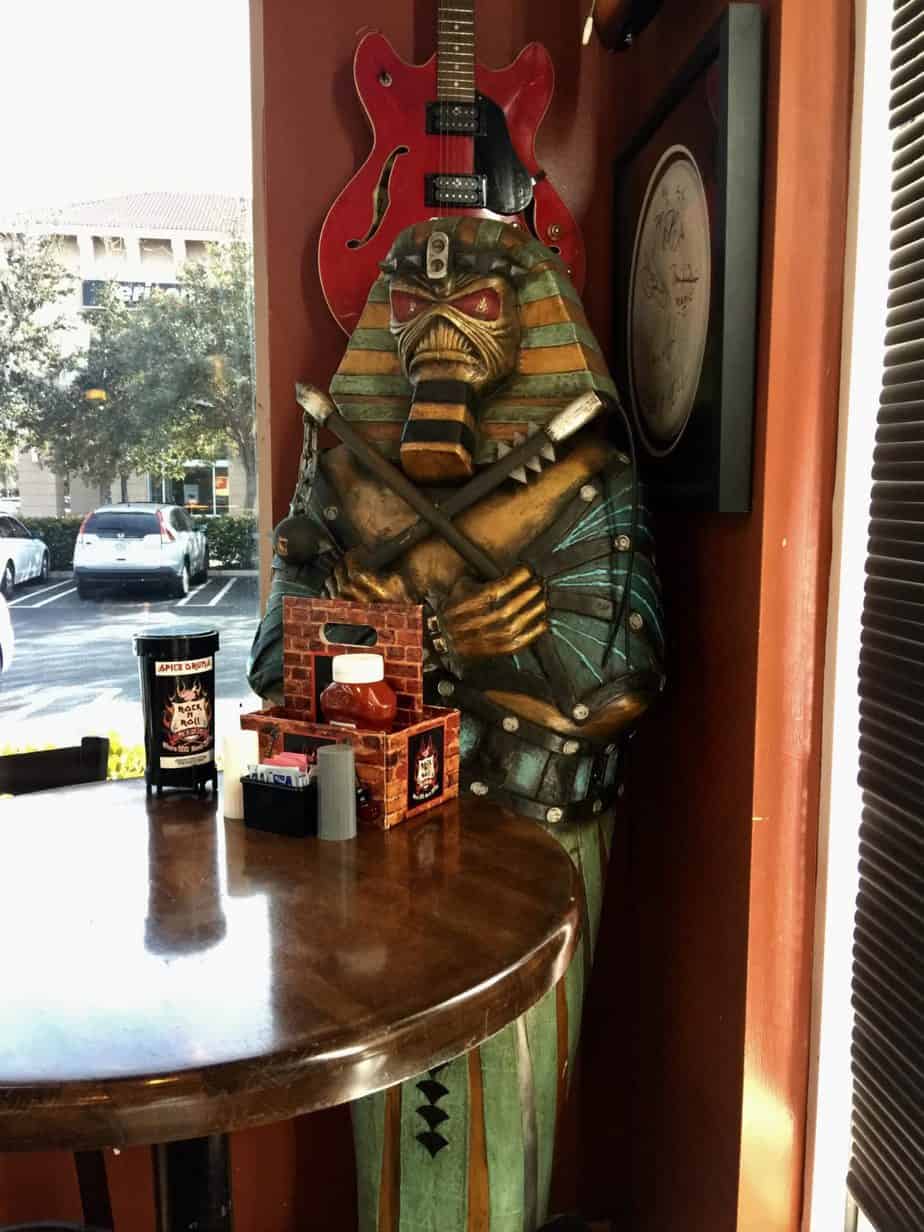 Rock N Roll Ribs: A shrine to Iron Maiden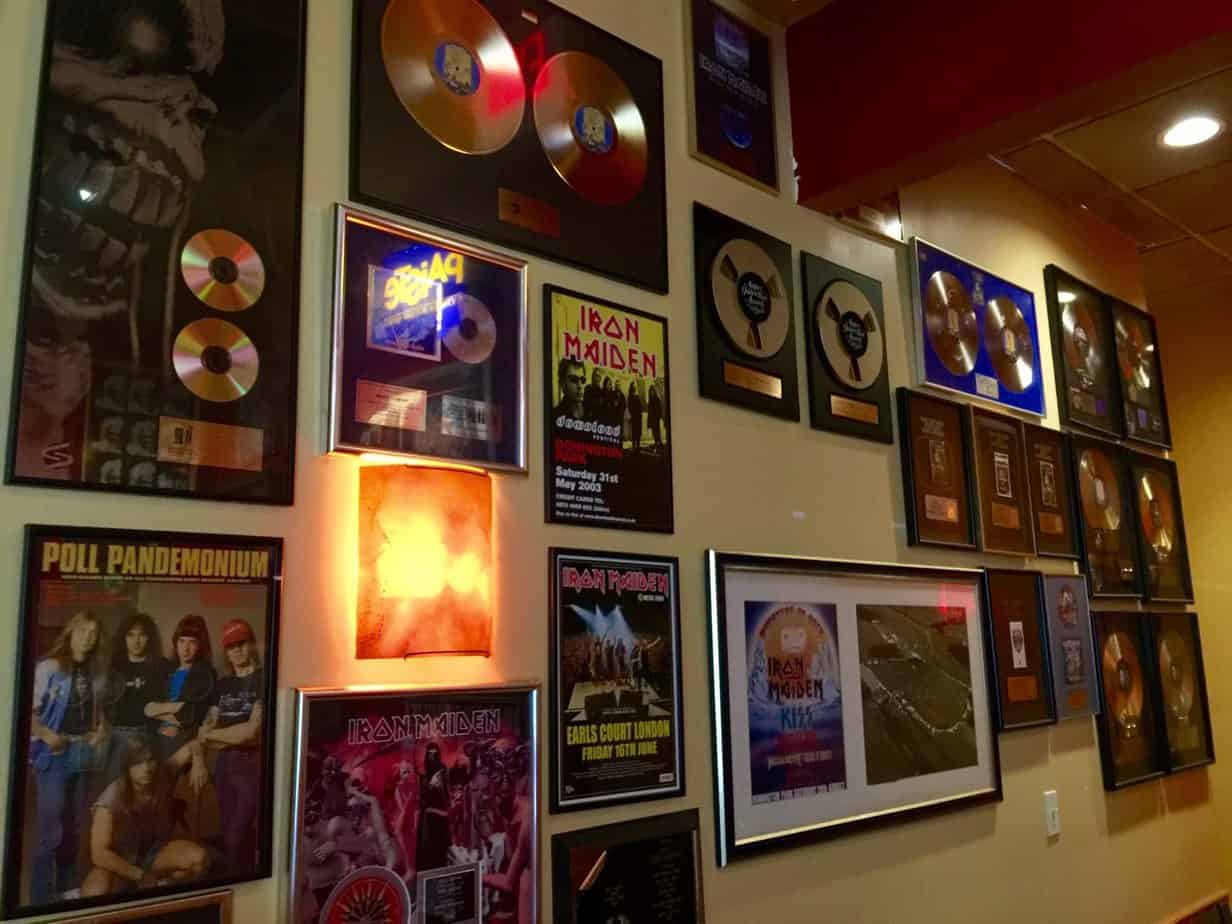 Rock N Roll Ribs: The Music
You won't hear Barry Manilow, Rod Stewart, Kiss or Guns N Roses; it has to be classic metal, and it plays on a video loop.  There are huge stage props, direct from their concert stage, and include sarcophagus and cats and evidence of the band's massive success.
Rock n Roll Ribs: The Food
It's a destination for fans, and locals alike.  For those who are here on a 'pilgrimage'  hoping to catch a glimpse of him, today they're lucky as he's in to eat lunch.
Rock N Roll Ribs: What to Eat?
Next, to the food.  Again, don't judge when the plastic menus arrive because what comes from the kitchen is something very very different.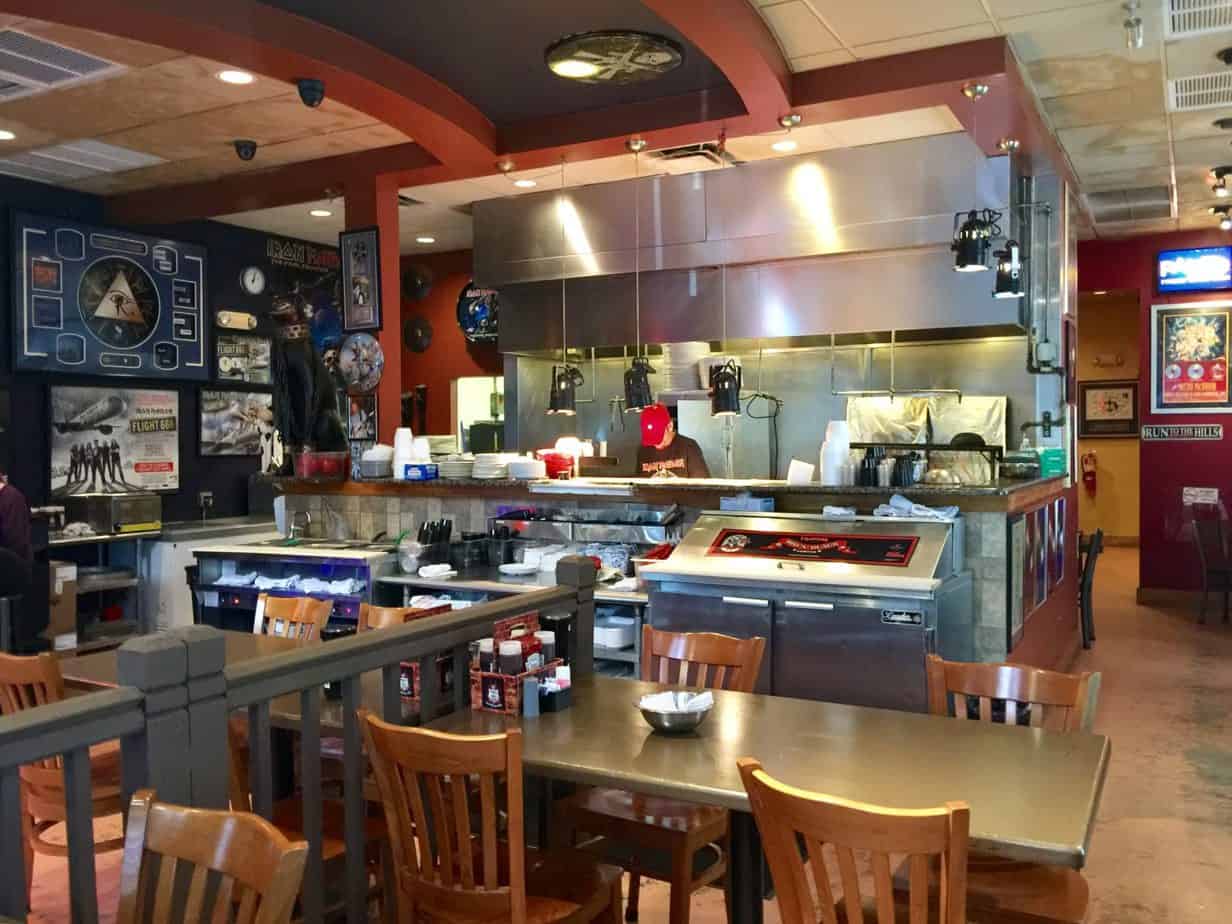 You may be thinking what does an English bloke know about American barbeque. Don't.  Trust me on this one.
The 'Road Crew Onion Stack' ($7.45) onion rings are some of the best I've tried.   Huge sweet Spanish onions, cut caveman knuckle-thick, are deep-fried with a seasoned panko breadcrumb.  Dip, if you will, into their spiced Grammy Sauce, think paprika spiced mayonnaise.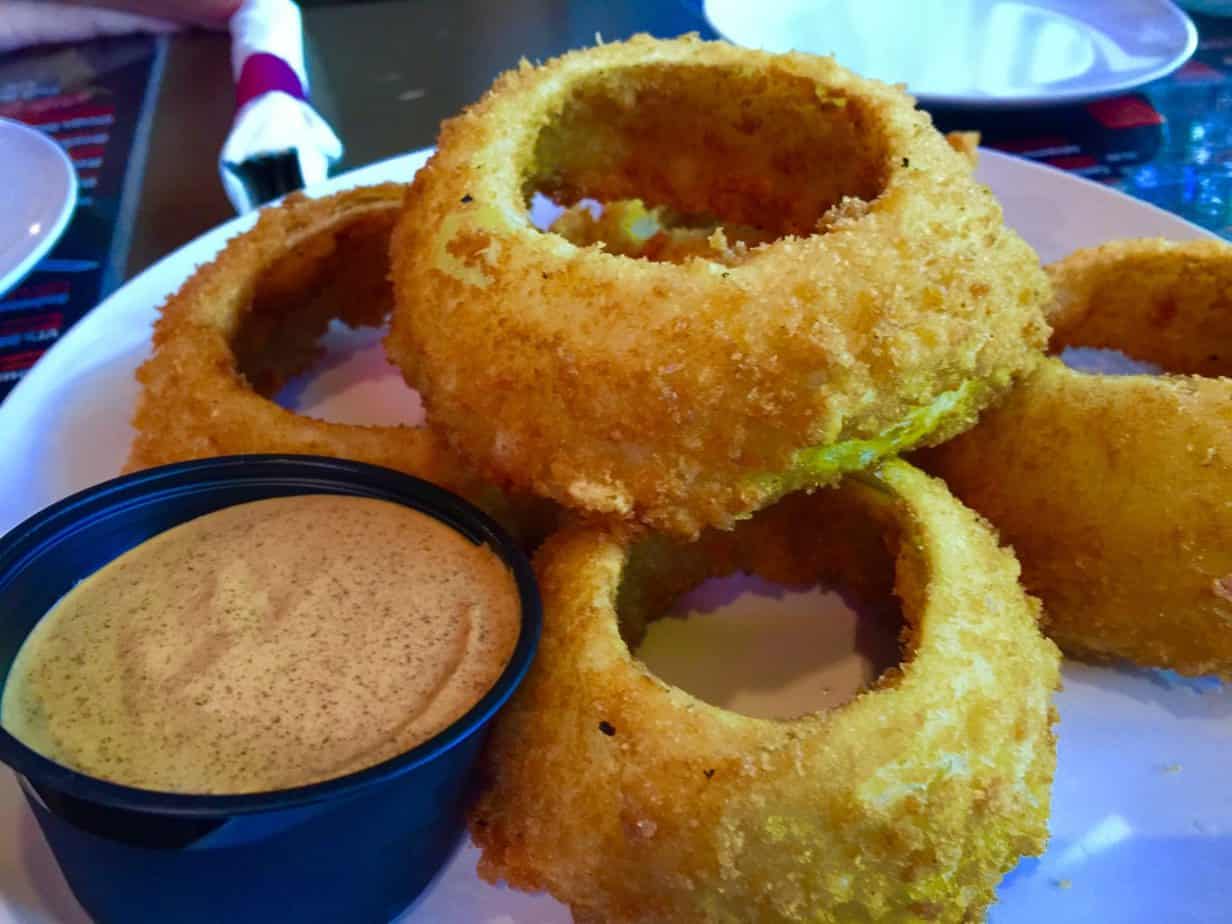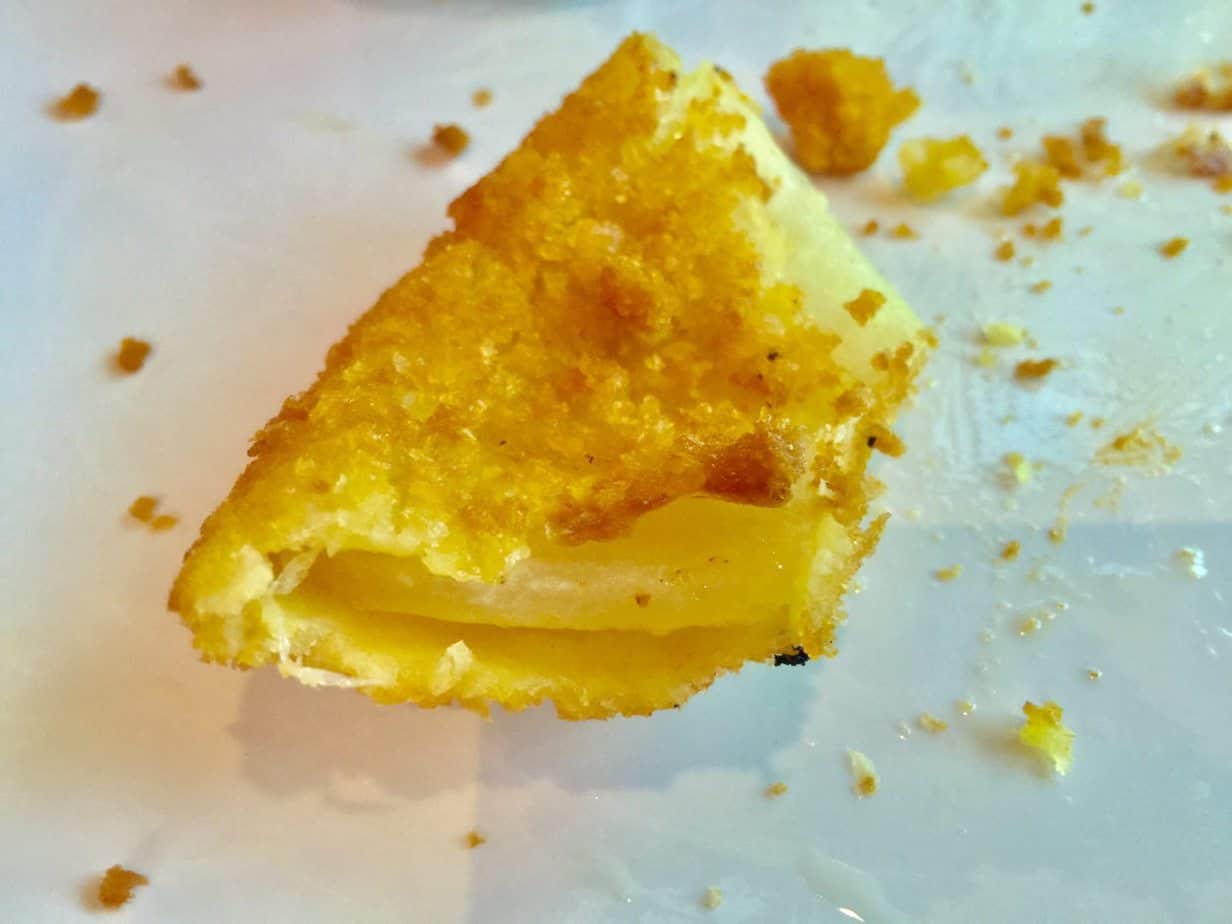 I know, I know, I'm not a huge fan of menus like this but that aside, you can't argue that the food is spot on and that's what matters most. Here, a theme isn't in the least necessary yet on the same hand; I can see why Nicko is taking full advantage of his rock roots.
As he joins us in our booth, he makes it very clear to me it is all about the food and how it tastes.  Perfecting his ribs and sauce is something he's always striving for, they fall off the bone, and the sauce is both sweet and tangy and smoked for 7 hours.
We tried the chilli, mild, with a super not-too-spicy kick and.  'Gone With The Wind Beans' sat in a delicious tomato sauce, sweet yet with a lovely kick of mild paprika.
Sauces are vital to any good platter, and there are a few to choose from, all available to buy at Rock n Roll Ribs.  I particularly liked the tabletop Spice Drums with Moby Rick's very own secret spice blend.
Rock n Roll Ribs: The Appetite of the Beast
The Appetite of the Beast platter is for four people ($61.95) and features a little of everything.  A full rack and a half rack of baby back ribs, 1/2lb of pork and beef, 1/2 chicken, homemade fries, beans, slaw, corn on the cob and garlic toast.
The Rock n Roll Burger ($10.50) had a nice grind of beef and held together well, topped with candied bacon, sauteed onions and a melted Swiss cheese topping.  I chose to have it without the bun, served medium rare with salad.  A really good burger, without any need for the bread.  The Power Slave Slaw was sweet and thinly shredded, and that alongside the hand cut fries finished this plate of food off entirely.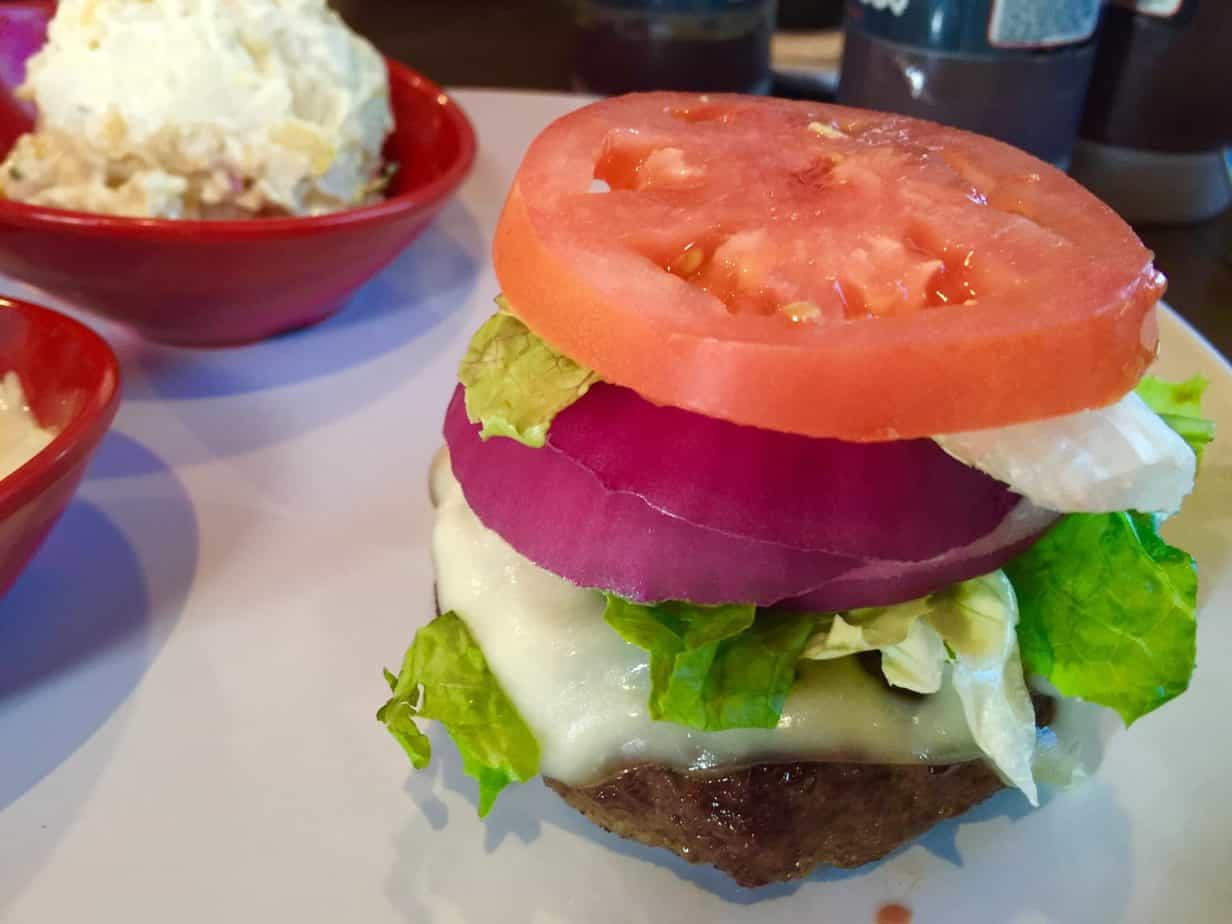 Others on our table had half rack of ribs, coleslaw, fries and garlic toast.
Generous chunks of hickory-smoked Pork fell easily off the bone.  Coated with a sweet, sticky sauce not too heavy on the sugar.  Great chips or Aces High Fries, superb coleslaw and a garlic-smothered piece of bread made the Baby Back Ribs ($11.50) a joyful lunch.
Service is relaxed, and the waitresses know the menu inside out, many have been with the restaurant since its inception, which says a lot.
Rock n Roll Ribs: Merchandise
Trooper is the Maiden beer, 'Eddie The Head' the band's Mascot is the figure on the label.   Brewed by Robinsons in the UK, it's on sale as you'd expect with a few other alcoholic and soft drinks.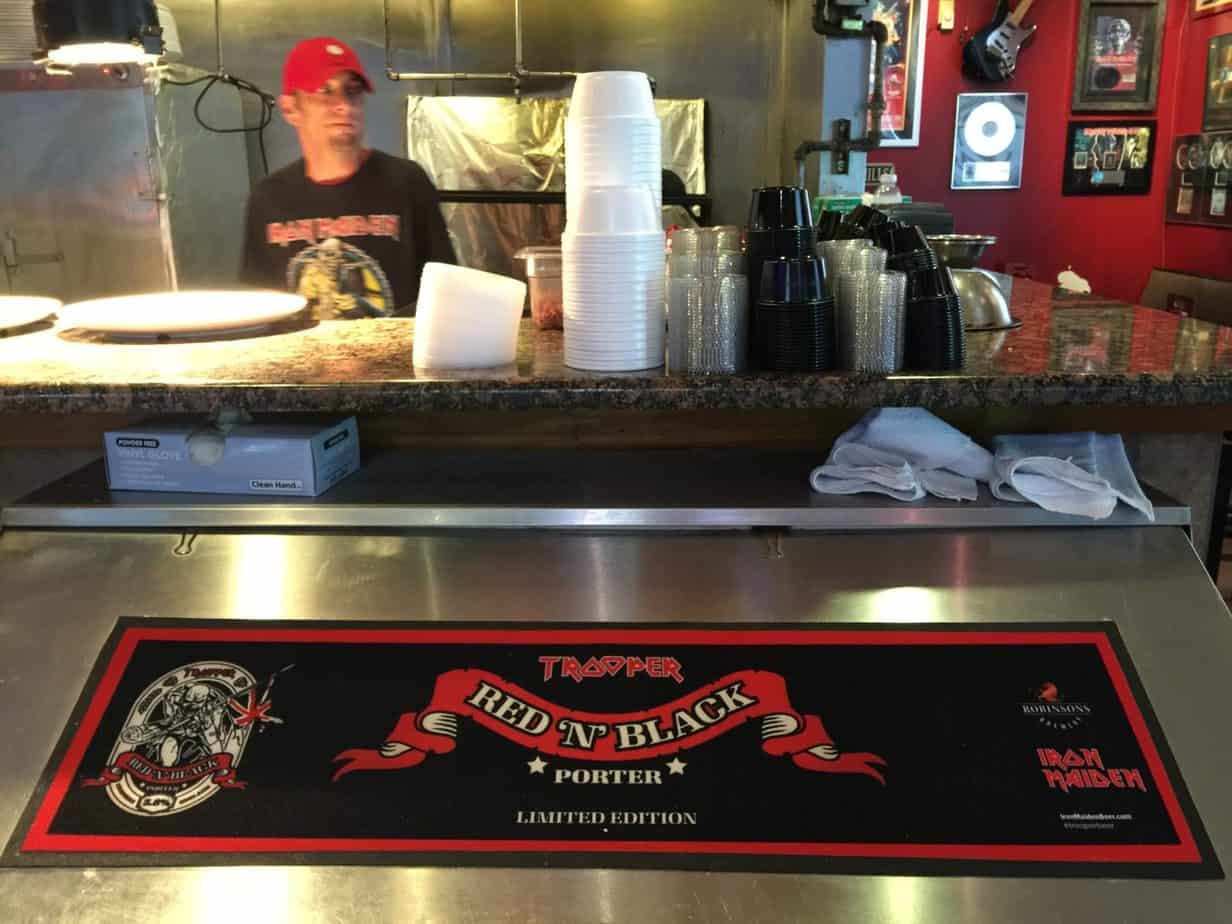 There are t-shirts, spice kits and aprons to buy, all featuring the restaurant and some reference to Iron Maiden.
Every year the owners hold a 'thank you' concert for locals and Maiden fans in the car park.  This year they'll be celebrating their eighth birthday.
You'll need a car to get here, but if you're in the area, it's worth a detour if you love good ribs and metal.
Rock n Roll Ribs, 4651 State Rd 7 (US441), Coral Springs FL, 33073