When I got asked to come and try the food at The Laughing Gravy, I'd just finished a 12-hour shift.  The prospect of schlepping it over to Southwark filled me with dread, but I'm glad I made the effort. This neighbourhood restaurant was heaving on a Tuesday night, and there was no particular price or discounted set menus hauling diners in either.  I'm assuming they've discovered that this restaurant is not bad at what it does, great food at a good price point with a superb drinks menu.  I'm a little bit loathe to bang on about just how good, and the only reason I will is that selfishly I live West.
The a la carte menu offers up some inspired dishes from a pigeon and oxtail sausage roll, a mead-glazed pheasant leg and a veal chop.  A select gathering sampled the a la carte menu and a few offerings from their Christmas 2016 menu.  A three-course meal turned into a series of various courses; thankfully I wore the elasticated pants.
The Laughing Gravy: Starters
A plate comes out from the kitchen looking like a work of art.  It was hot smoked whisky-cured Loch Duart salmon on Guinness and malted sourdough soil with horseradish mousse and truffle snow. What to say? Sweet salmon, that maltiness from the sourdough and beer and sweetness from the horseradish.  Delicious.
I started with roasted and pickled Heritage beetroot, goat's cheese, preserved apple with candied cashew (£8.50).  A lovely plate with super sharp apple, gloriously sweet beetroot and that sharp tang of the goat's cheese was a joy.  Rolled in apple gelee which was amusing and unexpected.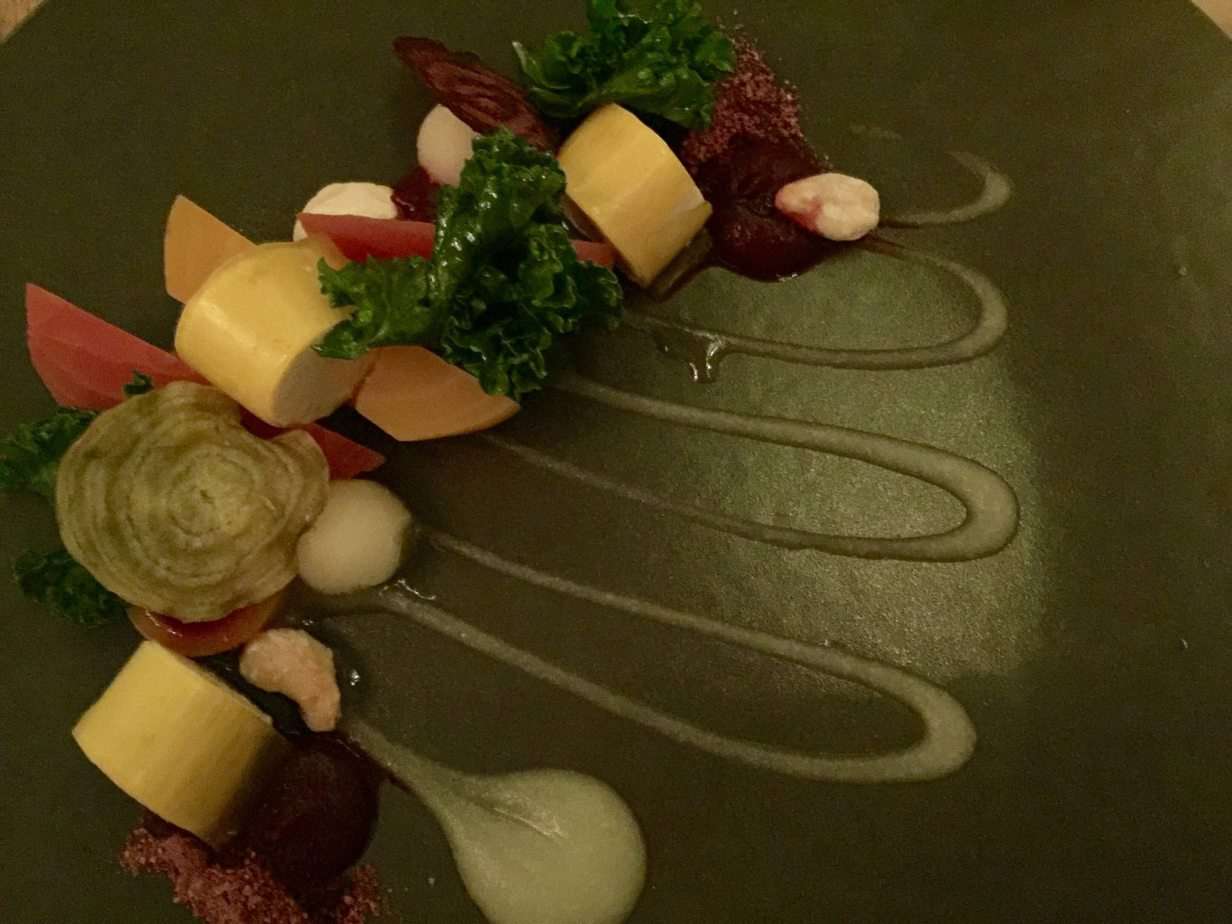 Another, plate, destined for the Christmas menu, although I wouldn't wait for December for this one, a lovely pinwheeled roll of wild boar and pistachio with damson chutney and purple potato crisps.  Beautiful.  A reasonable £50 for three courses and not a Christmas pudding or mince pie in sight.
This fantastic duck terrine and chicken liver and Foie gras pate is a plate of fabulous, complete with sour cherry puree and candied hazelnut.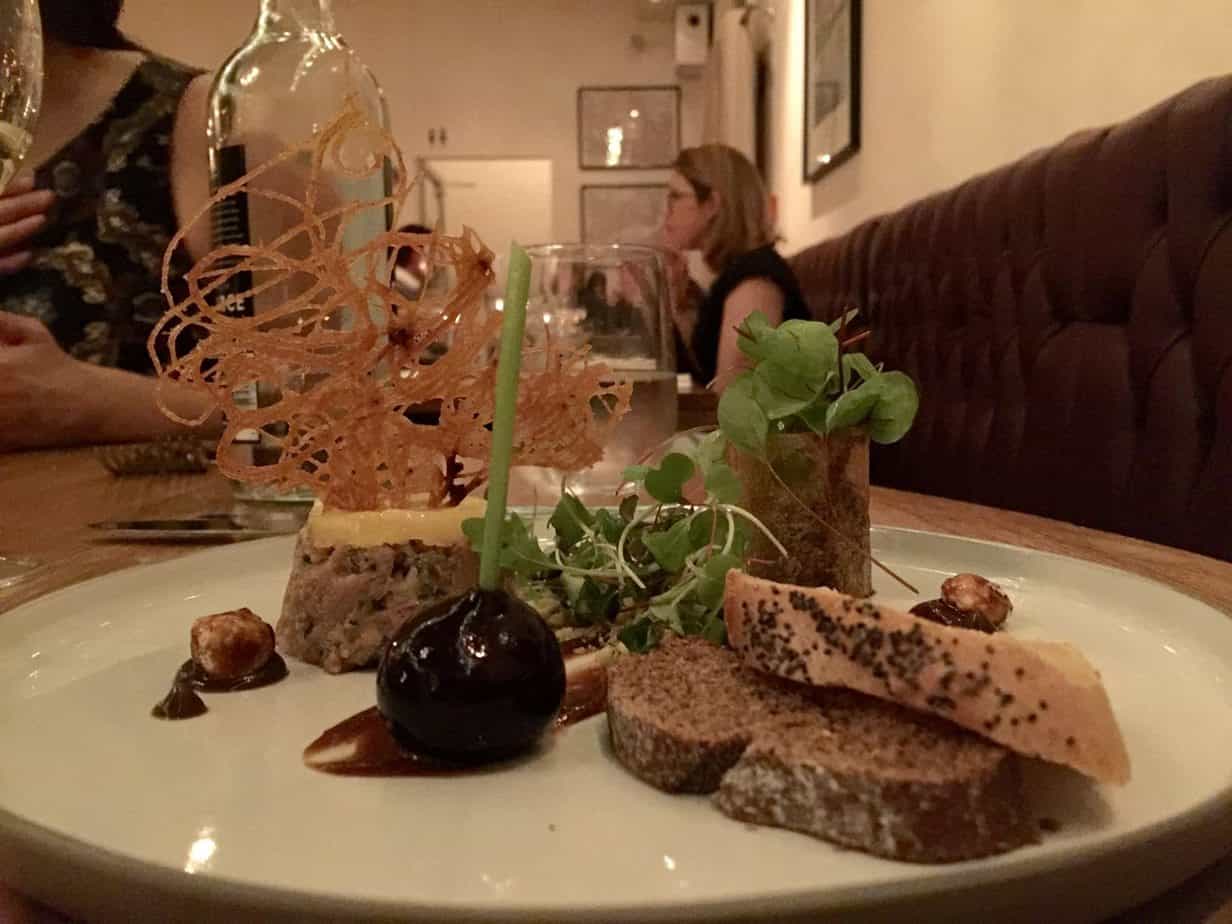 Stupid me I went and ordered a main before the outpouring of dishes.
The Laughing Gravy: Mains
The wild mushroom and salted deer stuffed venison fillet Wellington came with tender stem broccoli, horseradish and white truffle celeriac puree, scattered with toasted almonds (£24).  If there were a gripe to be had it would be the pastry.  A little 'flabby' for me but this kind of thing is all subjective.   Perfectly cooked, but I wanted a bit more flake.  The venison was just perfect.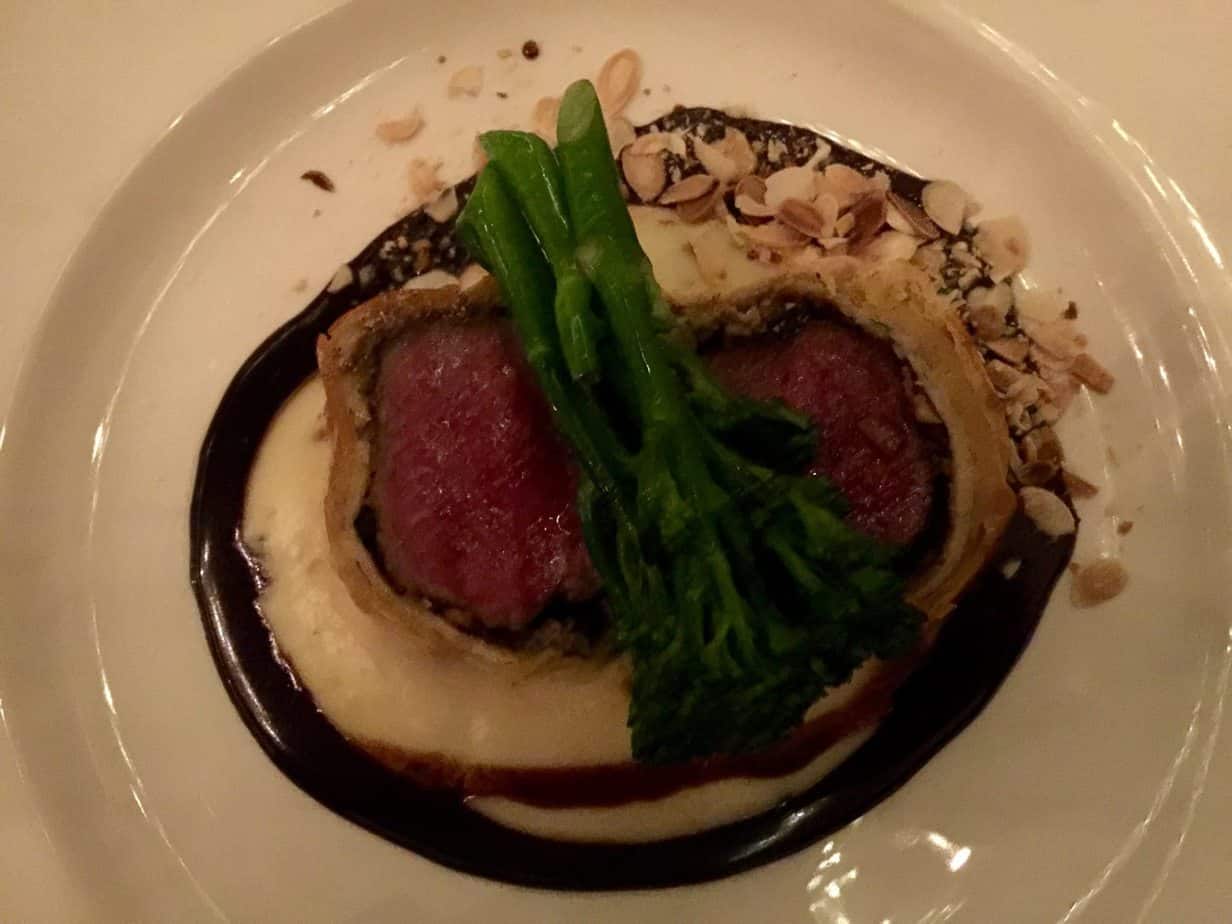 A plate of pan-fried market fish with braised leek, kale, buttered new potatoes and Brixham crab broth arrived.  This Christmas offering was full of flavours brought together so very well.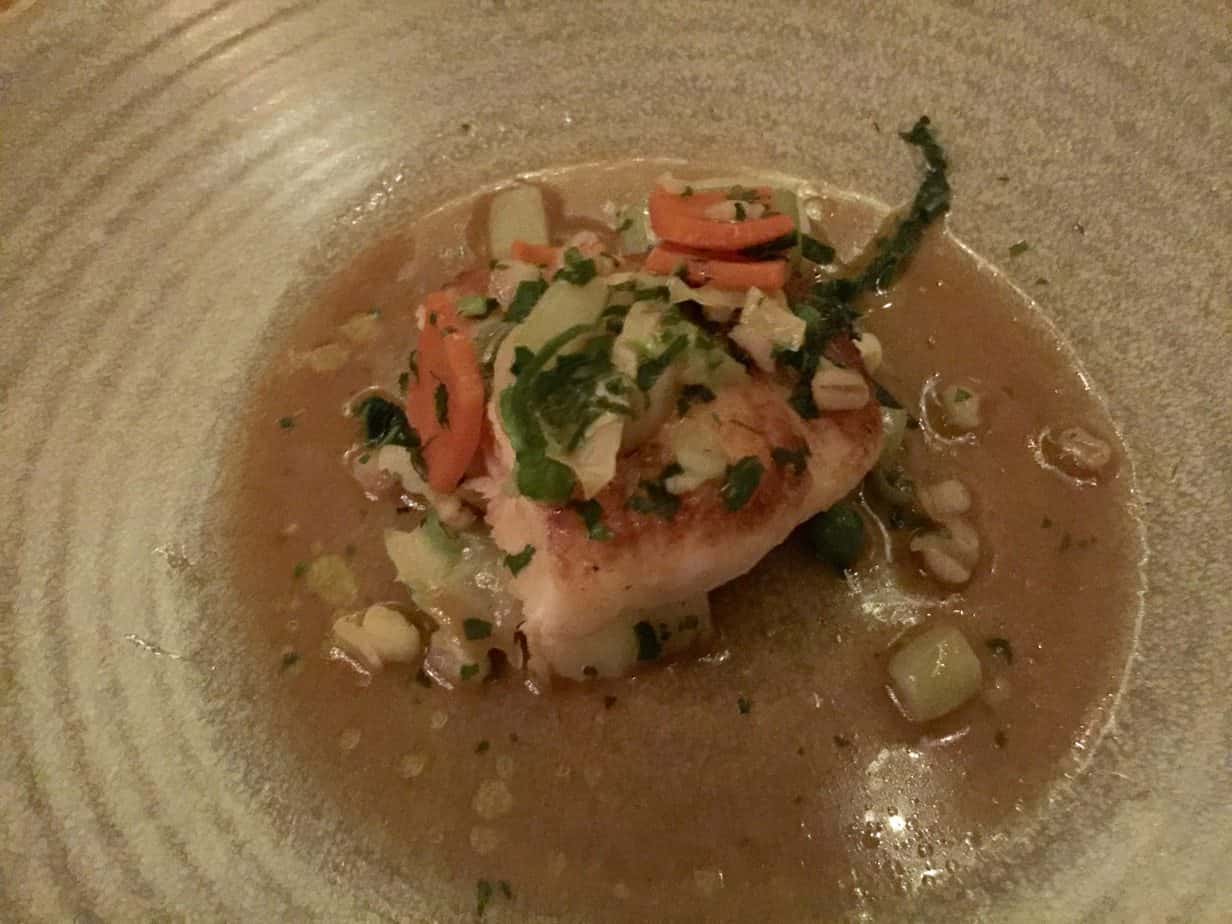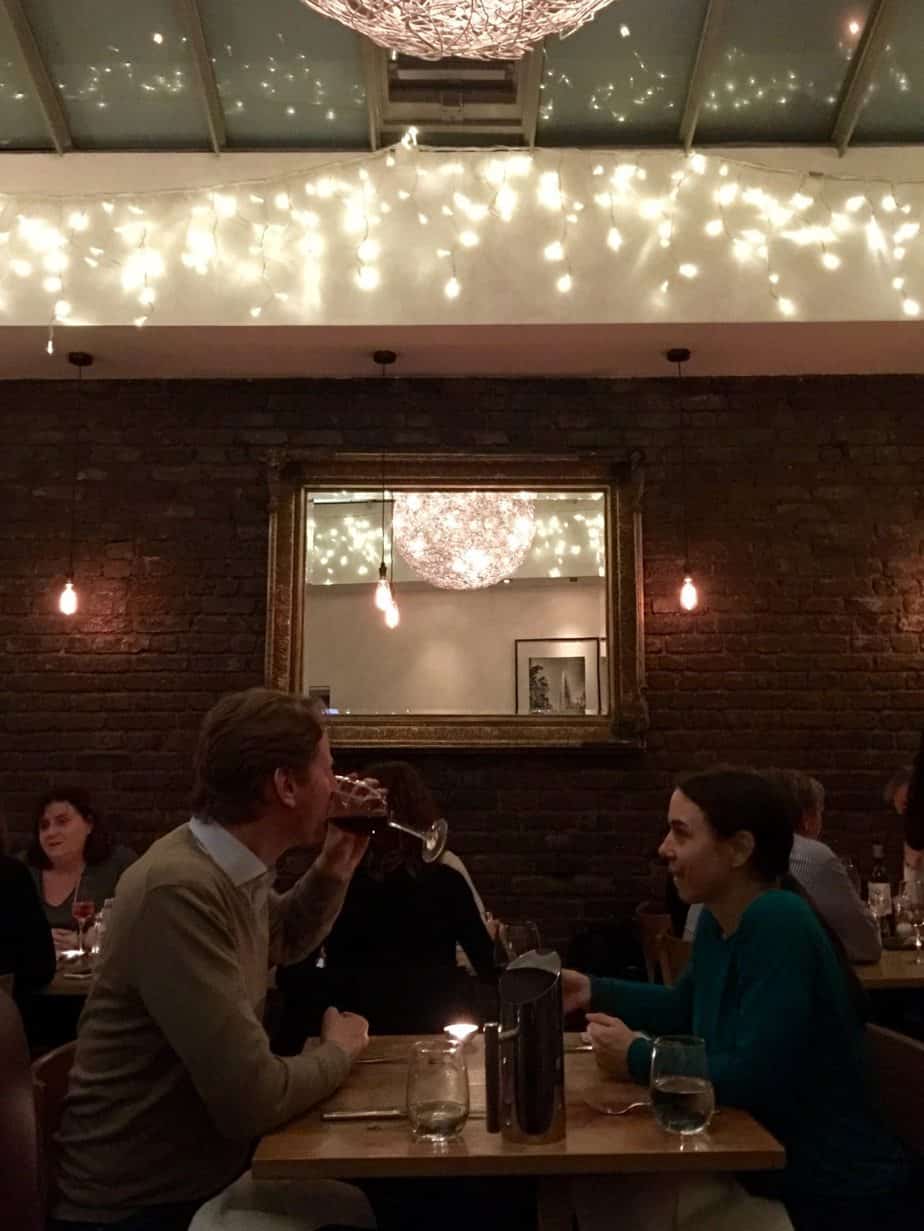 The Laughing Gravy: Desserts
I was ready to dodge the dessert course.  No chance.  Along came a taster plate of what's on offer.   Amaretto sour and caramelised banana sundae with candied cashews.   A seven-year aged dark rum soaked raisin and roasted pecan pie with vanilla and nutmeg infused eggnog popcorn brûlée.  The salted caramel mousse with vanilla fudge, shortbread and chocolate rum ganache filled Caramac cylinder was a clever nod to my childhood.  I'm a sucker for salted caramel ice cream, and this was heaven with the chocolate brownie.
After all that food, the Chef wanted me to try an ice cream sundae sandwich.  I had to put my foot down, the elasticated pants were at their upper limits, and I had to make it to the door.  
If you live near the restaurant, I'm really jealous.  If you don't, make the trip before everyone finds it and you can't book a table for love or money.
This Google Map shows you exactly how accessible it is.  Close to The Cut at Waterloo and a short stroll from Southwark.
The Laughing Gravy, 154 Blackfriars Rd, London SE1 8EN