A cold infusion looks something like an herbal teabag and does the same job, kinda. Well, DJ's Cold Infusion Pockets do anyway. The mesh triangle bag contains fruit and botanical ingredients sure to liven up even the dullest of drinks.
The pockets, take a few minutes to infuse and there are variety of 6 blends to choose from.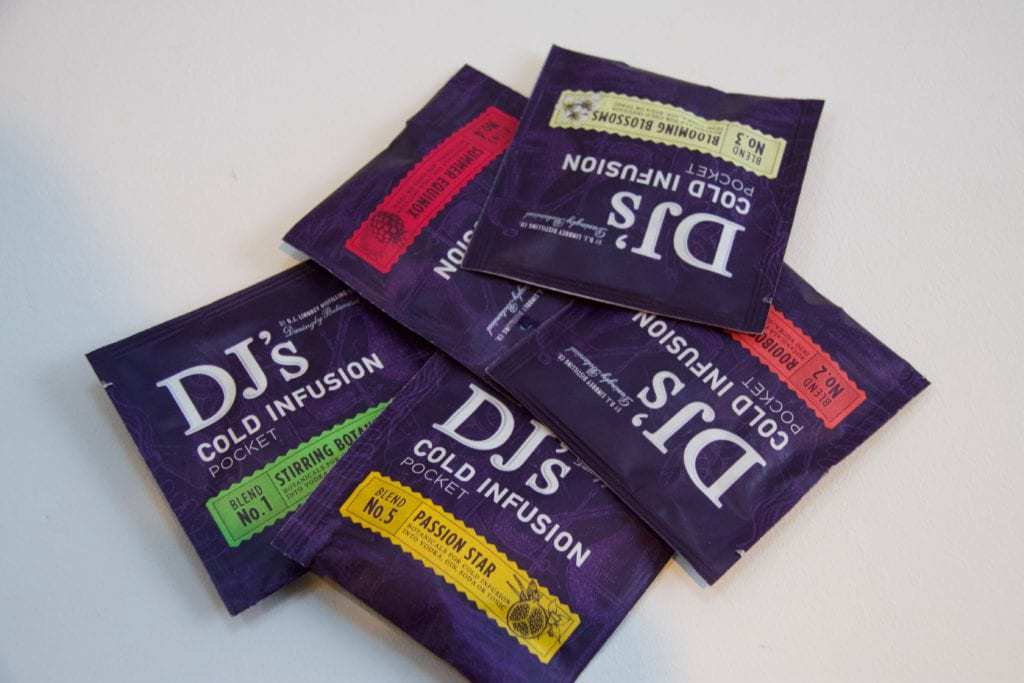 Each cold infusion pocket is plastic-free and made from starch, which means they're great for the environment.
I was sent all six and am slowly working my way through them.
Stirring Botanicals
Passion Star
Rooibois Spice
Blooming Blossoms
Orange Osmosis
Summer Equinox
In time for a pre-Christmas post, I tried the Rooibos Spice cold infusion pocket. It was a little too early in the day for alcohol, so I opted for sparkling water. The pocket had a chance to shine with such a bland base.
Rooibos
I love Rooibos tea, but this was a little sweeter and far more enjoyable than I ever remember. The spice was definitely there but subtle and not in anyway overpowering which is often the case. Well balanced flavours in this bag which included Rooibos, cinnamon, ginger, cardamom, peppercorns and cloves. I also managed to refill my glass four times before the water took on a bitter note. The other cold infusion pockets could be enjoyed with Tonic Water, Ginger Beer, and the perfect excuse to liven up the house gin, vodka or white rum.
Cordial Alternative
If you're often the designated driver and get totally fed up with the drinks on offer, then this is really easy to take. I've often taken flavoured cordial to a party when I'm the driver but this is something very much out of the ordinary, easy to carry in your handbag and very much a talking point.
You can buy DJ's Cold Infusion Pockets in packs of 10 for £9.99, whilst the patented stirring spoon is £7.99. Such a fun stocking filler for anyone who loves a soft drink or who likes experimenting with their neutral spirits.
Did you read my review on Duke's Hotel and No 3 Gin Martinis?