Finally, it seems Aldi's done enough to prove to the consumer that they stack up on quality and price in pretty much most of the food and drink categories, compared to other better-known and 'trusted' supermarkets. 'Supermarket snobbery' looks to be a thing of the past but it's taken us a while to be convinced.
Quality and Value
I've known about Aldi quality and value for some time now, and I can tell you they push out the boat for Christmas. It's not uncommon that they put on a show to make the run up to Christmas and the actual event a huge success. I'd already sampled a fair few items from their Christmas range in July and during judging at the Quality Food Awards.
It wasn't a challenge this year to buy meat for our Christmas dinner. Our very generous pals host the meal while Mr and I do some prepping and bring along the meat. This year I opted to try Aldi and not the usual butcher. I'd tried most birds because most supermarkets had entered them into the QFA and I had tasted the Aldi meat, so I knew what I wanted.
This was after all the Saturday before Christmas Eve and my last opportunity to do a decent shop because of work (so who else would be in the same boat?). It seems no one. We were first in the car park at 07:15 and we waited patiently for thirty minutes and were confident we'd snag our prize birds. How could we lose with our deep trolley and sharp elbows?
Turkey Goals
Nonetheless, we continued with our plan. I'd run to get the turkey while Mum would stroll on down with the trolley. I snagged my Aldi British turkey and specially selected crown from Norfolk and breathed a massive sigh of relief. We had a fair amount of time now to wander and put whatever else we needed into the trolley.
Must-haves
I had a list of absolutes which included turkey gravy; pigs in blankets; fresh orange juice for Bucks Fizz; the luxury Profiterole tower and some macarons.
Stacking the Tower

Stacking the Tower II

Stacking the Tower III
Of course, I got blinkered and bought some crackers (£19.99) which were great fun for the gin lovers on the table. The Bottoms Up Gin Crackers are filled with a miniature 5cl bottle of gin as well as a matching tonic. These made a great alternative to the rubbish joke and poor party game.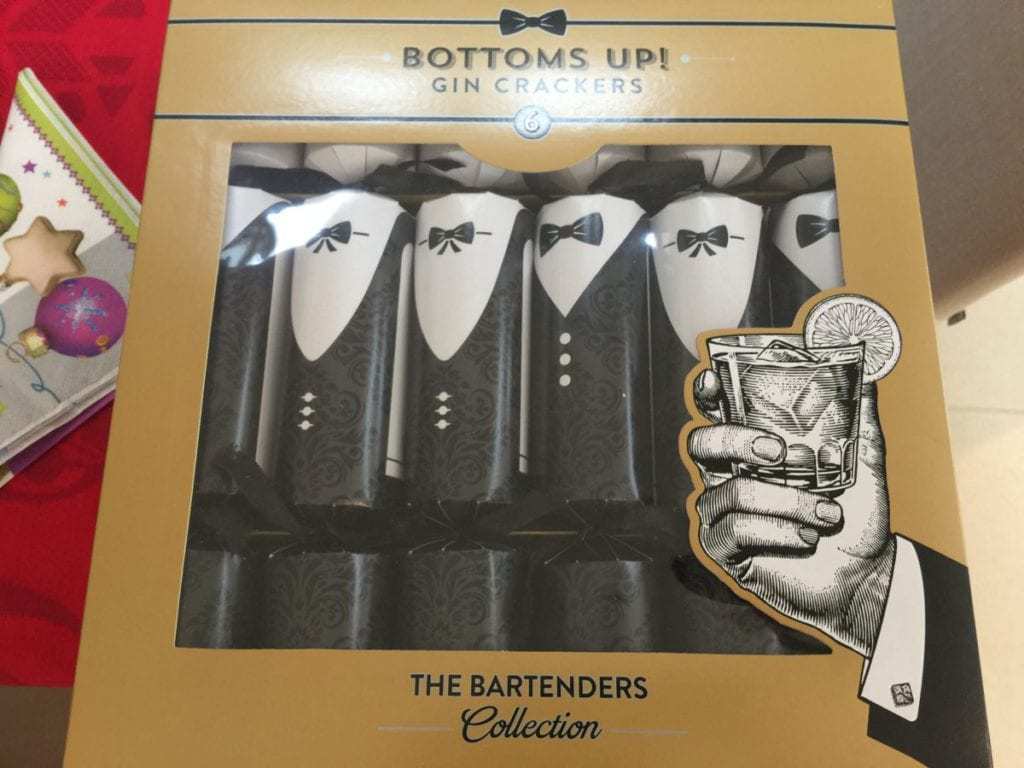 The Rhubarb Light Tonic Water was a fraction of the price of Fever Tree; well balanced and frankly a little better.
Their fizz offering – the award-winning 'Monsigny Champagne Brut' picked up Silver Outstanding Medal at the IWSC Awards in 2018. It's fruity and floral and phenomenal quality for such a low price tag, £11.49.
The turkey was phenomenal. Topped with bacon, plenty of butter and seasoning it was juicy, moist and there was plenty of it. It went down a storm.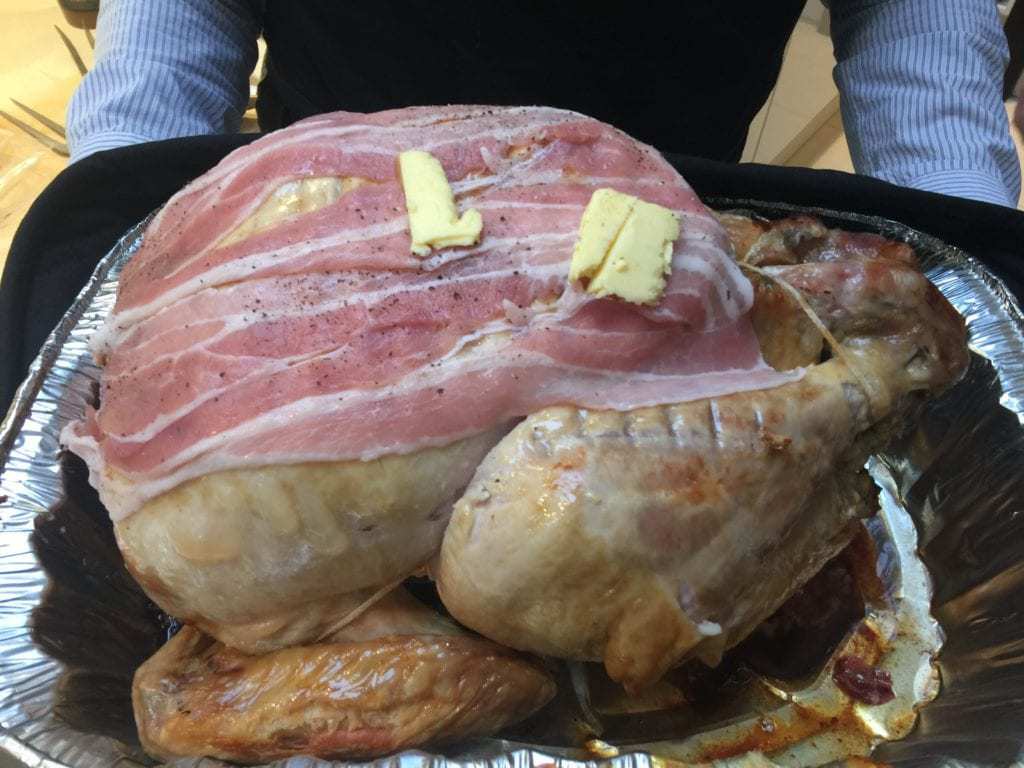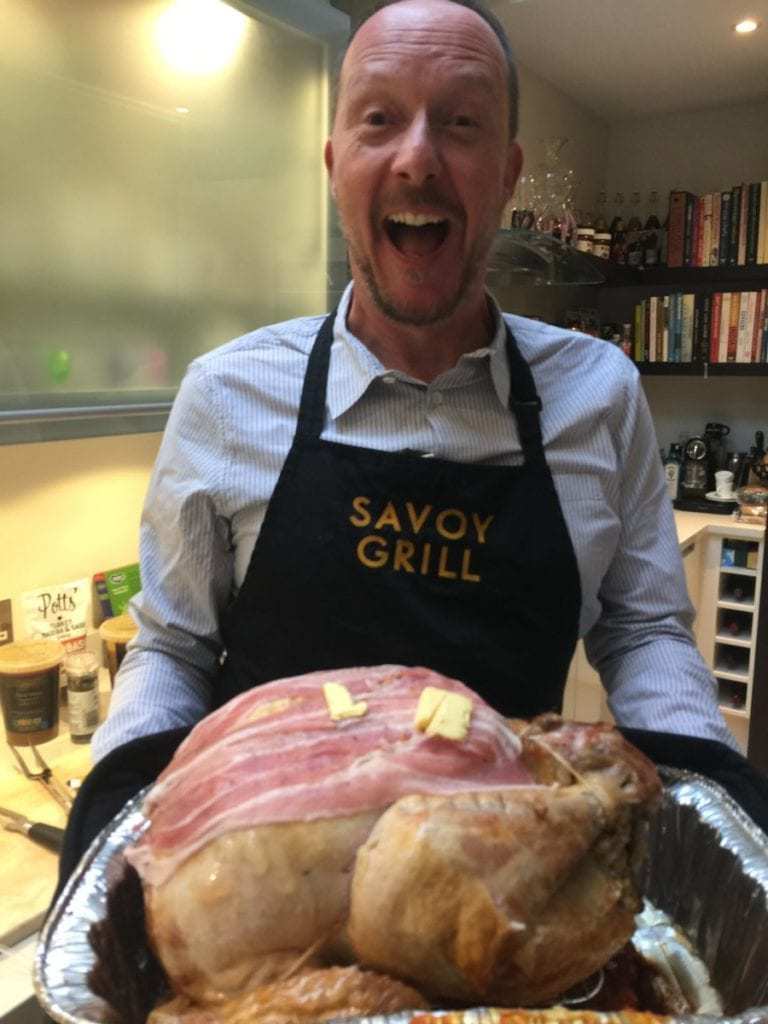 The paper receipt was over a metre long. Aldi gave me vouchers to spend on Christmas items. I still managed to cram a further £80 worth of goodies into the trolley without any issue whatsoever.
Did you read my blog on the Aldi Pamper Hamper?