Luxury hot chocolate or an addition to your favourite savoury dishes Hasslacher's Hot Chocolate block is a vital ingredient in your storecupboard.
Although I hate the darker nights that Autumn brings I love the excuse for a mug of decent hot chocolate.  Not the powdery stuff you attempt to mix with hot milk, I'm talking about chocolate.  Huge cubes of the stuff melted in a pan and then thick full-cream milk heated and brought together as one.  A marriage made in heaven.
Cacao -v- Cocoa
For those of you questioning my spelling.  Let me explain.
Raw cacao is made by cold-pressing unroasted cacao beans. The process keeps the living enzymes in the cacao and removes the fat or cacao butter.
Cocoa looks the same but it's not. Cocoa powder is raw cacao that's been roasted at high temperatures. Sadly, roasting changes the molecular structure of the cacao bean, reducing the enzyme content and lowering the overall nutritional value.
Hasslacher's Hot Chocolate Bar
Hasslacher's Hot Chocolate bar is made from 100% Cacao.  It has a rich, intense flavour and is naturally high in antioxidants.  Ethically, the brand supports cacao farmers who grow and blend beans responsibly sourced in Colombia.  Cultivated under the natural shade of the canopy, it preserves the natural forest.  I can't believe it's not entered my life sooner as the company's been around since 1906.
Once you unwrap the packaging, there are two layers of chocolate, and you need just two small chunks for each cup.
One pack makes 16 cups of hot chocolate.  I don't think I've ever drunk more than 16 cups in one winter season so fret not.  There are plenty of uses for this bar of wonderful.  Try adding a chunk to a chilli con carne or a beef stew.  Use in baking to give chocolate brownies that deep intensity.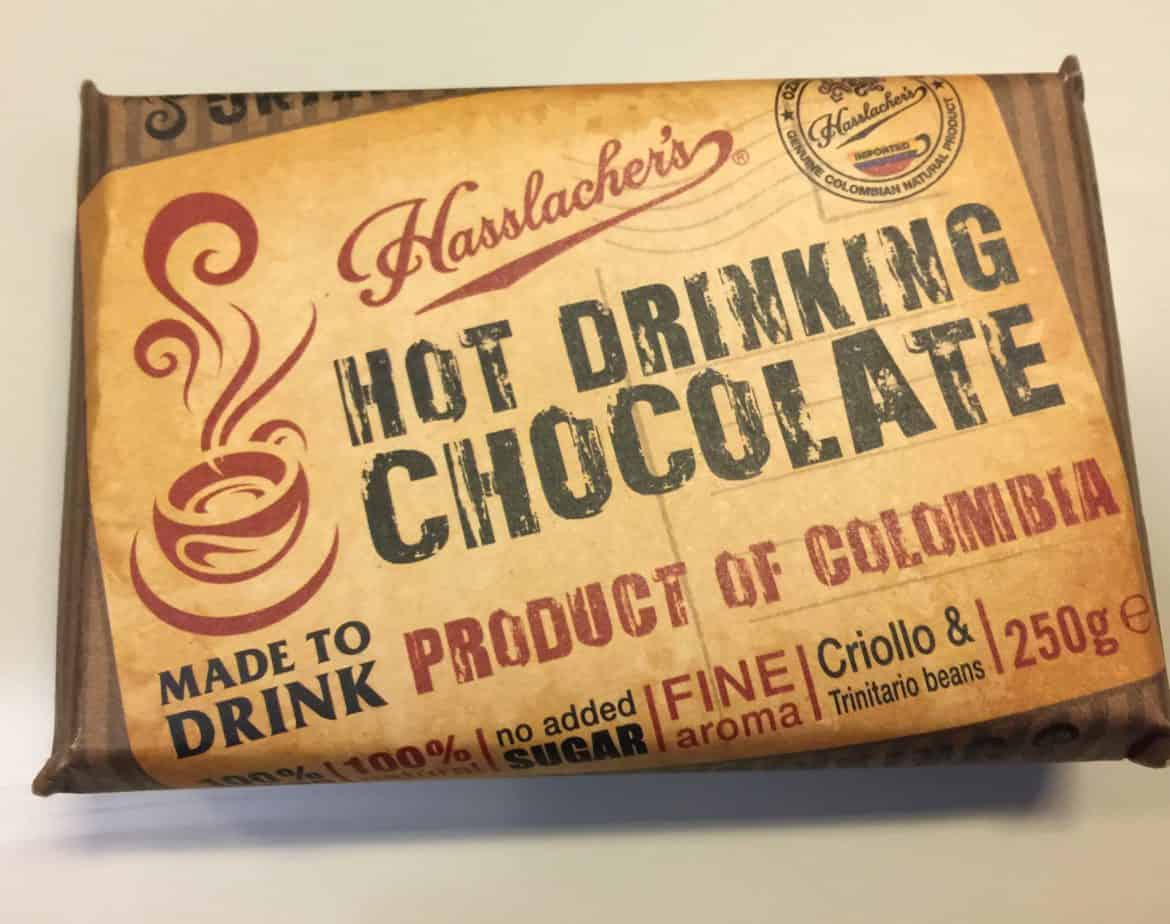 Anything less than 100% cocoa solids is too sweet for me and I like to add sugar to taste.   Demerara preferably.  I also like to add a pinch of Maldon sea salt.  I'm not entirely sure what it does but it takes the drink to a totally different level.
Do you add anything to your hot chocolate?  Chilli flakes, spices like Cinnamon or Cardamom, cream, alcohol or those tiny marshmallows?
Here's an over-the-top moment for my Mum for Bonfire Night.