"Mum's gone to Iceland" once the catchphrase of the freezer store, disappeared to be replaced by "The power of frozen".  Iceland the high street supermarket, is undergoing a rapid image change.  I've watched the store change shape and take on Aldi and Lidl in the cut-price luxury market to lure in well, people like me.
Their Christmas show as an opportunity to show journalists and food writers what was on offer this year.
For Christmas, you can expect Rock Lobster, sourced from the Corn Islands, just off the Nicaragua's Atlantic Coast.  A decent-flavoured Thermidor sauce adds to the richness, and it's ready-to-cook in a silver oven-ready tray.   Simple to lift out of its shell and serve as your starter showstopper.
Neil was also telling me about the whole-lobster, shelled and frozen which will be coming into stores soon.  After a bit of research, I discovered the Avure 215L-600.  This machine exerts up to  87,000 pounds per square inch of pressure which kills the crustacean instantly and allows the meat to slip free from the shell.
Neil cooked the lobster in a little butter and sat the meaty chunks on top of their new serrano-type ham.  Made in Manchester.  I can't wait for this to get into the store; it's superb.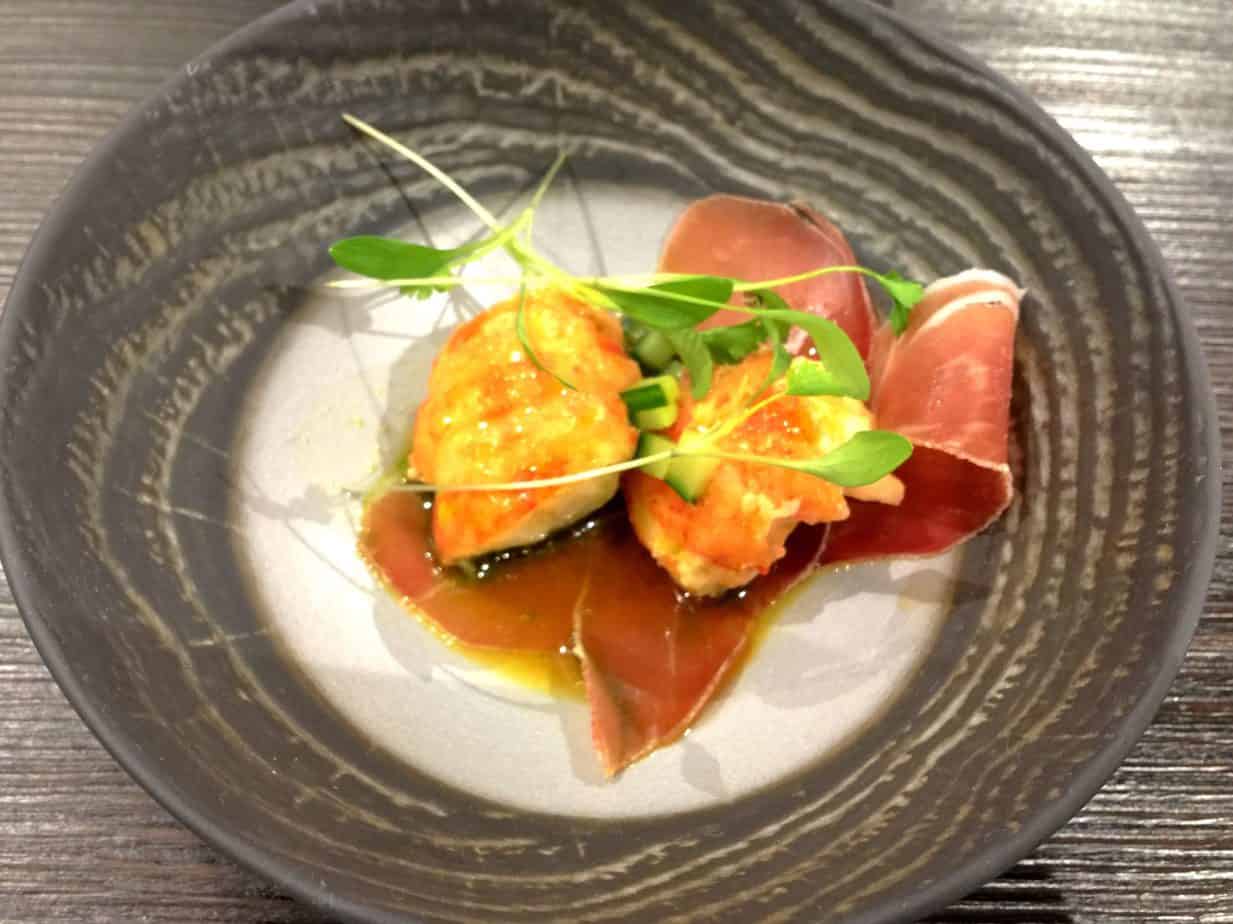 The smoked salmon snowflake terrine is another treat.  Six decent sized portions of rich smoked salmon sat on a cream cheese and crème Fraiche mousse.  Looks even more impressive when Neil and his team plate up.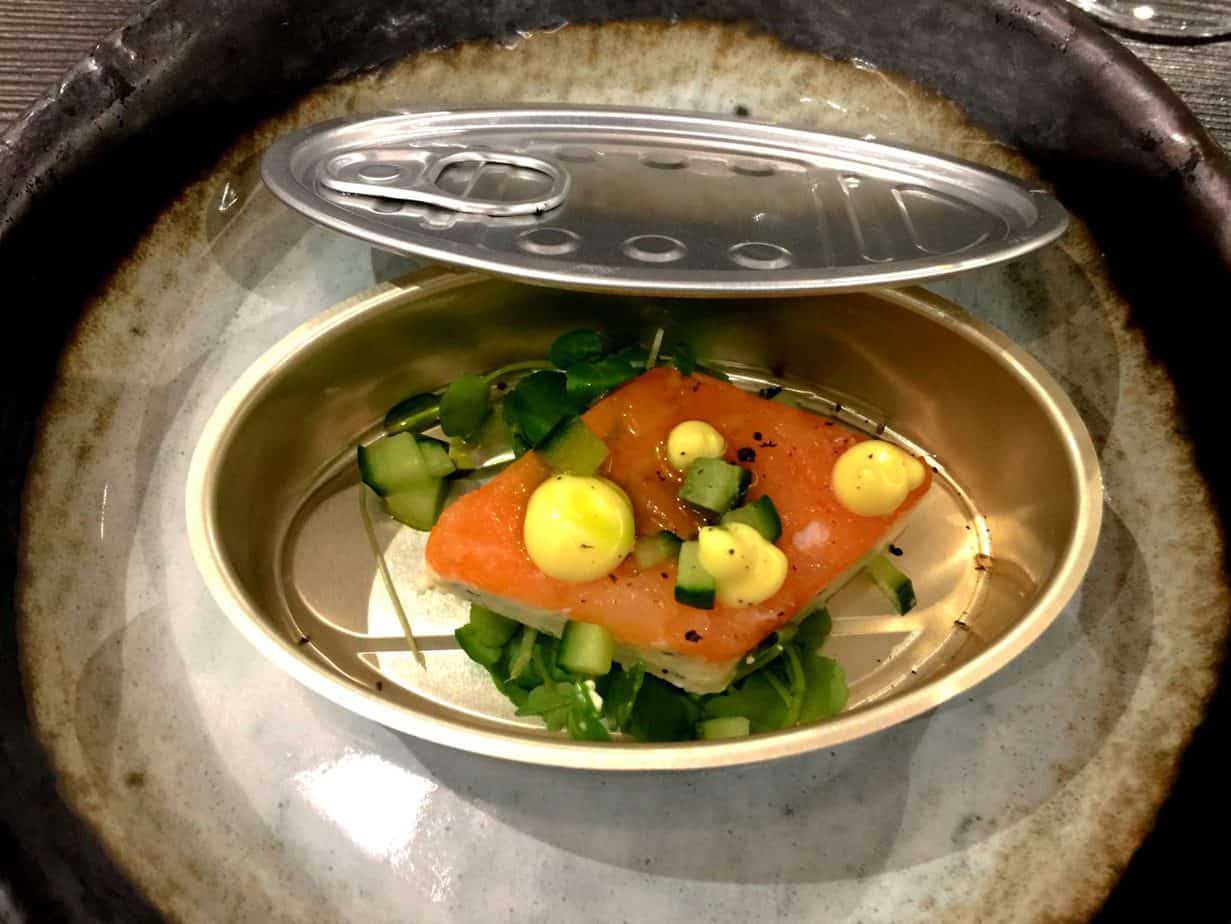 Pate
The Partridge & Pear or Duck & Fig pate is a great starter, full of flavour, depth and with a little garnish, you'd get away with convincing your guests you've made it yourself.   A little-chopped apple and their air-dried ham dress the dish, and the pate was perfect on wafter thin sourdough.
Those dreading another Nut Roast Christmas, step forward the Roasted Parsnip and Portobello Mushroom Pithivier.  Stuffed with roasted parsnip, mushroom spinach and bound with honey a flaky pastry case rises to perfection.  Throw in some thyme and nutmeg, spinach and a creamy sauce made with porcini mushrooms and vintage cheddar cheese, and you have this centrepiece, showstopping meat-free pie.
Turkey
If you're a Christmas Turkey-lover, then step aside because this is the Mother of them all.  Seeking inspiration from the history books this whole gilded turkey takes the lead from the Victorians but has been brought right up-to-date to reveal a 'gilded' finish. Instead of a gold leaf finish, the turkey is oven baked with muslin and butter cloth,  In the last five minutes of cooking,  a honey and mustard coating is painted on. Served here with their luxury Christmas tree and baubles, Romanesco broccoli and carrot, with pink peppercorns and butter stars and a small dollop of mash and rich gravy to finish it off.
Award-winners
Did I mention their pigs in blankets?   Good Housekeeping tested 14 brands in their annual survey for Christmas food, and Iceland's came top of the list, fighting off competition from the major high street brands.  They scored 82/100 and here's the testers summary.  "Meaty, well-seasoned sausage is wrapped in crispy bacon with just the right amount of fat to give these pigs in blankets a delicious savoury saltiness. The smell reminded testers of delicious comfort meals. One tester was reminded of a fry-up, another of roast pork. This is one of the few products tested where both the sausage and bacon were a pleasing colour."
On Boxing Day beef is a tradition in our household.  Often cooked and served cold with pickles, I have my eye on this 21 day matured Picanha rump (Brazilian Rump) to buck that trend.  Hand finished with cracked black pepper seasoned butter, a perfect partner to my spicy Jalapeno sauce.  Chop 5 Jalapeno peppers, one onion and throw into a blender with a tsp salt and three cloves of garlic.  Blend to a paste.  Serve with your Pichana rump.
For the sweet centrepiece, it would have to be the Reveal Snowflake. It's a must for the sweet-toothed chocolate lover.  A dark chocolate sauce is heated up and tipped over the centre of this dessert where it implodes to reveal the layers of brownie, mousse and thick chocolate shell.
Iceland Head Chef
Neil told me there are over 200 products in the Christmas range this year, but it's not all about frozen food.  They've extended their Luxury range across fresh, chilled and grocery sectors.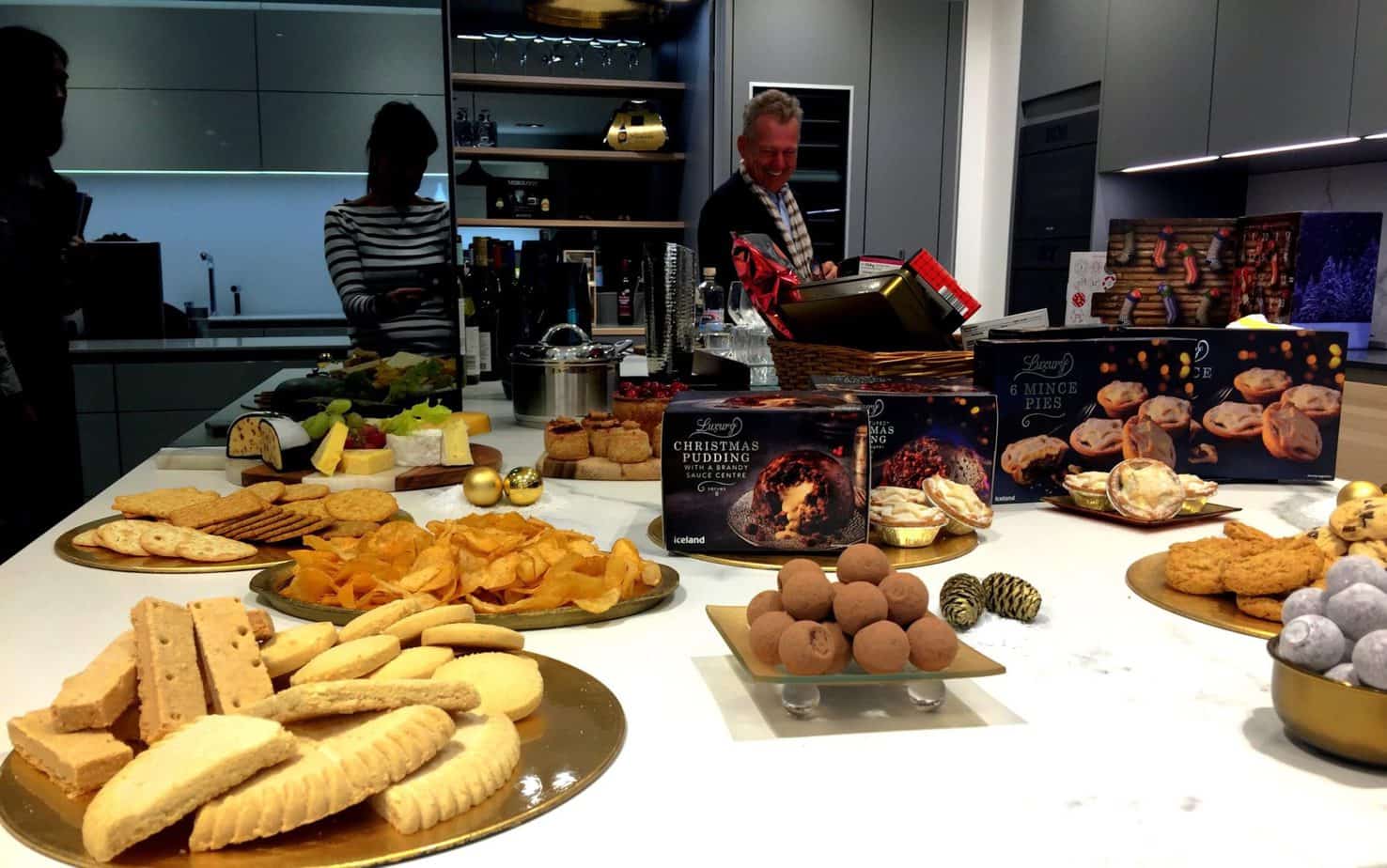 Here's Neil Nugent, the brand's Head Chef, doing the honours (well his hand anyway).
The fruity eclairs are two-bites worth, and instead of cream, choux pastry is stuffed full of apricot, raspberry blackcurrant and lemon fillings.  Here's a bitten apricot eclair, you can see the choux isn't thick and stuffed full with filling.
No Christmas feast is complete without a decent glass of wine, and this year Iceland is introducing three premium wines. Working with a French winemaker on a Sancerre and Chateauneuf-du-Pape there's also a Chablis from well-known house Louis Soufflot.
For the fizz, they're introducing a Cremant.  As you may know, this wine is made the same way as Champagne but for a fraction of the price.  Fine bubbles and a long finish. Perfect for the Christmas Day brunch. You may want to look out for their Irish cream which is made in conjunction with Ireland's oldest whiskey distillery.
I should add that Iceland does not pay me or have an agreement with them that what I write about their products would be favourable in any way, shape or form.  Like all my reviews they're honest and reflect what I think and feel.
Have you read my recent review on Cafe Murano?