Fruity drinks and I mean good fruity drinks are hard to come by.  If you've ever attempted to make your own fruit cordial, you'll know it's pretty simple.  That's if you can find the fruits to make it and you get the sugar level just right.  Cordials are great because the concentrated flavour allows you to be in total control when you come to dilute it with water.
Fruit cordials have been made for generations, a way to preserve fruits and hedgerow berries to enjoy over the winter months.
Belvoir Fruit Farms
Belvoir Fruit Farms have a range of cordials, made using the same traditional methods.  From fresh fruits to freshly picked flowers, they don't contain any artificial colours, flavours or preservatives.  Perfectly balanced with great fruity flavours.
Over Christmas, it's nice to have an alternative and the Belvoir cans are exactly that.  Ready-mixed in a variety of flavours, I was sent a few of the flavours to try.
Sparkling Pink Lady Apple Juice
This sweet and sparkling apple juice makes the perfect fruity mixer for icy cold summer drinks.  Made only from 100% natural fruit juice, with no added sugar, flavourings or preservatives, it has the pure, crisp taste of freshly pressed Pink Lady apples.
Ginger Beer
Made from a traditional recipe, with the unmistakable taste of fresh ginger, with lots of lemon juice, it's blended with lightly sparkling spring water. It contains no artificial flavours, colours or sweeteners, and is naturally refreshing when served chilled over ice.
Sparkling Elderflower
The sparkling elderflower is handmade with freshly picked elderflowers, real pressed lemon juice and water from the springs, so it tastes delicate, scented and is very refreshing.
Raspberry Lemonade
The Sparkling Raspberry Lemonade Drink is 100% natural and made with real pressed lemon and raspberry juices, blended with spring water for a fruity alternative to traditional lemonade.  Just the best with gin (don't tell anyone).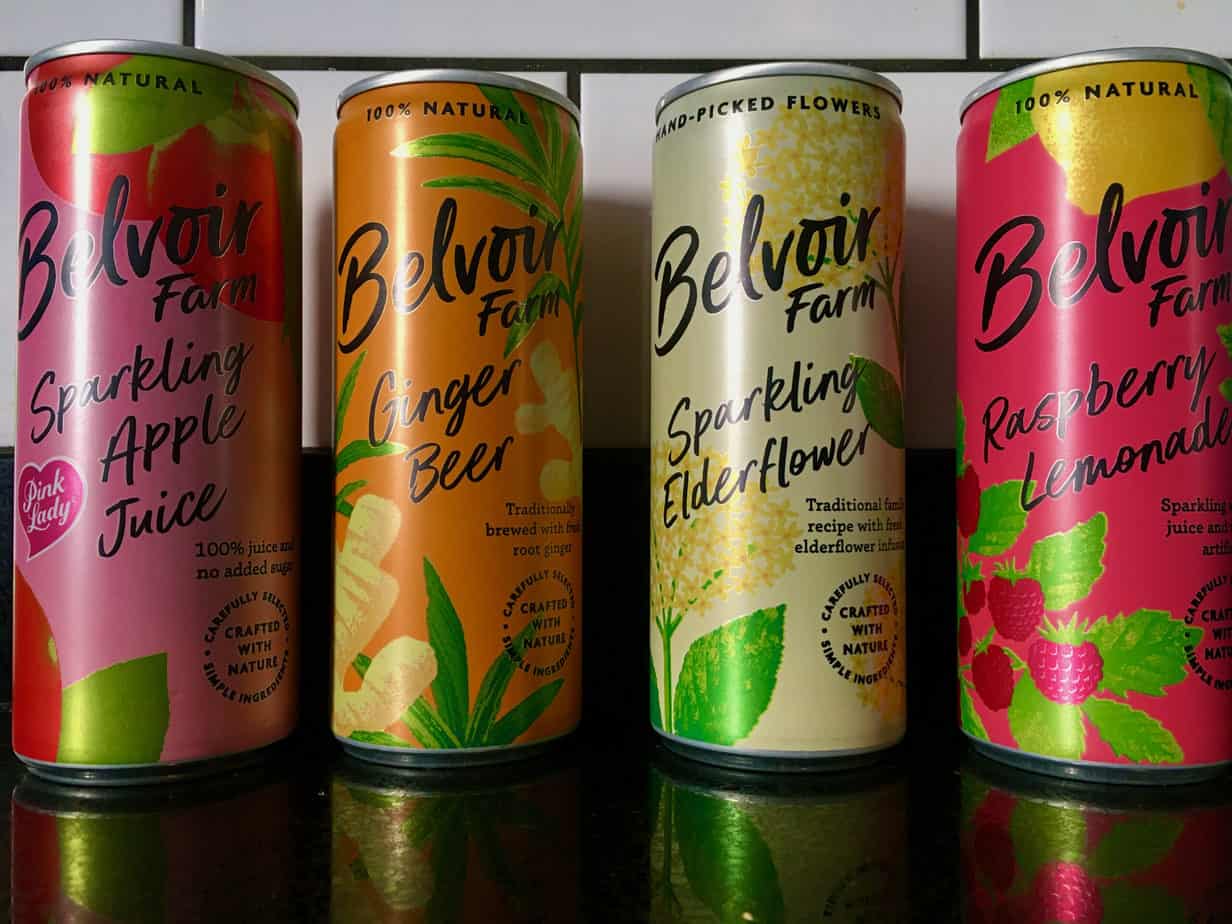 Fresh Fruit & Spring Water
Belvoir cans are perfect for one. They're made with lots of lovely, fresh fruit juice blended with fresh spring water.
If you fancy jazzing up your white spirits, then there are plenty of cocktail ideas on the Belvoir Fruit Farms website 
Dry January is on the way for those who want to give booze a break.   These are perfect and served in a cocktail glass you won't feel you're missing out.
The cans retail for around £3.50 for four.  Perfect for picnics, on the go or a refreshing drink straight from the fridge.
Did you read my Baked Apples recipe?