Kedgeree is an easy-to-make family meal which can work as Breakfast, Lunch or Dinner.
For lovers of the fictional drama 'Downton Abbey' this dish is the first one you see Mrs Patmore prepares for The Granthams in series one, episode one. Kedgeree is made from boiled rice, chopped hard-boiled egg, cold smoked fish, which is cooked in one pan.
Kedgeree Origins
Its origins hail from India and began life as a dish of rice and lentils. The British worked up their own versions, and soon Kedgeree or Kichari in Hindi, became a popular Victorian breakfast dish.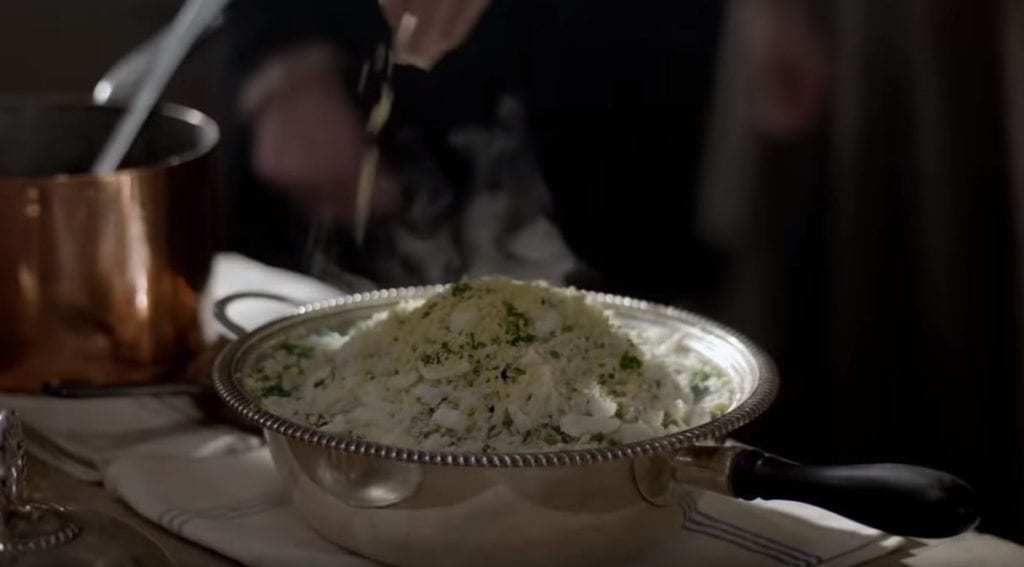 So, I decided to make Kedgeree my second British dish to celebrate British Food Fortnight in collaboration with Aldi.
This is a great dish to get more fish into your diet, in terms of Meal Maths buying from Aldi here goes … (I've also assumed you'll have store cupboard basics like curry powder and olive oil and butter. )
King Prawns £1.75
Golden Yolk Eggs £1.25 (using 3) 60p
Scottish Smoked Haddock fillets x 2 £5.98
Long-grain rice 60p
1 onion 12p
Pot of curly-leaf Parsley 45p
Lemon 20p
So this dish, comes in at just under £10, under £2.50 per decent portion.
Ingredients
Prep 20 min
Cook 30 min

Serves 4
2 packets of Aldi Scottish Smoked Haddock fillets – they range in weight
from between 240g/260g – for this recipe, it's around 500g
Glug of olive oil
175g Bilash long-grain rice
Large onion, chopped
1 tsp curry powder
Large knob butter
3 Golden Yolk Eggs, hardboiled
1 (150g) packet Fishmonger, cooked and peeled King Prawns
Pot of curly-leaf Parsley
1 lemon
Method
Put the haddock in a small frying pan, pour boiling water over it, (you need around 800 ml) then cook on a low heat for 10 minutes. Do not let it boil. Take the haddock out of the water, flake the flesh, but keep the cooking water. Meanwhile, add a thin layer of olive oil to a pan and lightly brown the onion.
Stir in the rice, and, as it becomes transparent, mix in the curry paste. Pour 600ml of the haddock water over the rice, and cook steadily until the rice is tender and the liquid absorbed. Watch the pan, and add more water if necessary.
Mix in the flaked haddock pieces and the butter – the kedgeree should be moist and juicy.
Transfer to a hot serving dish. Arrange the egg and prawns on top, sprinkle with parsley and serve with the lemon wedges.
Love classic British recipes like this Kedgeree? Did you read my other classic British recipe and collaboration with Aldi? Check out my Bangers & Mustard Mash blog.