My review of Wellbourne Brasserie in Shepherd's Bush.
Wellbourne Brasserie is one of the best restaurants I have eaten in, in a very long time. Recently opened in White City Place, just up from the much heralded and refurbished Television Centre, this is my old stomping ground.
The restaurant now takes up a sweeping corner of what used to be the canteen for BBC staff who worked there. It looks very different to the days when W12 was an industrial wasteland. It's now smart shops and decent places to eat.
Wellbourne Brasserie: 3 restaurants
Ross Gibbens and Michael Kennedy formerly of Dabbous have conjured up the most amazing menu for their new London outpost. They in fact have two restaurants outside of the capital. Wellbourne in Bristol and Wellbourne in Salardu in the Spanish Pyrenees.
The restaurant is split into four areas with a main restaurant seating 40. The bar area has a communal table and there's an eight-seater private dining room with .. wait for it …. an enomatic wine dispenser.  There's also a decent sized terrace looking out onto a massive green space.
Anyway, onto the food.
Appetisers
Appetisers include green and purple olives (£3), crackling and paprika (£3), flatbread and taramasalata (£5) and a selection of cured meats (£10).
Aperitif's are well-priced and include a BYO corkage of £10 (one bottle for 2 diners).
We began the evening with some instagram-perfect vol au vents. Old school but total works-of-art with contemporary fillings. Broad beans, Ewe's Cheese & Mint; Salt cod brandade and pulled lamb shoulder with violet mustard (3 for £6).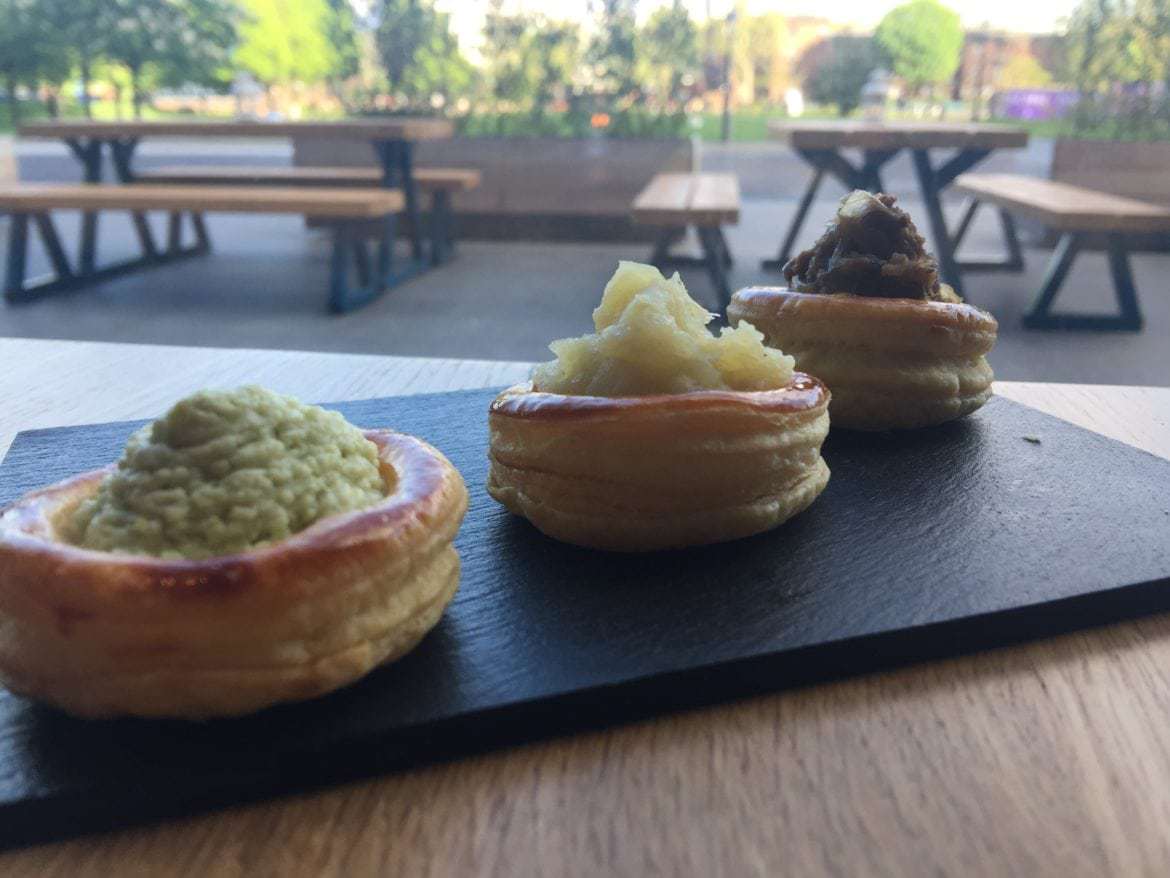 Plat du Jour
Each day there's a very very reasonable and I'm certain very very tasty Plat du Jour for a tenner.
Monday: Bavette, chips and aioli
Tuesday: Buttermilk chicken salad
Wednesday: Cassoulet
Thursday: Navarin of Lamb and Spring Vegetables
Friday: Fish pie and petit pois.
Mr wasn't drinking so I felt compelled to join him but thankfully Johan reminded me that I could have wine-by-the-glass for each course. Job done.
So with the amuse bouche 'inhaled' we moved onto the starters. So many decent choices with some decent vegetarian options too.
I had the Lyonnaise salad with coated hen's egg, crisped Vantreche bacon and a vinaigrette I've not tasted the likes of, outside France (£7.50).
The wine chosen by Johan was really fruity and the green apple flavours cut right through the dish. It was super-dry, a rather fine Johann Gruner Veltliner.
Mr opted for the confit Jersey Royal potatoes with Somerset Ricotta, soft herb salad with a warm virgin rapeseed oil mayonnaise (£7.00). All good I assume as I don't think I was offered a forkful of it at any point.
Main course
From their amazing charcoal oven, there's a choice of steak, chicken, lamb and a few fish dishes. I opted for the whole lemon sole, served with crisp samphire and just wilted sea vegetables and we shared a side of green asparagus, cooked over hot coals (£6) and charred purple broccoli with sea salt (£4).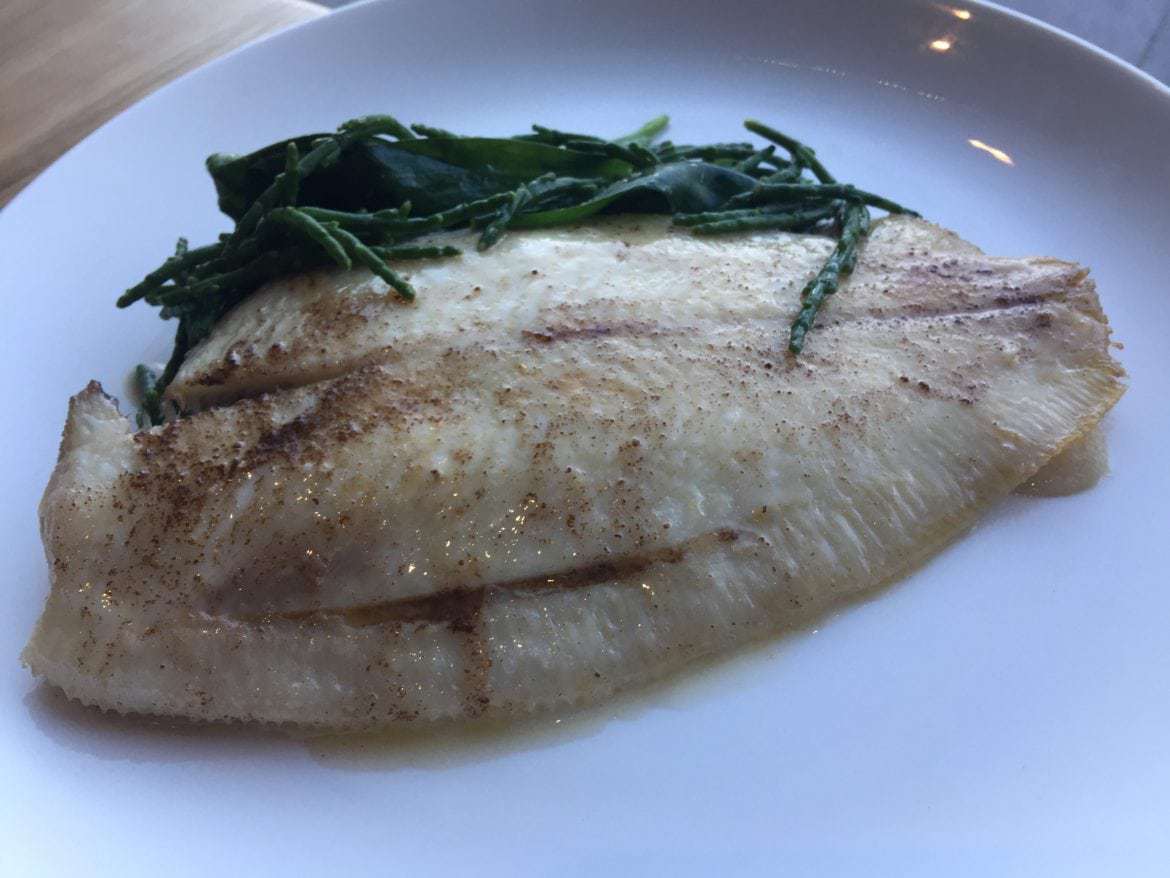 Mr chose the Veal Holstein; hen's egg, lilliput capers and smoked anchovy (£15). A dish of lovely. Crispy fried Veal with a super runny fried egg and he told me the flavours were on point. Come on people, what's the name of the blog? It's not as if I'm ever going to eat the slippery, salty things.
Johann chose a Chardonnay from Lost Angel Wines and it was a belter. No heavy oak notes this really sung with a wonderful freshness with lemon and pineapple notes on the nose.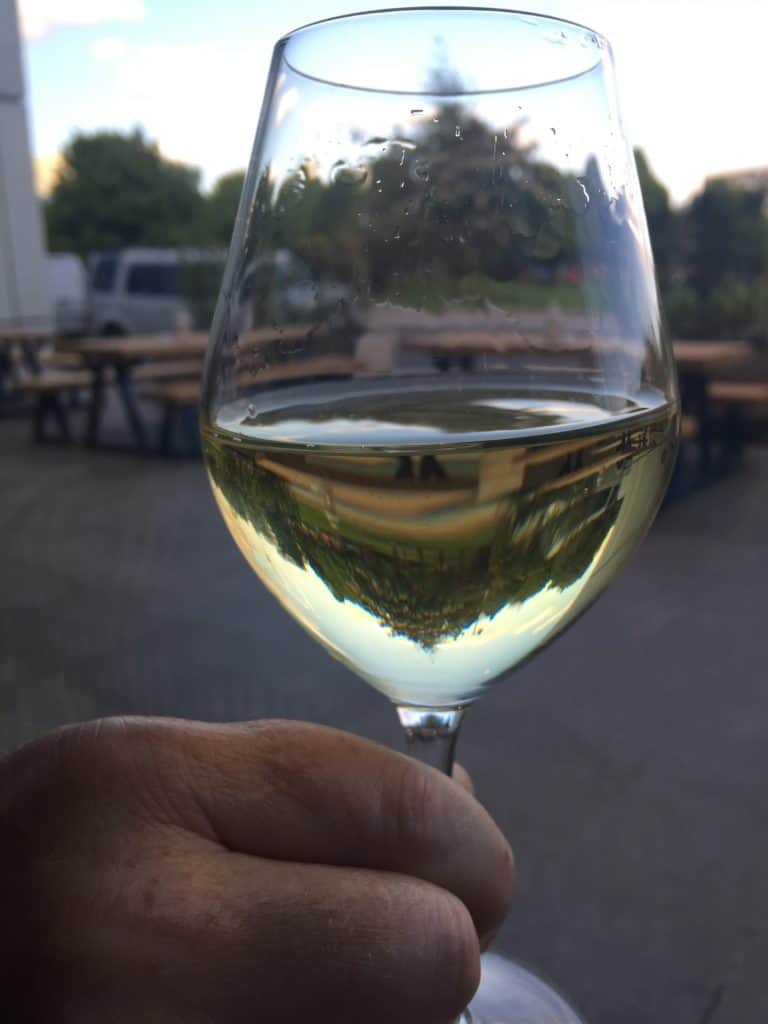 A short pause and we shared a dessert. The afters section was fabulous from a whole baked Tunworth with sourdough soldiers (£14) to the lemon leaf sorbet (£4) and chocolate brownie ice cream (£4). I chose the millionaire shortbread (£4) a magnificent gold-laden circular 'Twix' which was divine.
We really liked the atmosphere and was very impressed with the service and price points. Just about the right amount of food to choose from. Not too fussy, seasonal and a wonderful surprise for the area.
We will be back.
The menu boasts their Key Suppliers – from Flying Fish Seafood to La Latteria for their Mozzarella, Bello Wild Food for their wild edibles and The Bristol Cheesemonger for their cheese.
Unit 2 Westworks Building, 195 Wood Lane, London W12 7FQ
Telephone 0203 4174865
Thank you to SP Communications for the review supper.
Did you see my review for the wonderful Rochelle Canteen at the ICA?