Am I weird in loving Brussels Sprouts?  Miniature cabbages, either loved or hated, giver of flatulence but on the plus side, they come with plenty of health benefits.  They lower cholesterol, aid digestion and if you don't cook them until they're totally lifeless, tasty.  You've probably got memories of overcooked sprouts, served for days on end after Christmas but because we can't eat, on the whole, eat seasonally in this country, they're available most of the year around.  There are hundreds of recipes for them, but this is a little cracker from my lovely friends at Riverford.   Don't be put off by the garlic, because it's roasted and is not harsh in any way.
Brussels Sprouts Recipe
Brussels Sprout & Pancetta Pasta with Sage & Roast Garlic Cream
Ingredients
1 whole garlic bulb
200ml double cream
1tbsp Olive Oil
250g Pancetta (I used the ready-cubed from Waitrose which is excellent)
1 onion, finely sliced (I diced mine)
8 sage leaves, finely sliced
Small glass of white wine
400g pasta, I used penne
500g Brussels Sprouts (halved or quartered)
4 tbsp Parmesan, finely grated
Salt & black pepper to taste
Method
Peel off the thick white coating on your bulb but make sure you don't take off the core because you want the cloves to keep together.  Cut the tip of the head from your garlic bulb.  Expose the ends of the cloves and place on a square of foil.  Add a drizzle of olive oil and wrap up.  Bake in an oven at 180°C/Gas Mark 4 for about 50 minutes or until soft.  Once cooked, leave to cool and squeeze out the soft garlic from each housing.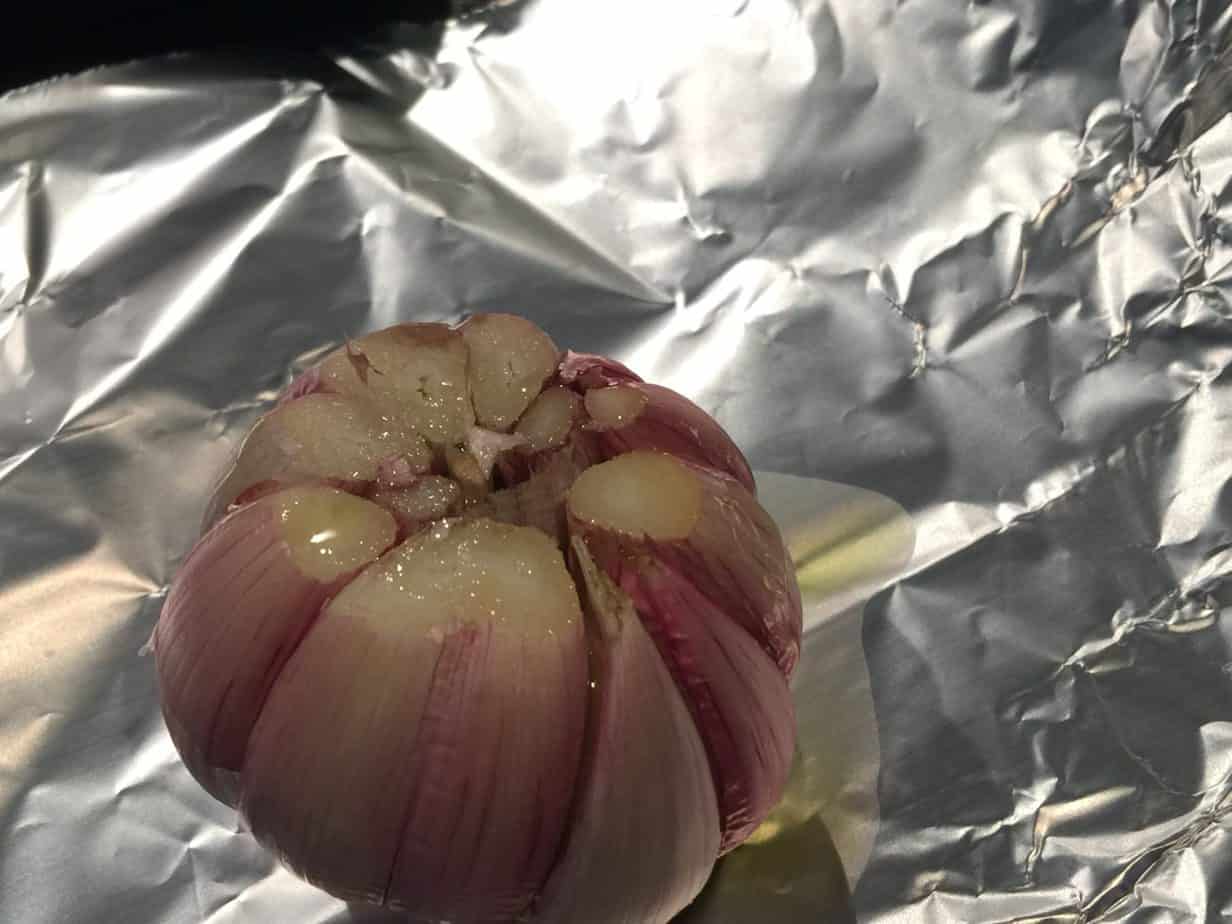 Their recipe says to save half, I used the whole thing, and add it to the cream.  I used my stick blender for this.
You'll need two pans of salted water.  One for the pasta and another for your Brussels Sprouts, I always steam mine because you don't stew or remove all the benefits of the vegetable.
Heat a tablespoon of oil in a frying pan, I always use a wok, add the pancetta and fry until golden brown,  The pancetta should ooze quite a bit of oil so you should just use a slotted spoon to remove it and use this to cook your chopped onions.  You want a gentle heat under these because you're aiming for translucent and soft rather than crisp and brown.  Add the pancetta and sliced Sage to the pan, turn up the heat and stir for 2 minutes.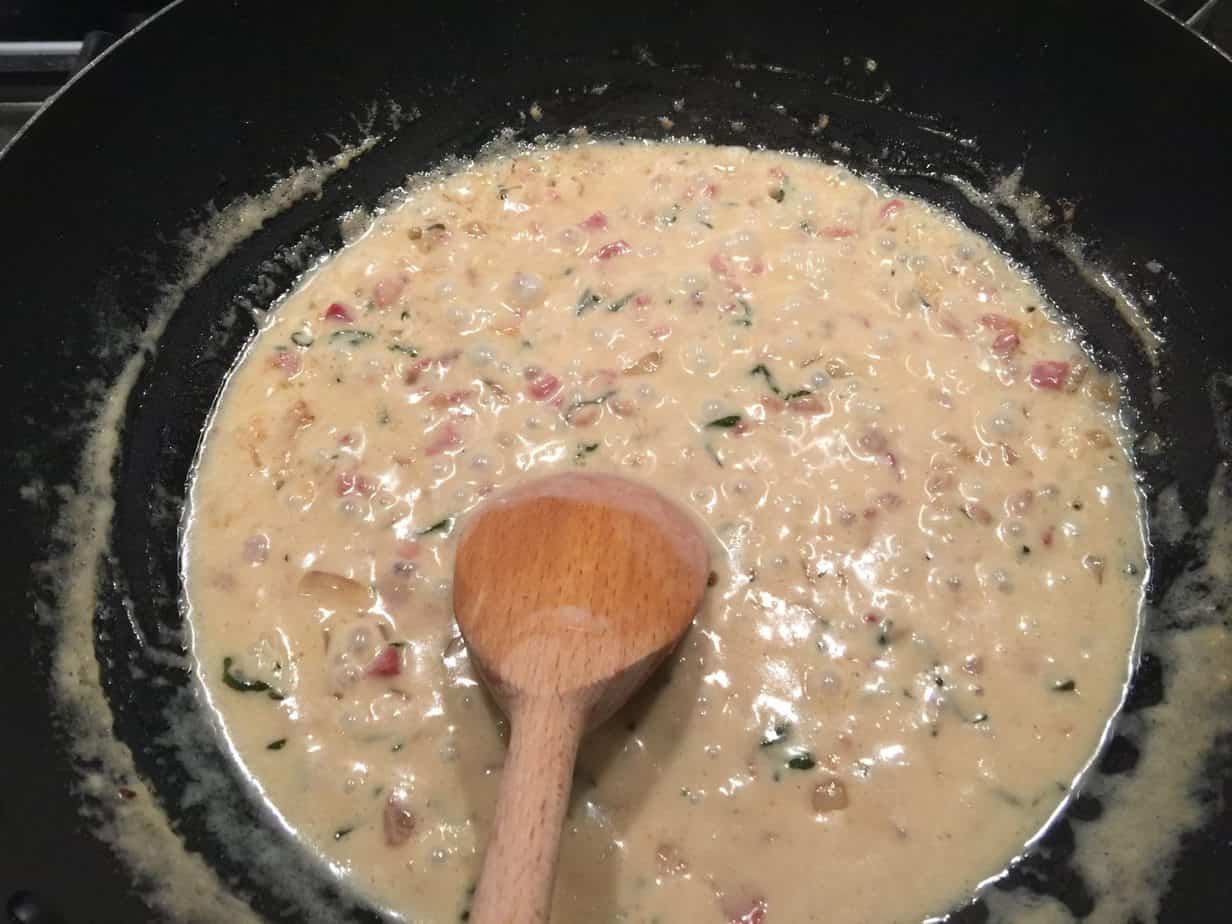 Next, cook the pasta, according to the packet instructions.
Then add the wine and let it reduce for a few minutes, add your garlic cream and let it bubble away, again for a couple of minutes.
When the pasta is ready, drain and reserve some of the cooking water.
Meanwhile, blanch the sprouts in the other pan for 3/4 minutes, depending on the size.  You want them cooked with a slight bite.  Drain. Stir half the Parmesan into your cream sauce, then add the cooked pasta and sprouts.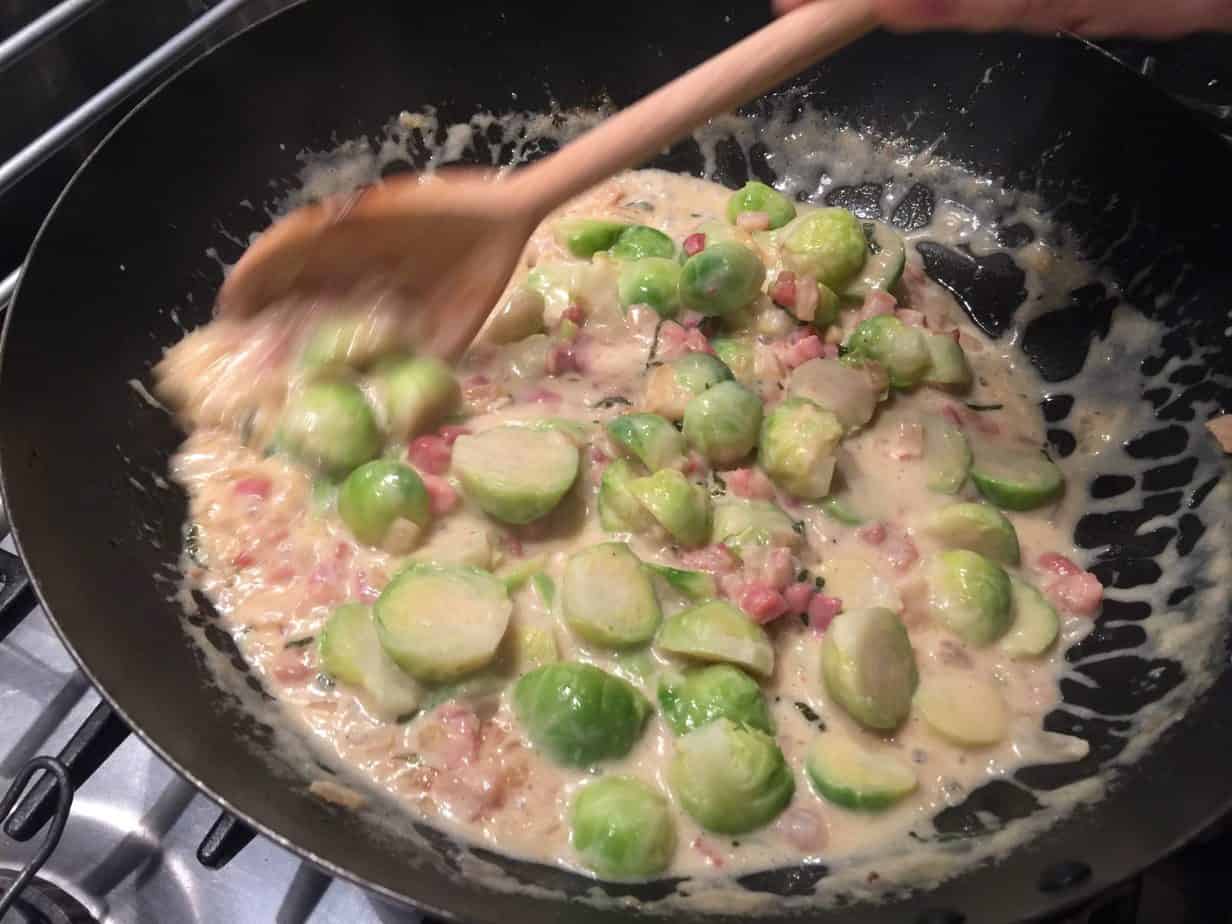 Adding the pasta water to loosen the mix, if you need it.  Season to taste.  Sprinkle the dish with the remaining Parmesan cheese.