Booths have one simple aim and whilst fashions may have come and gone, their philosophy is the same as the day they opened their first shop in 1847.  For us Southerners, Booths may not be a name you'd associate with food and drink and that's because their business is based in the North.  They opened their first store in Blackpool in 1847 and continue to grow their business.  They work with local suppliers from the counties of Lancashire, Cheshire, Cumbria and Yorkshire.
In my opinion their Christmas in July event is one of the best.  The food always excites me.  They stock produce from food makers who care as much about what they make as they would a member of their own family and it's a measure of Booths quality.  
This year, they held an event in London, on a day where Britain registered it's highest temperature in recorded history.   Thankfully, there was a Christmas tree to remind us it was Christmas (and air conditioning).
Bleikers Smokehouse provide Booths with their salmon and this year they've introduced a new product to their Christmas range and that's a dressed side of salmon (£29.00, serves 6).  Don't worry they're still making their usual Christmas salmon products from Bucks Fizz Smoked Salmon (£6.00/serves 2) to Gin and Tonic Smoked Salmon (£6.00/serves 2) to Rope Hung Salmon (£12.00/serves 10). 
Starters
Booths have created an individual salmon mousse with lemon jelly and caviar.  It not only tasted like a restaurant starter, it was amazing value and served in it's own plastic shot glass.  A marvellous sharp lemon jelly was a great contrast to the butter richness of the salmon mousse (£5.50/serves 2).  
Bleikers Salmon

Booths Smoked Salmon Mousse with Lemon Jelly & Caviar

Booths Christmas Table
Main event
For the main event, Booths have slipped in a few new products. What an absolute stunner the British Beef Sirloin Joint with Porcini Mushroom and Truffle Stuffing is (£39.00/serves 6-8). A British 21-day matured boneless beef sirloin joint has a porcini mushroom and truffle stuffing which is topped with salt and pepper butter.
The British Chicken Cushion was wonderfully moist, and at just £22.00 it serves 3-4. It's stuffed with gluten-free cranberry and pork sausage meat.
Booths new vegetarian risotto features Pearl barley and vegetables with kale, butternut squash, chestnut and cranberry sauce in Booths new vegetarian offering. It serves 1, for a bargain £6.00.
Christmas Butchery
The group's butchery department has been busy developing Christmas products. They've taken a British lamb leg and rolled it with mint stuffing (2.34kg/Serves 8-10/£40.00).
I love what they've done with the venison. Holme Farm meat has been made into a cushion and is stuffed with rich plum and sloe gin stuffing, the whole cushion is wrapped in bacon. The farm owner Nigel Sampson suggests serving the haunch with cranberry or juniper sauce to bring out the meat's intense flavour.
Another showstopper is the Booths Venison, Pork & Beef Three Meat Roast. Loin of finest outdoor bred British pork is wrapped in a wild Lakeland venison loin, covered with 21-day matured boneless beef sirloin (2.5-3kg/Serves 10-12/£69.00).
Finally, a prime cut of traditional British beef roasting joint, topped with a horseradish, shallot and thyme stuffing (1.14kg/Serves 4-5/£18.00).
Beef Sirloin Joint with Porcini Mushroom and Truffle Stuffing

Booths British Chicken Cushion with Cranberry and Pork Stuffing

Booths Pearl Barley & Vegetable Risotto
Who doesn't love pigs in blankets at Christmas? And for me, they're never quite big enough. This year try Booths Swirly Pigs in Blankets. Sausage wheels prepared with British pork and a touch of seasoning, hand wrapped in British streaky bacon (£3.75/two pack).
Another new addition is the prepared vegetable bundle, taking the stress out of the veg prep. A box of veg containing carrot, parsnip and swede crush, red cabbage braised with port, honey roast parsnips, butter glazed sprouts with pancetta. Lancashire cheddar cauliflower cheese and Gruyere dauphinoise potatoes (Serves 4-6/£30.00).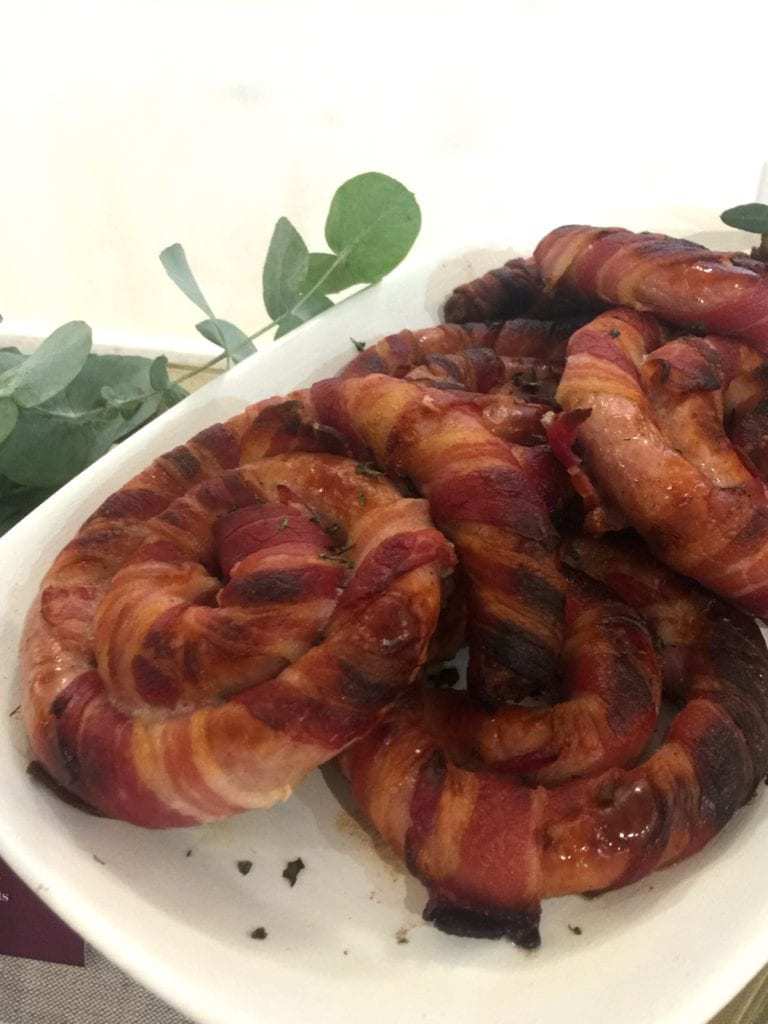 Dinner Bundles are an excellent idea of saving on waste and over-eating.
There's a Christmas Meal for 2 (£22.00); Booths Small But Perfectly Formed Dinner serves 3-4 (Turkey £60.00/Beef £65.00). The Great Northern Christmas Dinner serves 6-8 (£100.00) and Booths Ultimate Christmas Dinner serves 6-8 and includes Champagne truffles, Christmas Coffee and Tea (£140.00).
New Christmas desserts
New desserts this year, include trifle, roulade, rainbow cake, and a medley of cheesecake slices from Lathams of Broughton.
Liquorice and Blackcurrant Cheesecake

Manchester Cheesecake

Booths Mulled Wine Cheesecake
Christmas Party Food
There are quite a few new lines in the party food category. Expect Angus beef bonbons with a teriyaki glaze, Camembert bites, cocktail sausages with a sticky glaze, chicken bites with a mango dip, prawn stars, pork and cranberry lollipops, spiced lamb koftas with a raita dip, yakitori chicken kebabs, crostini, mini cheddar and onion filled potato skins.
I've already eyed up one new product I'm definitely ordering and that's the Happy Belly Scotch Egg Festive Box. A selection of handmade turkey and cranberry, Cumberland sausage and black pudding scotch eggs (£15.00/6 eggs).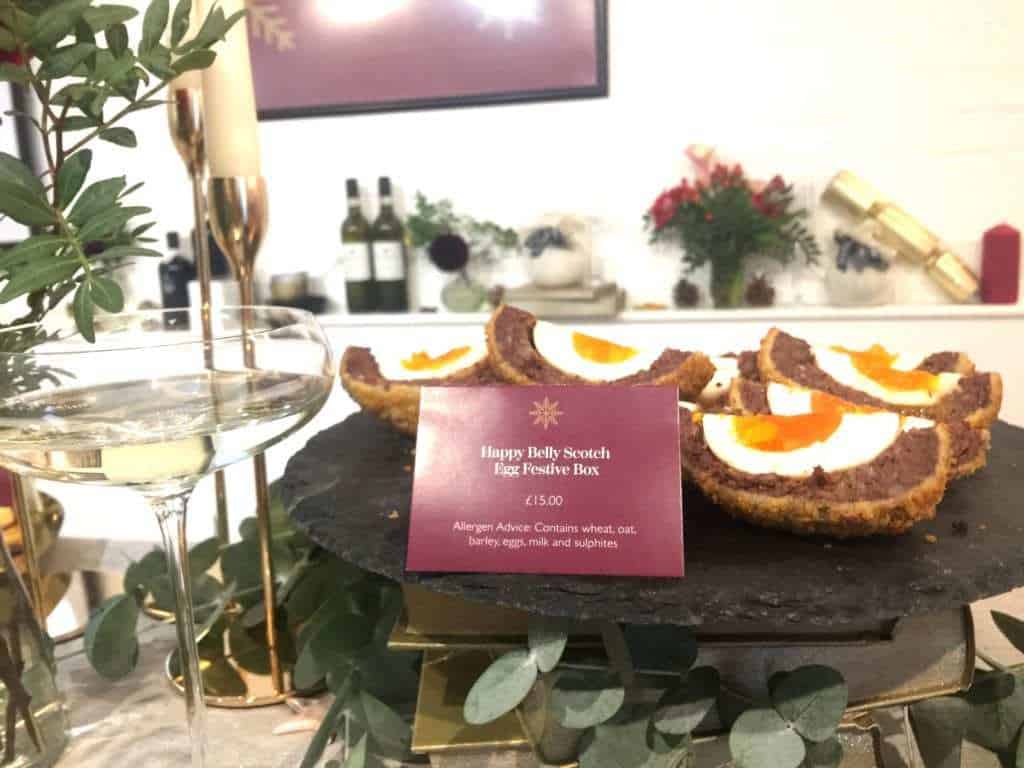 Cinderhill Farm Festive Wreath

CInderhill Farm Festive Wreath

Cinderhill Wild Boar Sausage Rolls
Christmas Pies & Pastry
This year, Cinderhill Farm has produced a festive wreath stuffed full of rare breed pedigree pork (£25.00/1.8kg) which would make a great Boxing Day centrepiece. If you don't need to feed an army, there's the smaller Yuletide Log (£18.00/850g) or individual sausage rolls handmade using pedigree pork and wild boar from the Forest of Dean (£12.00/6 pack).
Toppings Pies Apricot and Poultry Pork Pie is a real showstopper. British pork meat, chicken and turkey is stuffed into a water crust pastry and dressed with apricot halves (£20.00/1.1kg).
Sweet treats are plenty from all butter mince pies (and gluten-free) brownies, blondies, cheesecake bites, toffee bites, flapjack slices, you name it they've pretty much got it.
I fell in love with the Booths Jammy Shortbread Stars. Handmade all-butter shortbread is sandwiched together with a fruity jam and zesty marmalade centre (£2.85/12).
You can expect the usual cheese selection from four to five piece selection boxes or wedges of blue or Lancashire cheese.
Booths Chocolate thins are delicious and just a perfect gift or something sweet to have with coffee after your meal.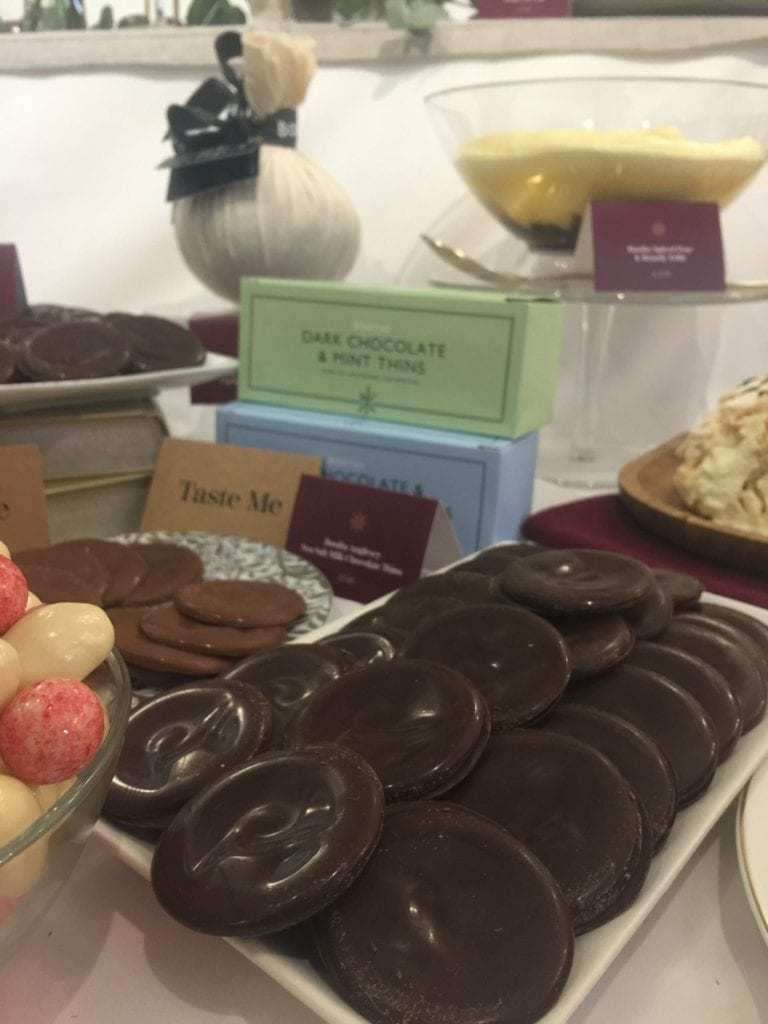 Christmas Wines
The wines are pretty impressive too. Victoria, Booths Wine Buyer, has pulled together some outstanding wines at competitive prices.
Some may argue that no Christmas is complete without Champagne. Booths Champers is made from Grand and Premier Cru Chardonnay and Pinot Noir grapes with refreshing acidity. Such reasonable value at £23.50).
I loved the Albarino (£9.50) and the Gavi (£8.75). The prosecco was fresh and dry and excellent for its £9.50 price point.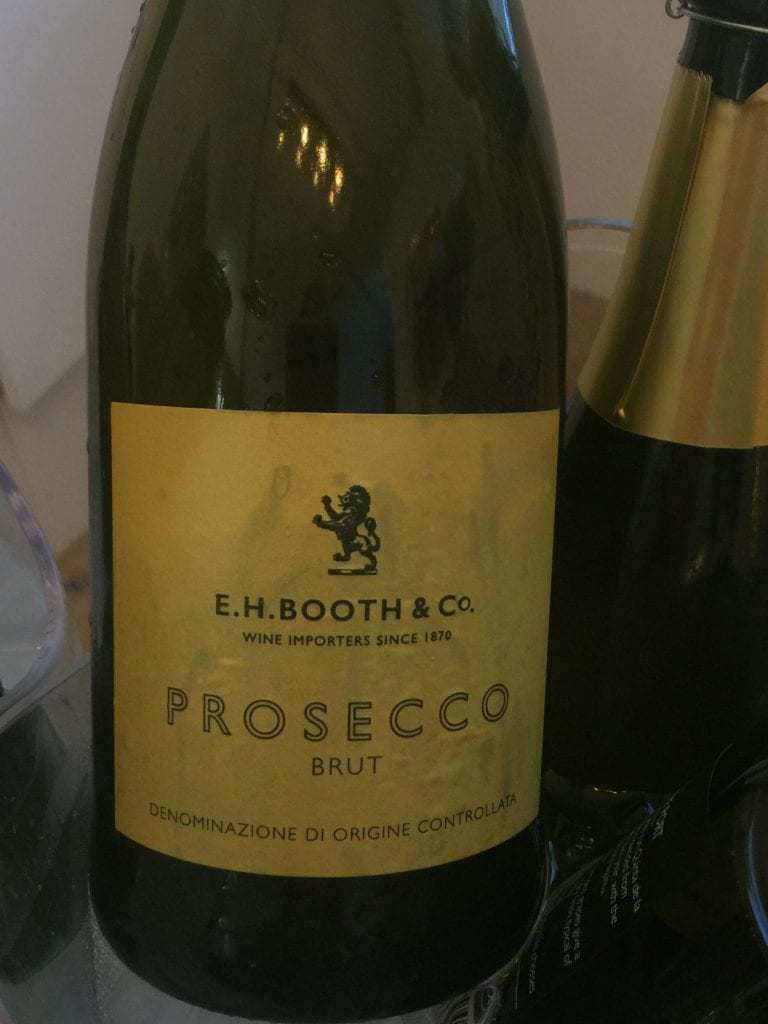 Booths sell Hampers too and I like that they don't contain random products you won't use. It's an issue I have with a lot of hampers on the market, I mean who really uses mulled wine spice AFTER Christmas?
As I predicted, Booths never fail to please. And, you don't have to visit the north to experience their excellent quality food or drink. I've discovered that Amazon Fresh stock a fair few products, including fresh and chilled.
For more information on Booths or their Amazon Fresh offerings, visit the respective websites.