A quick lesson from the Master Distiller of Angostura Rum isn't what I expected on a Monday night.  A series of rum cocktails mixed by Oskar Kinberg, the main ingredient being high proof rum, was another unexpected pleasure.
John Georges is on a European tour with the new Angostura 1787 which launched earlier this week.  He dropped into Oskar's Bar to let us sample it.  It takes its title from the first sugar mill, at the Picot de Lapeyrouse sugar plantation in Trinidad.  Made from a blend of rums, I'm unsure exactly how many, and drawn from their 15 year old casks.  It's a beautiful deep copper colour and smells sweet, with a definite whiff of oak. Toffee notes with stewed fruits in the mouth with a long finish.  It comes in a heavy, rounded bottle with a thick glass base.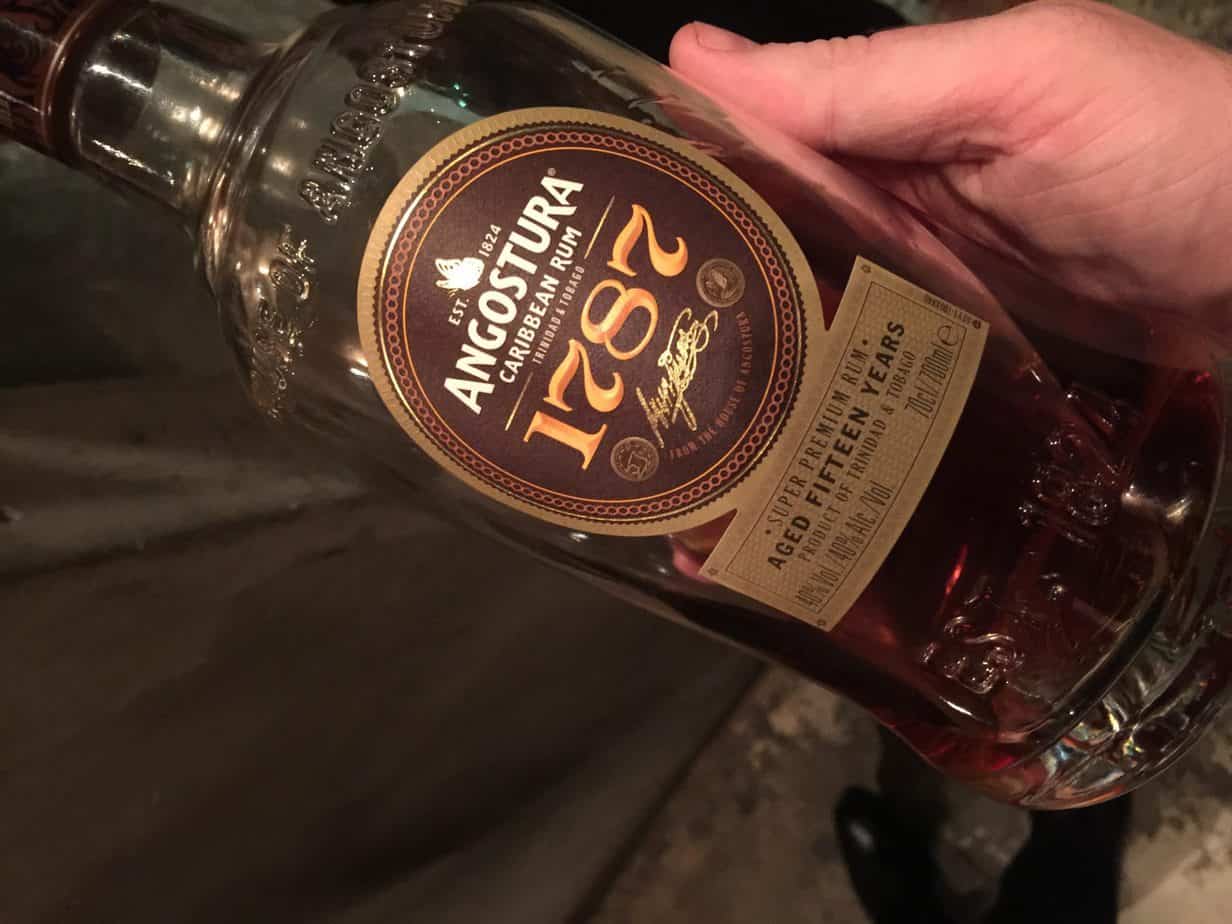 Angostura 1824 is a rum aged in first-fill American oak bourbon barrels for a minimum of twelve years.  It's hand-blended and re-casked.  When the rum reaches it's optimum maturity it's hand-drawn, filtered and bottled.  Sipped neat or on the rocks it has a distinct stewed stone fruit note, with banana and chocolate on the palate.  It has a long finish with vanilla and spice and really very elegant.
Both rums are dry but full of flavour.
Angostura Rum 1787: Bitters
The name Angostura will be familiar with most cocktail lovers because the Bitters is a core ingredient and found on the shelf of any decent bar.  Like me, you may be surprised to know it comes from Trinidad too.  I'm not sure why I was surprised I just didn't expect this cocktail classic to be from the West Indies.  The secret recipe (aren't they always) is closely guarded but it's believed to contain over 40 ingredients.
The only hint of ingredients is found on the side of the bottle water, alcohol, gentian and vegetable flavouring extractives and vegetable colouring matter.
It began life in 1824 as a remedy for tropical stomach bugs and was conceived by Dr Johann Siegert the Surgeon General of Simon Bolivar's Army.  Originally called "Dr. Siegert's Aromatic Bitters" it was later renamed Angostura Bitters after the town in which it was conceived although if you're looking for it on a map it's now called Cuidad Bolivar.
It has so many uses and doesn't single itself out for the cocktail alone.
For more information on the Angostura range visit the website.