Say Boo! to the Mummy Meatloaf recipe.
Marks and Spencer Chefs
Last year the clever chefs at Marks and Spencer conjured up the 'Mummy Meatloaf'. It was a sausage meat plait or a fairly hefty sausage roll, wrapped in puff-pastry 'bandages'. I had a pretty successful attempt at trying to recreate the Halloween treat.
Ingredients
A packet of Cumberland sausages (skinned) or 400g sausage meat
Pinch dried thyme
A pinch of dried rosemary
Pinch of dried sage
A packet of ready-made puff pastry
2 black olives – sliced to make eyes
1 beaten egg (for wash)
Method
Preheat the oven to 200/180 fan.
Cut the pastry block in half. Roll out to about the width of a pound coin.
Add your own herbs
Add the herbs to the sausage meat mix (if you're not using butcher bought sausage meat). Shape the sausage meat into a body with a round head and fattened body.
Add two slices of black olives for eyes, I filled the space with tomato puree.
Lay the sausage shape onto a rectangle of pastry and cut the pastry from the top right into strips. What you need to do is wrap the sausage meat in pastry strips so they mimic bandages. Slice as near to the body as you can and pass the strips over one another, working from left to right. Don't worry if it's not perfect, or doesn't stretch because you can make thin strips with excess pastry. Don't make them too thin or stretch them too much as you want the pastry to stick to the meaty body. Brush with egg wash.
Bake for 20-25 minutes, until golden brown.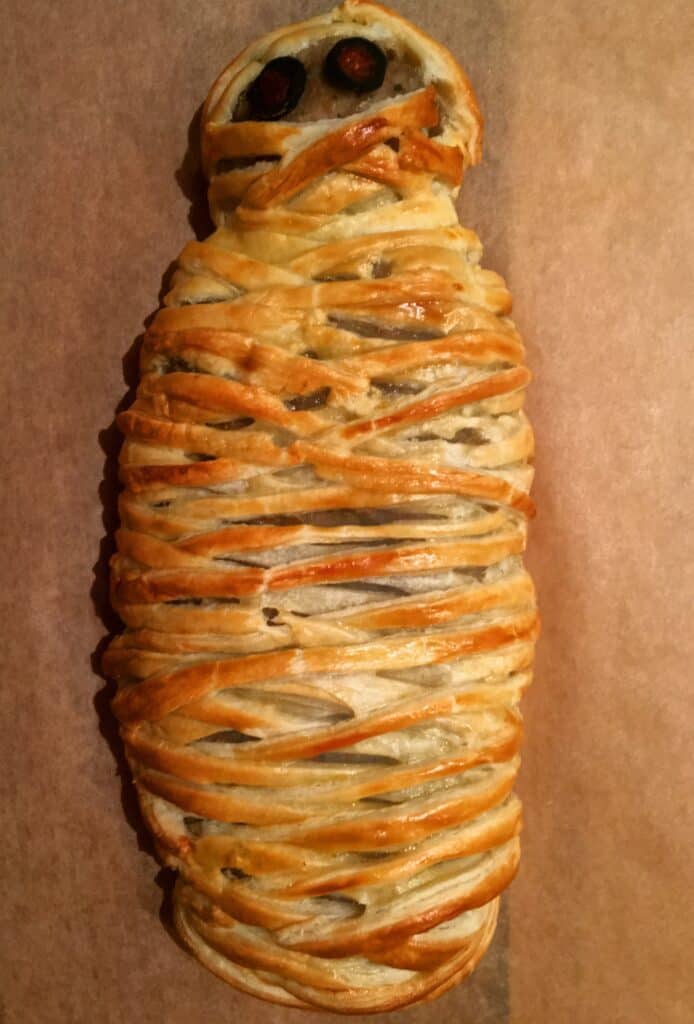 Talking of Halloween, did you see by Spooky Apple Pie recipe?