Chickfurter Sausages are a new addition to the family brand Heck. The business is very much family-oriented, not out-sourced and they work the farm too. They sent me their new Chickfurter sausages to try out, along with a limited edition sausage for November 5th. They're always coming up with great ideas for all kinds of diets and palates.
Read my blog on their Limited Edition 'Guy Porks' sausage. It's full of lean pork, diced apple and treacle. Packs will go on sale exclusively in Sainsbury's for three weeks from 30 October to 19 November.
The other product they sent was their new Chickfurter sausage. As the name would suggest it's a long frankfurter sized sausage but stuffed full of chicken – 100% of finely minced British chicken thigh with a hint of 'magic smoke'.
Slimming World Bonfire Night Wrap
There are plenty of people who want an alternative to pork sausages. For those following a diet, in particular, the Slimming World plan, Chickfurters are only 3 Syns per 72g sausage and the ideal choice for a Bonfire Night treat. Wrap that in a WW White Wrap (Healthy Extra B choice or 6 Syns). Stuff it with lots of onions (free), Tomato Ketchup (1 Syn/tbsp), French's Mustard ( ½syn/tbsp.) and you have a perfectly decent hot dog for 10 ½ or 4 ½ .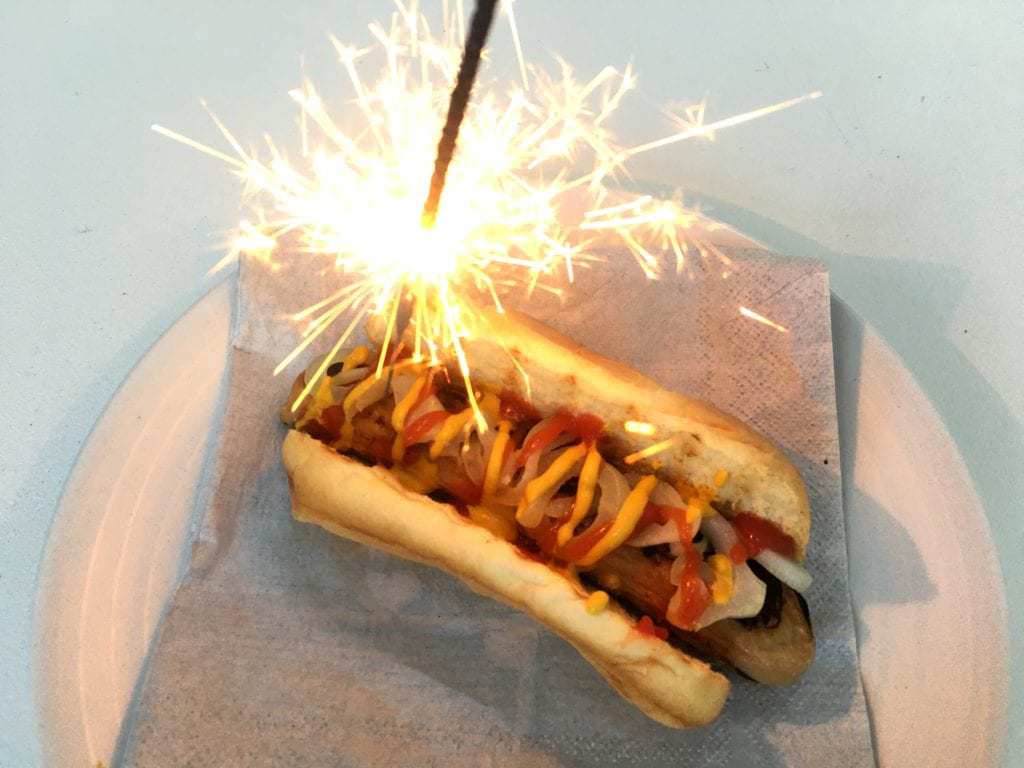 Visiting Berlin, it's hard not to taste the Currywurst. Smoked sausage is boiled, fried, chopped and served with spiced and curry flavoured tomato sauce. It's almost always accompanied by a side of fries.
Here's a version we had in a posh restaurant near the Brandenburg Gate. As you can see the dish comprises of a long sausage cut into thick slices, a tomato sauce and curry powder (here used on a stencil of the Brandenberg Gate itself).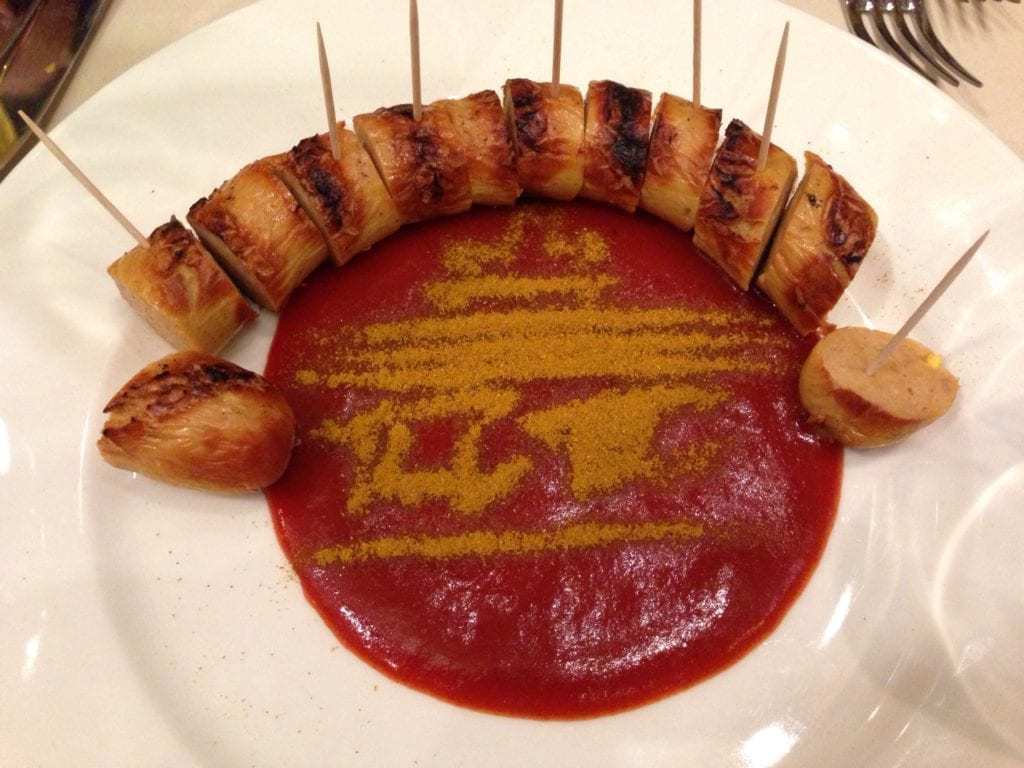 For a Slimming World version, fry the Chickfurter with FryLight. You can make your own tomato and curry sauce. Mix a tablespoon of ketchup (1 Syn/tbsp), with half a teaspoon of mild curry powder (free). Bake some Slimming World chips (free) and there you have it, a British version of the Bratwurst at only 4 Syns!
It's probably best you don't know what's in the only other chicken frankfurter on the market.
Heck Chickfurters go on sale at Morrisons stores nationwide from 23rd September, £3.15 per 320g pack of 4.
Halloween's not far away … fancy making a creepy witches finger cake?