Hair Colour Remover has become a beauty friend.  It's fair to say I've done quite a few foolish things to my hair over the years.  It's been bleached, pink, blue, auburn, black – in fact, my natural brown locks have gone through the wringer.  I still make mistakes, and now I'm getting the odd grey hair, I reach for the bottle.  Sometimes it works out well, and other times not so good.  How many shades of brown are there?
Colour removers are a godsend, and I've tried a few.  From the packs costing ten pounds or more and recently Pro-Voke Hair Colour Remover, regular strength.  I had dark brown on my head, almost black and this removed every trace.   If you use a root concealer and get an additional colour build up this will take you back to the start so you can at least have hair of one shade, rather than the seven shades of Guinea Pig I was turning into.
Now I'm left with a somewhat ginger tone, simply because my red pigment wasn't quite bleached with the dye to the yellow stage.   There's also an extra-strength version that removes mid to dark tones.
Now I have three choices.  Tone out the orange, return to a darker colour or lighten it more.   I do want to get rid of the orange, but I don't want to go darker.  It just washes my face out.  The one thing I must ensure is that the hair dye is darker than the orange hair so I can cover it.
Pro: Voke Hair Colour Remover
The box of Provoke was very inexpensive, £3.99 in Savers.  It's one of the cheapest on the market but don't let that distract you.  It does the job.  The brand, Godrej UK, also makes a very well known shampoo; you may have seen Touch of Silver shampoo and toners.
Most colour removers have a pungent odour that stays in your hair for days, even if you rinse and rinse your hair for more than 10 minutes. Pro: Voke Colour Hair Remover wasn't a bad smell at all. There's an artificial smell but not an unpleasant one.
If you have dyed your hair with bleach or bleach powder, the natural colour is no longer present.  Henna, metallic hair colourants or vibrant hair colours are likely to stain your hair cuticle, so this won't be effective in stripping your hair of them so don't waste your money.
How to use Pro:Voke: Hair Colour Remover
Inside the box, you'll find the instruction leaflet, gloves, activator, remover and a finishing buffer.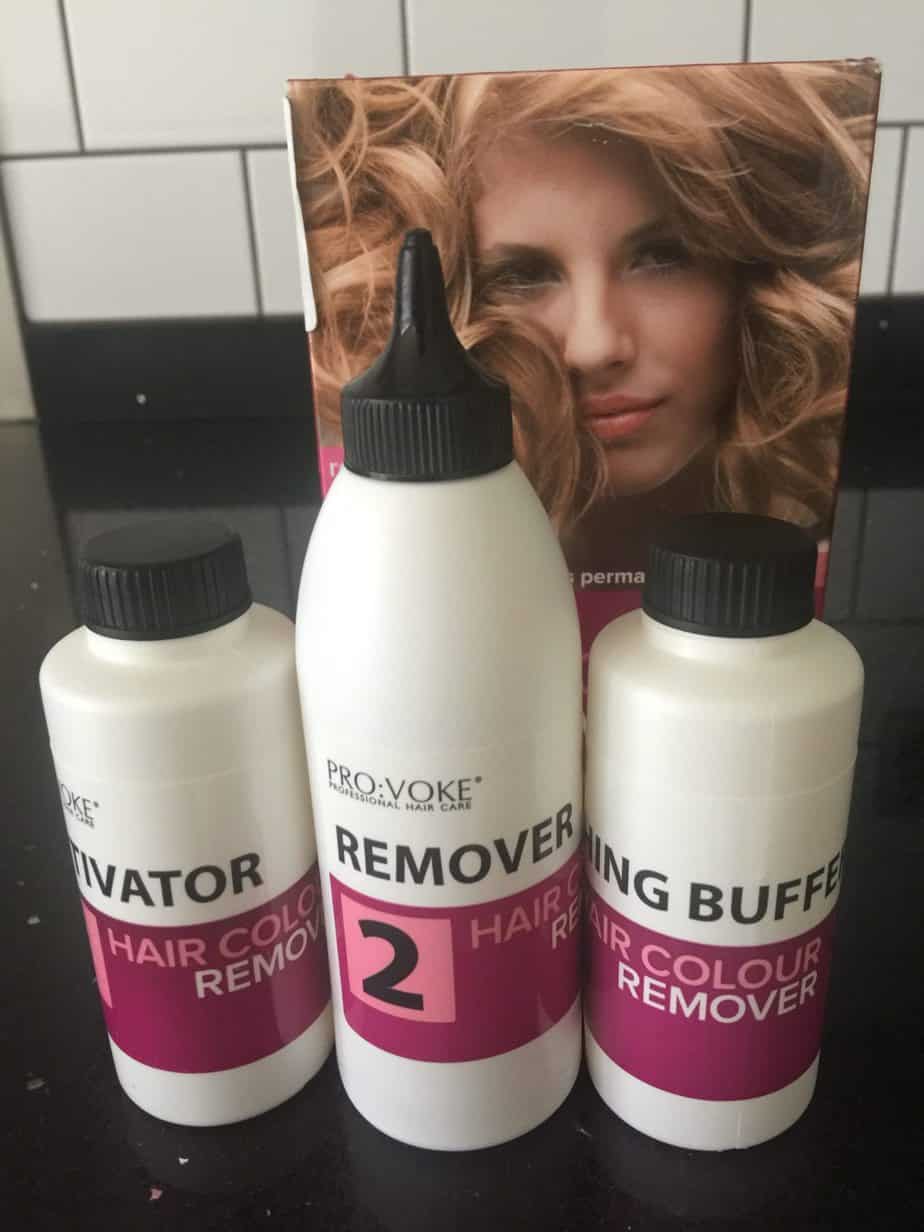 When you colour your hair with permanent hair colour, your hair shaft swells like a sponge, and the colour pigments get sucked up.  The pigments expand and join and stay trapped in the hair shaft. Pro: Voke breaks down the pigments, and are washed away, revealing your natural hair colour.  Not a colour you've used before using Pro: Voke.
There is a list of common-sense warnings like don't apply if you have broken skin; rinse eyes if you get the product in them; never use on eyelashes or eyebrows. Don't exceed the thirty-minute development time; always conduct a skin allergy test before each application and keep it out of the reach of children.
The process is very simple.  I always use a tangle teaser to make sure the product is on every strand.  I always use a free hotel shower cap to stop any drips; it also helps the product to develop.  Get a decent hair mask to leave on for five minutes or so after.  The finishing buffer does feel like it's stripped every bit of goodness out of your hair.
Add the Activator to the Remover Bottle and shake well – only do this when you're ready to go.  Not a moment before. It's important.
Shake well.  Cut off the Remover Bottle tip.
I always do this in the shower but add the liquid to DRY HAIR and make sure it's covered your entire head.  Make sure you've reached the back properly, that's when the brush/comb or tangle teaser comes into good use.  Use a bulldog clip or similar and put on your shower cap.  Wait for 30 minutes, no more, no less.
Rinse.
Apply half the bottle of the Finishing Buffer and work up a lather.  Leave on your head for 5 minutes and rinse.  Use the other half of the bottle, leave on for another 5 minutes and keep flushing.  Then add your hair mask and leave it on for about five minutes.  Rinse that off.  Dry and style your hair as you wish.
Natural Hair Colour: What Next?
Any new hair colour will need to be applied to dry hair so check out the colour you're left with and make a decision from there.
If your hair is a lot lighter than your natural colour, it's because permanent hair colourants may contain Hydrogen Peroxide which will lighten hair so it could look a little brassier than your natural colour.
Next time you reach for a permanent colour check out the ingredients and try to avoid Hydrogen Peroxide if you don't want your hair stripped of its natural colour.
If you see Pro: Voke give it a go, it has the same ingredients as the more expensive brands on the market and if you follow the instructions, to the letter, know what it does and doesn't do, I think you'll be impressed with the results.
I am not a hairdresser.  If you've made a catastrophic bungle on your head, go see a professional.  I've done this enough times to know what I'm doing but if you feel you may have gone beyond rescue, seek out the services of a hairdresser.
Did you read my review on the ESPA fifteen-minute facial?