The queue wasn't too bad to see a small but iconic collection of Diana's dresses.   There aren't too many, with a handful of rooms in the Palace displaying dresses, gowns and separates, so here are my 5 Must-see Princess Diana Dresses.
To save time, you can book your ticket online, in advance here.  The tickets are slightly cheaper (£17.10 instead of £19,00) and you can avoid the queues and dates that are totally sold out.  Your online ticket is exchanged for a paper ticket and that way the staff can keep an eye on numbers.
To mark the twentieth anniversary of the death of Diana, Princess of Wales, her former home at Kensington Palace is now home to a brand-new exhibition of her outfits from the frilly to the public appearances which showed ahem, a little more than a member of the Royal family ought to.   There are 25 outfits, alongside original designer sketches.
This will always be a popular exhibition so expect to be waiting as you visit the four or so rooms.  Make sure you take a bottle of water, the rooms get quite hot.  When you've finished, your ticket allows you to look at the other parts of the Palace.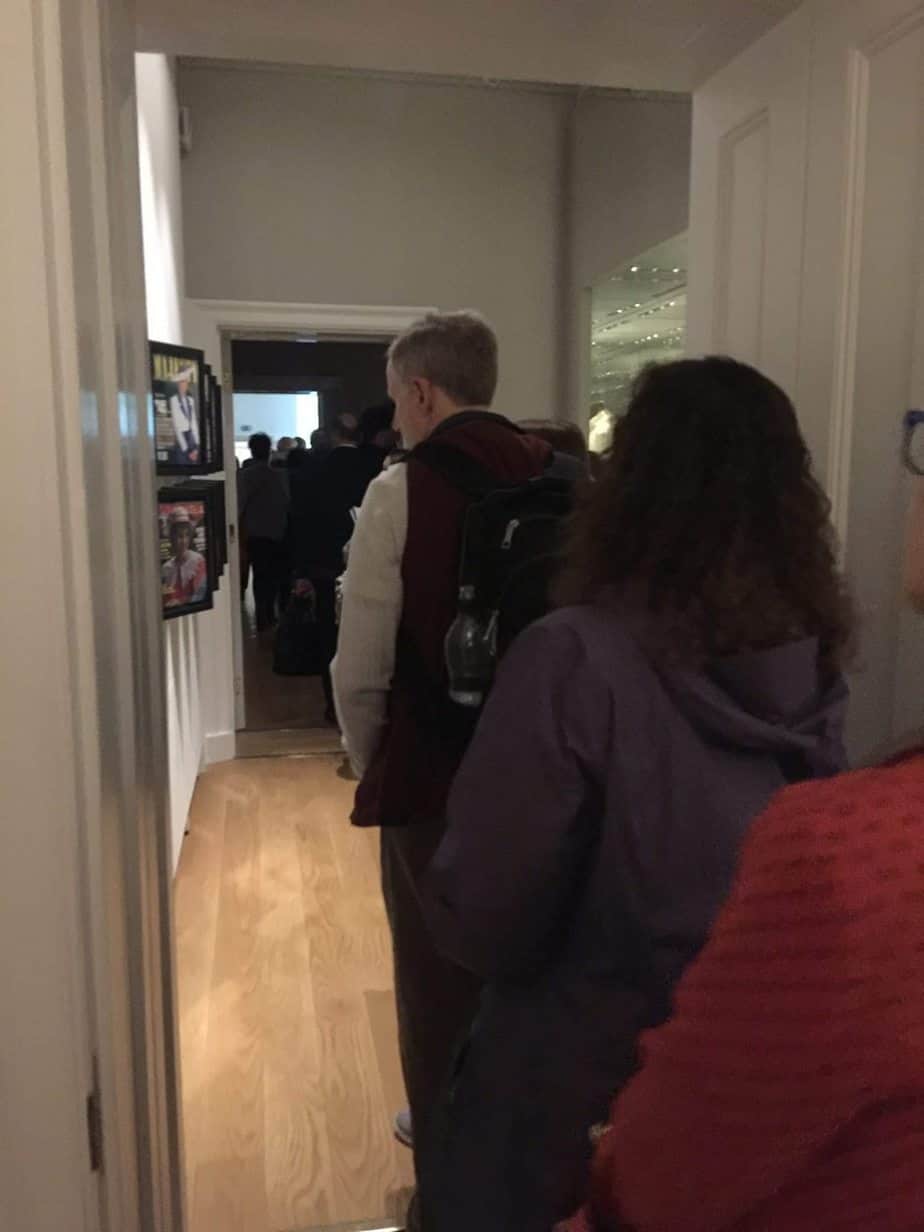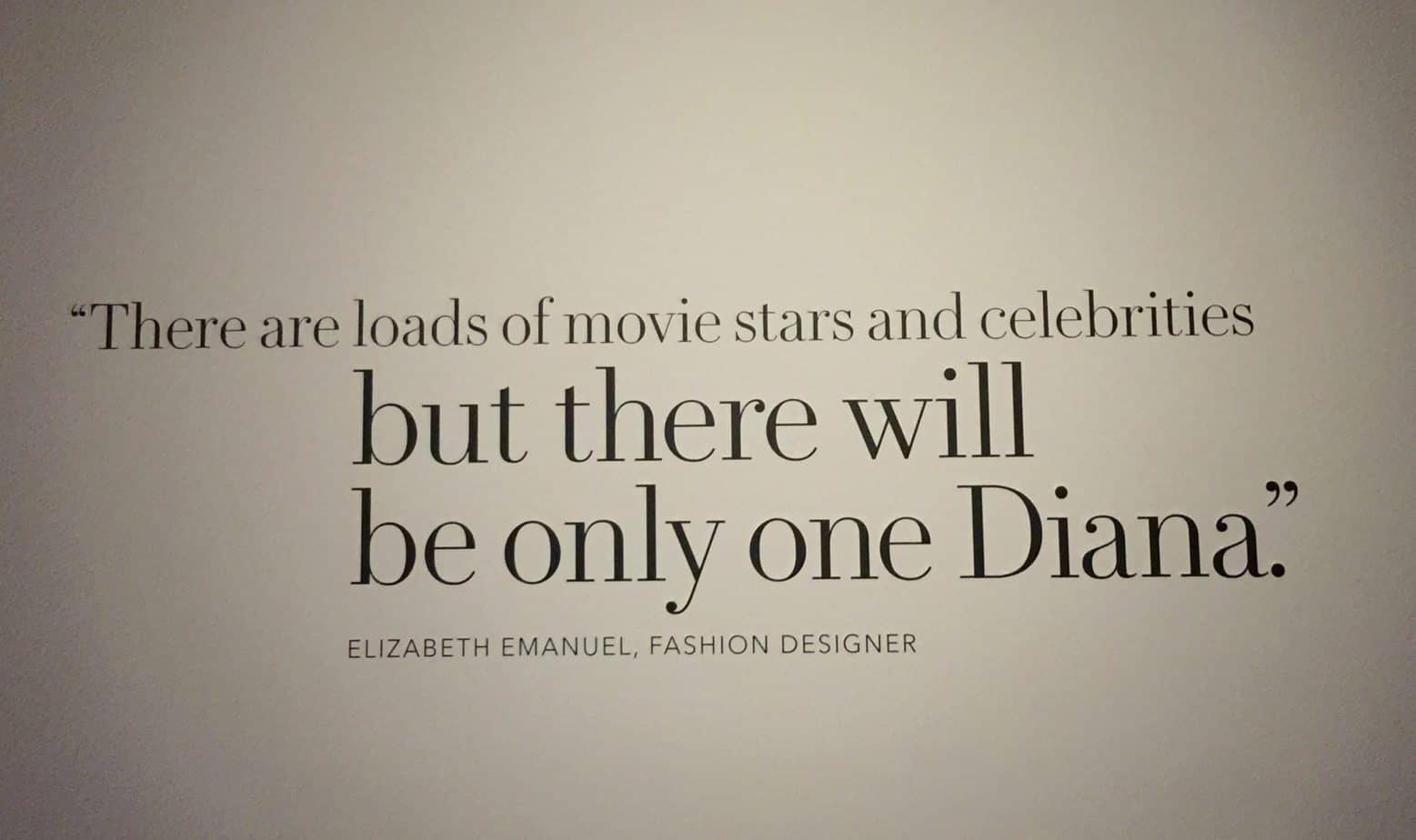 There's always been a fascination about Diana, and in 1997, just months before her death, she auctioned off many of her frocks for AIDS charities.  One of the dresses you can see on display was sold to the chief executive of a chain of boutiques who wanted to remain anonymous.  A mother of three sons and a huge Diana fan secured the Travolta Dress.  She paid a record-breaking $222,500.  The only other woman who courted such publicity was the sale of Jacqueline Kennedy Onassis' possessions.  Prince William suggested his mother auction her gowns, closing a chapter on her royal life and style and focussing on charitable work.  We'll never know how the next chapter was to be.  The Princess died on 31 August 1997, following a car accident.
6 Must See Princess Diana Dresses
The Princess often commissioned designers to create garments for specific appearances.  She'd brief them and they'd prepare sketches for her approval, alongside fabric swatches.
Together they'd finalise the end item and Diana would often make notes on the sketches.  Some of these are on display.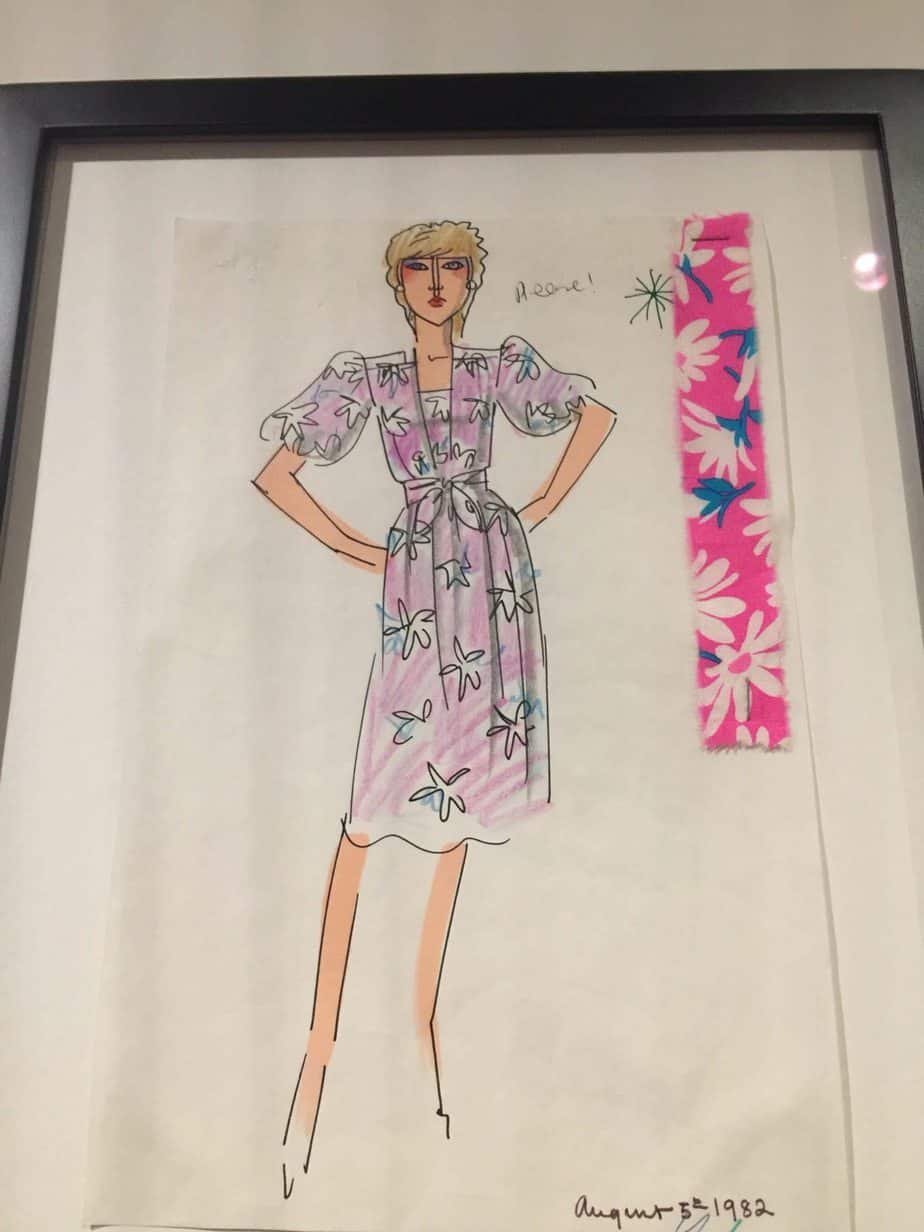 Flamenco Dress
The Princess needed no excuse to set the flashbulbs popping but when she wore a version of this Murray Arbeid gown she caused something of a media furore.  She wore one black and one red glove to contrast the black velvet bodice dress and red taffeta skirt.  She surprised both the media and the public.  The dress was recycled when she visited Spain.
Pussy Bow Blouse
Photographed by Lord Snowdon for the February 1981 issue of Vogue, the article was published to coincide with her engagement.  Designed by David and Elizabeth Emanuel, the pair went on to make her wedding dress.
Bill Pashley Tweed Suit
One of the most famous photos taken of Charles and Diana just after their wedding while the pair were honeymooning on Balmoral.  Sadly, Bill Pashley died three years ago aged 80 after a lifelong career of making dresses for the rich and famous.  At its height, he specialised in wedding dresses.  Diana and Sarah Ferguson were among his clients.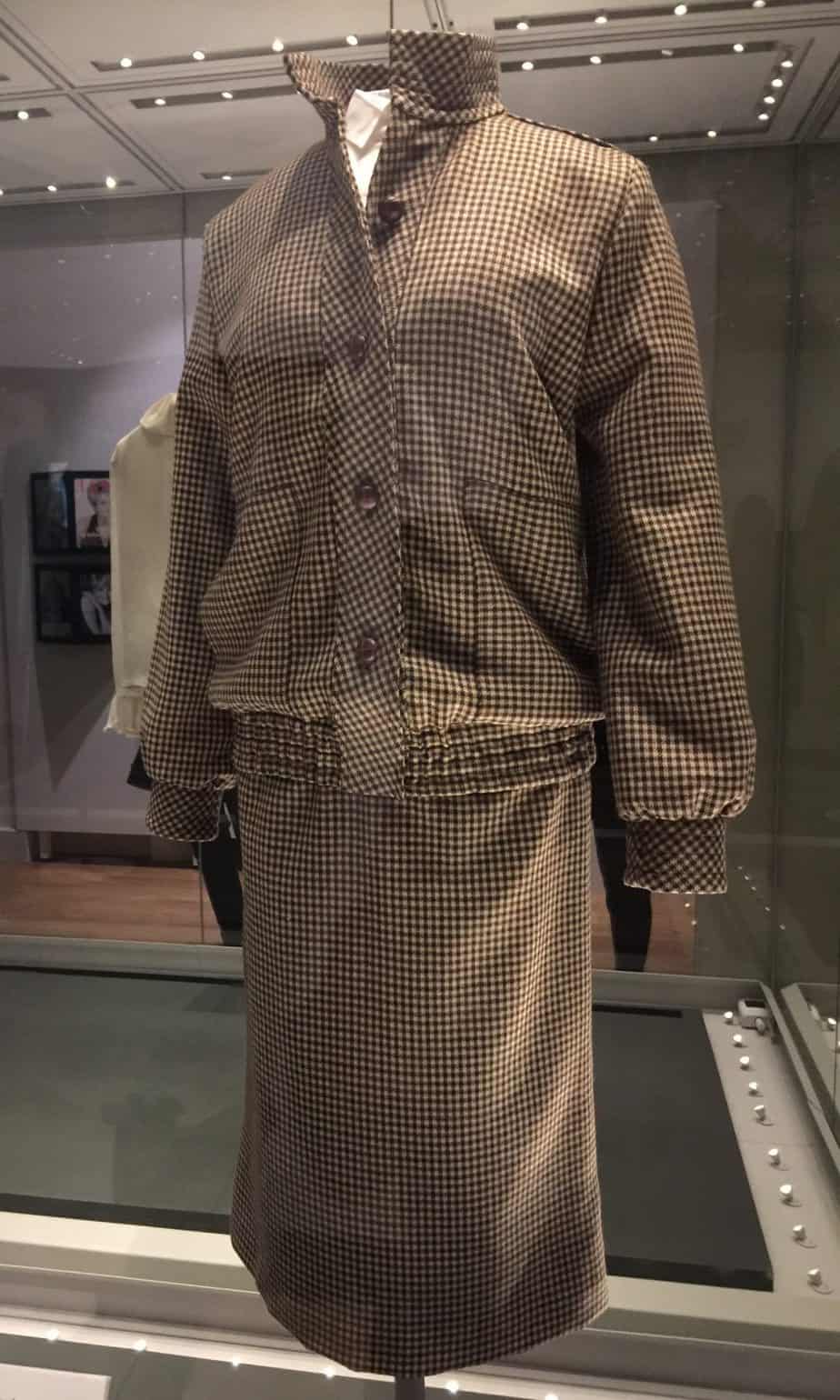 Catherine Walker 
Catherine Walker was by far the Princess' favourite, and she wore over 500 of her designs.  The London-based designer was a traditional dressmaker who specialised in bespoke pieces, and it's her the Princess turned to for her tour wardrobes.  Worn on an official visit to Saudia Arabia, this stunning cream silk dress screams respect without saying very little.  Its high neckline and sleeves cover skin.  The Falcon is, of course, the country's national symbol and they dominate the otherwise very simple dress.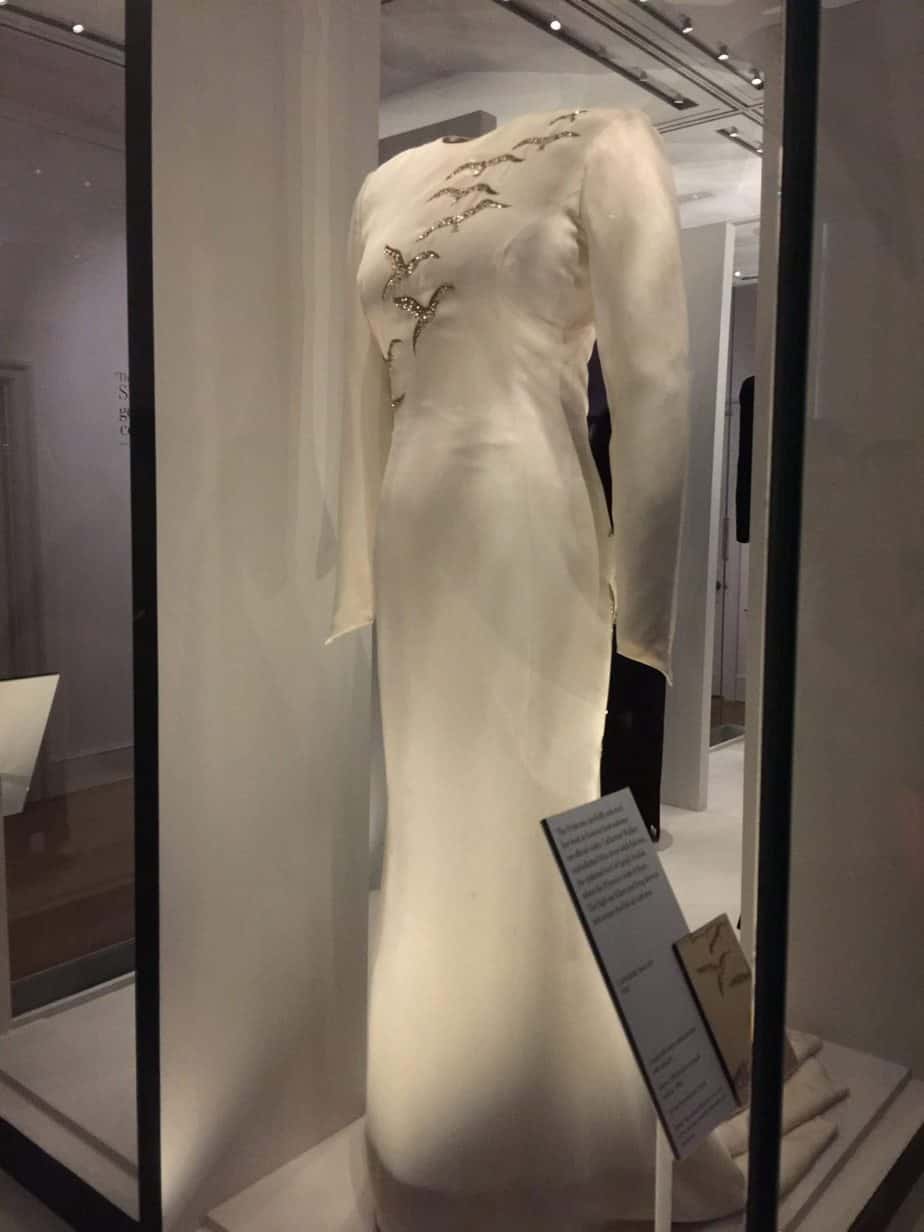 This glitzy sea green sequinned dress was worn for the state visit to Austria in 1986 during a trip to the Vienna Burgtheater and to the film premiere of Biggles in 1993.
Elvis Dress
The so-called Elvis dress is a beaded two-piece from the designer, Catherine Walker, who dressed the Princess until she died in 2010.  Her work continues with her husband taking over as Head Designer.  Said Cyrus continues Catherine's legacy, focusing on bespoke items for clients.  Take a look at the colour and you'll see where it gets its name.   It was for an official visit to Hong Kong in 1989.  A strapless white silk-crepe dress, covered in sequins and pearls.

Mario Testino Shoot
It was to be her last large portrait session and she chose Mario Testino.  Vanity Fair commissioned the photographer to work with the Princess and these were published in the magazine 12 weeks before she died.  These are some of the most natural, glamorous and unposed photographs you'll see of the Princess, outside of the family scrapbook.  She chose Catherine Walker for many of the dresses that feature.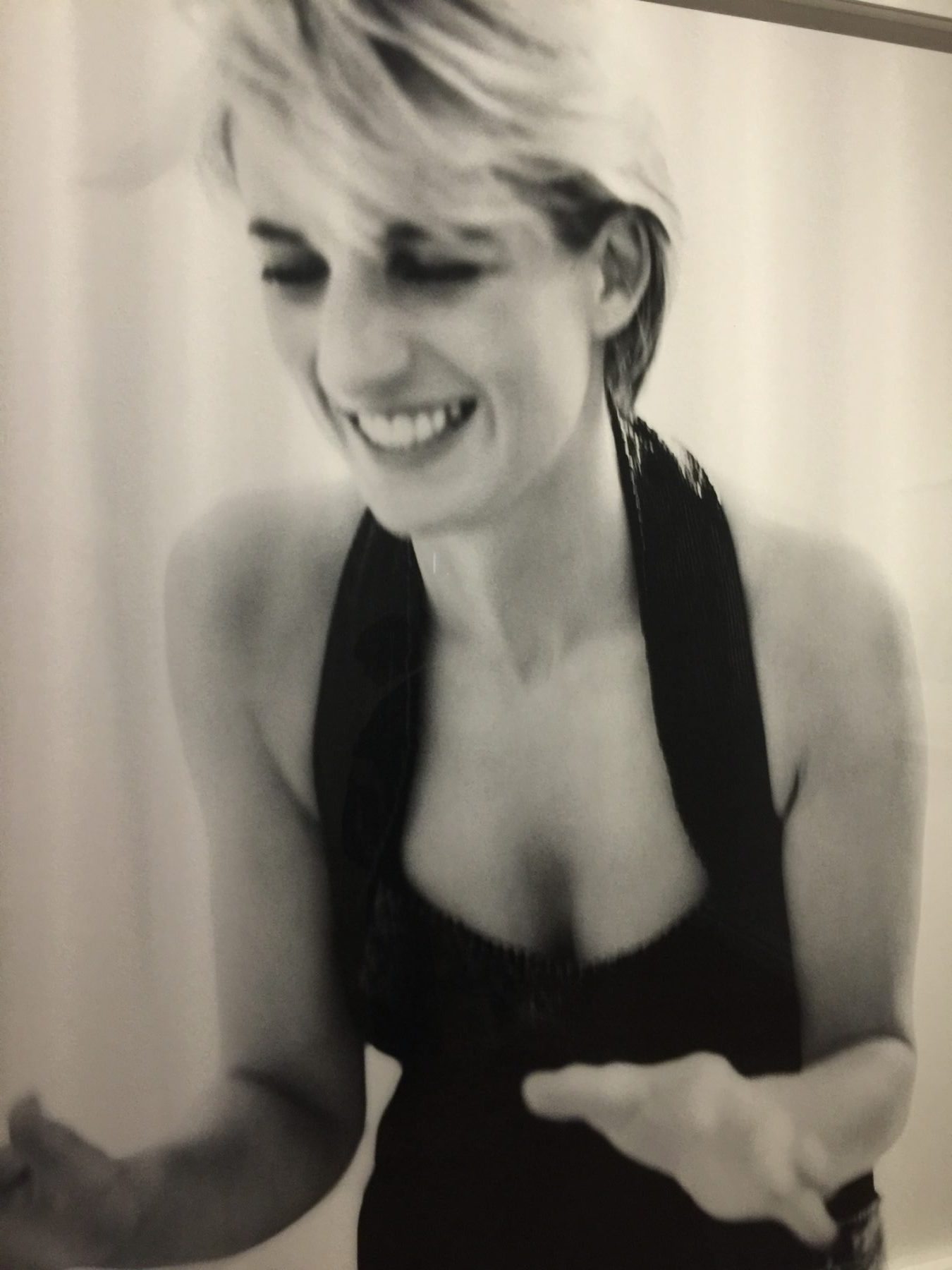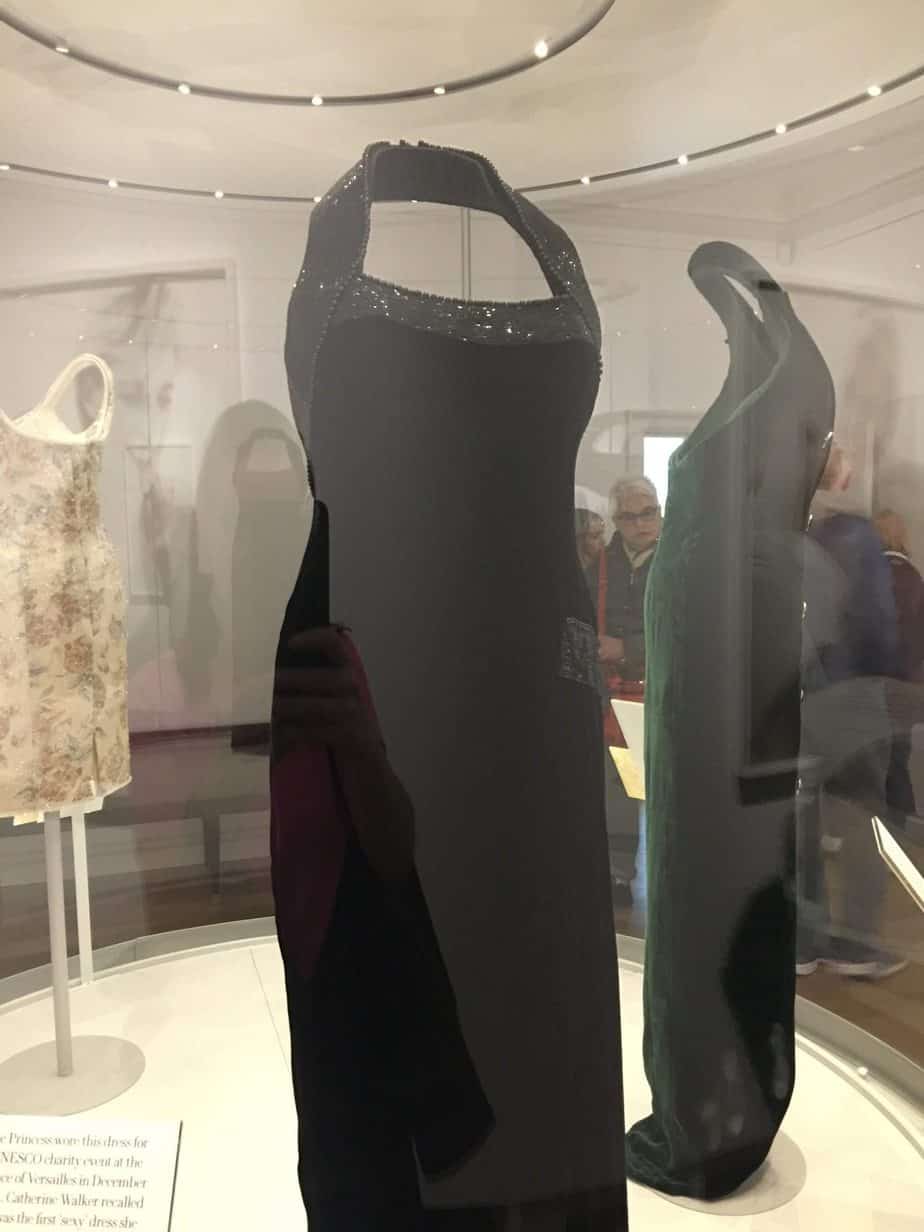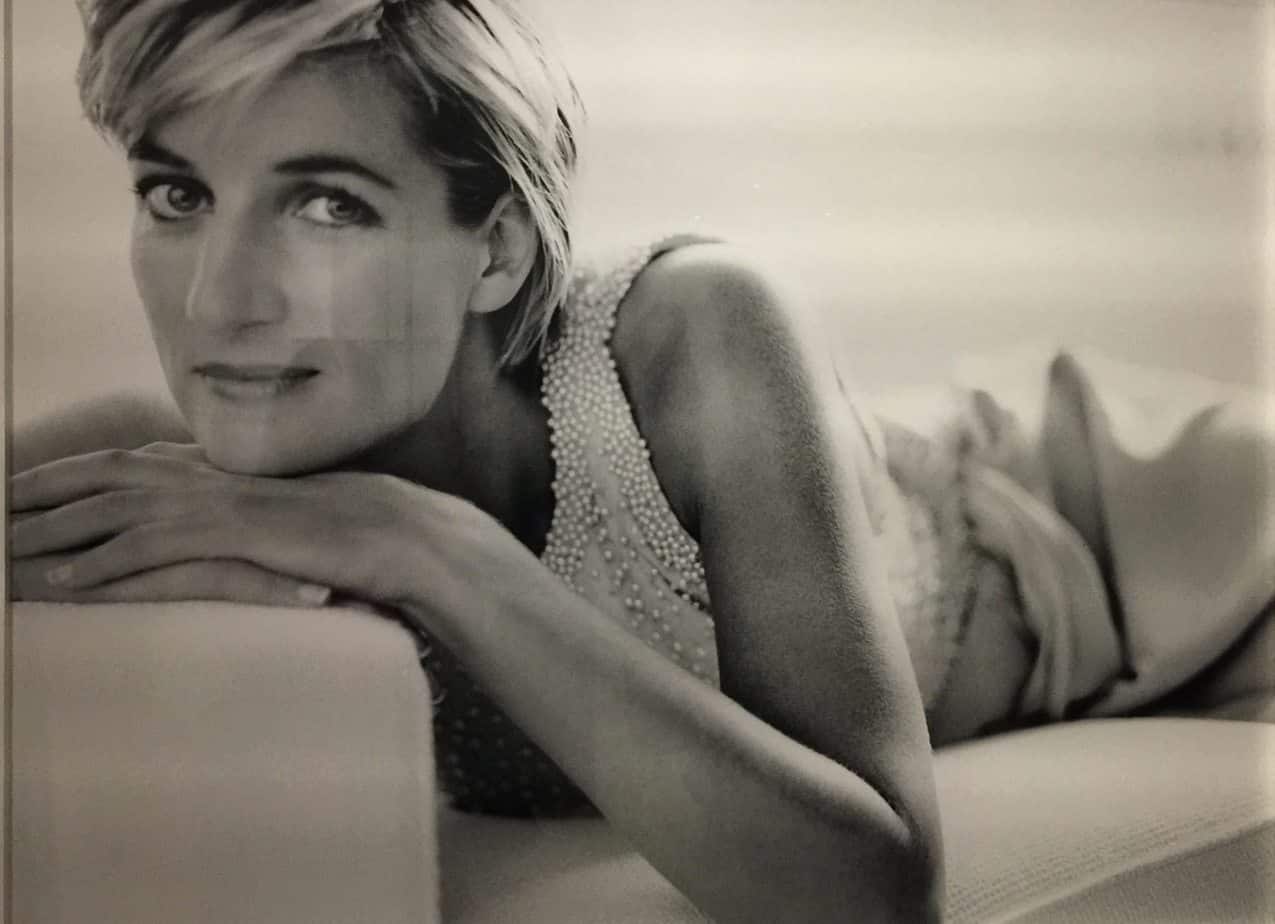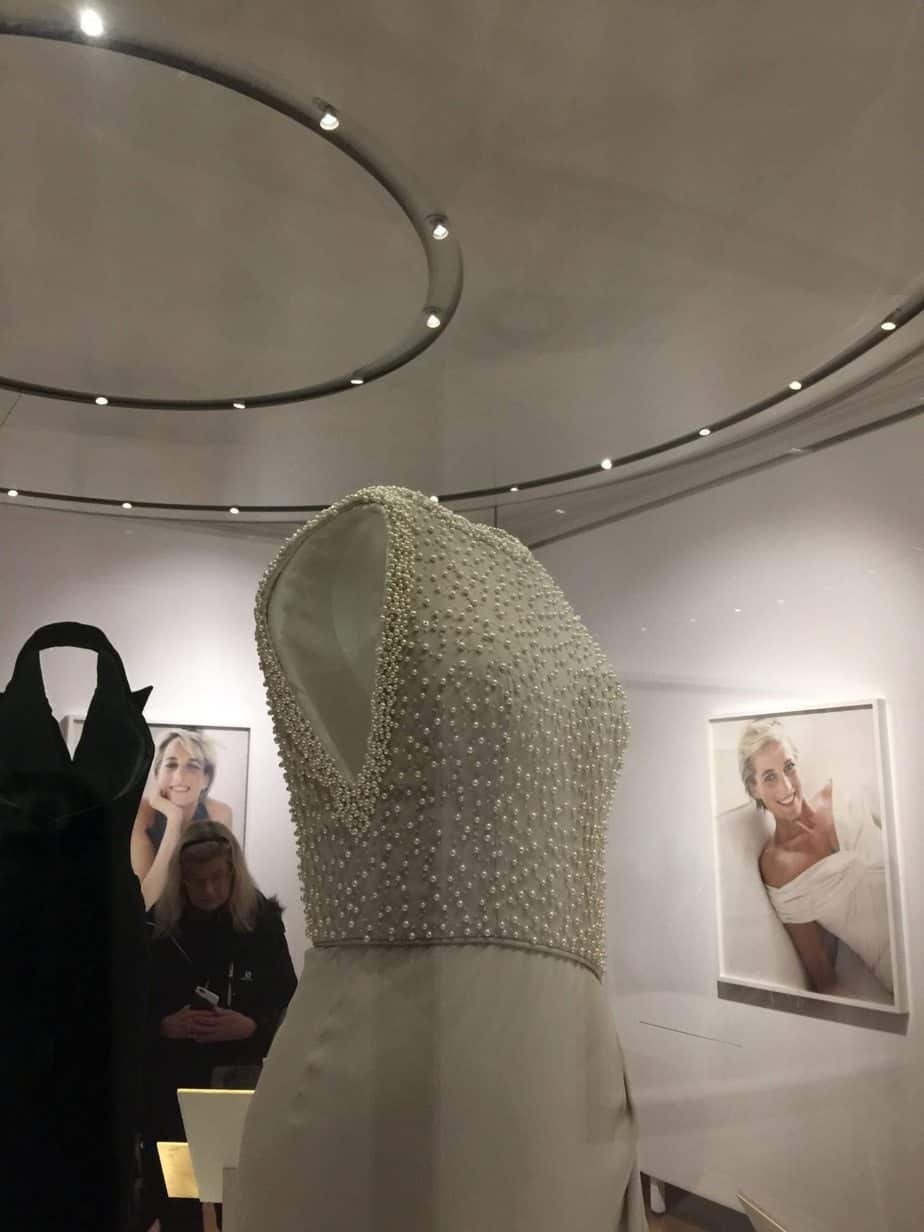 The gates of the Palace remain a shrine to the Princess who died in the Summer of 1997.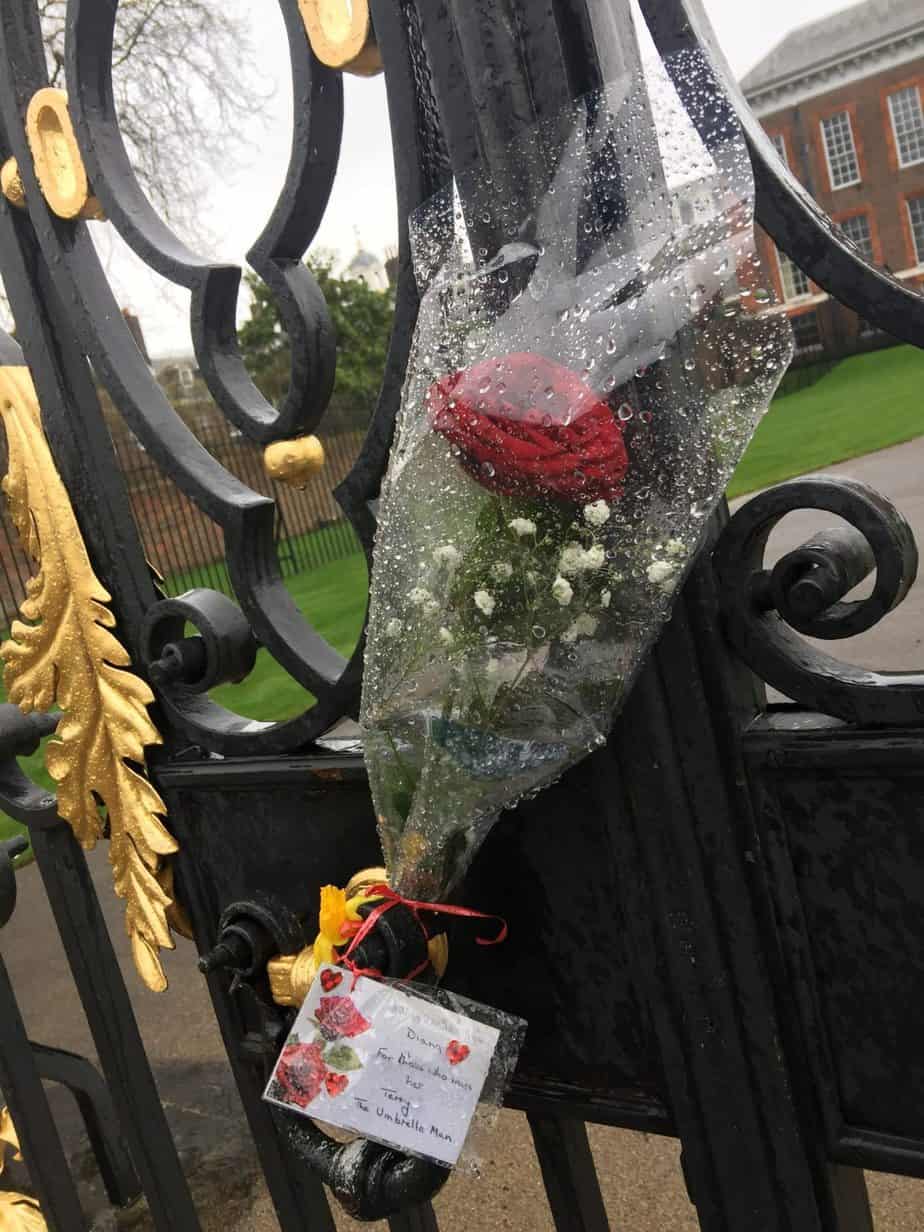 The exhibition runs until 28th February 2018.